7 Ways To Stop Toxic Thoughts From Sabotaging Your Relationship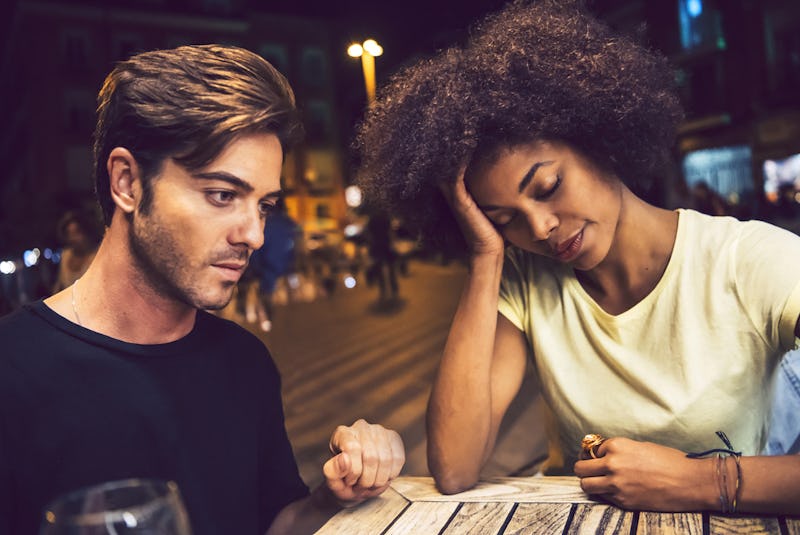 klublu/Shutterstock
There are all kinds of things that can ruin a perfectly good relationship. For instance, cheating and incompatibility are two major ones. But according to experts, there is one thing that can sabotage a relationship more than anything else.
"Negative thoughts can be the ultimate relationship killer," licensed psychologist Nicole Issa, Psy.D., tells Bustle. "There is a very tight feedback loop between a person's thoughts, feelings, and behaviors. So having negative thoughts can send you down the rabbit hole."
According to Dr. Issa, it's important to know that your thought patterns can lead to major relationship issues. For instance, early childhood experiences with your parents can cause you to believe that you're unworthy of love. Because of that, you might go into every relationship thinking that your partner is going to leave you at some point, and you may be scared to speak up.
"The reality is that we create our own reality," matchmaker and dating coach Joann Cohen, tells Bustle. "If we believe that we have a good relationship, then we work through things believing that things will always be OK. But when you approach a relationship with negative thoughts, you are always expecting the worst not only of your partner, but for the outcome of your relationship."
To prevent negative thoughts, it's important for you to find ways to turn them positive. So here are some things you can do to prevent toxic thoughts from sabotaging your relationship, according to experts.