Here's What You Should Do To Protect Your Pets During A Hurricane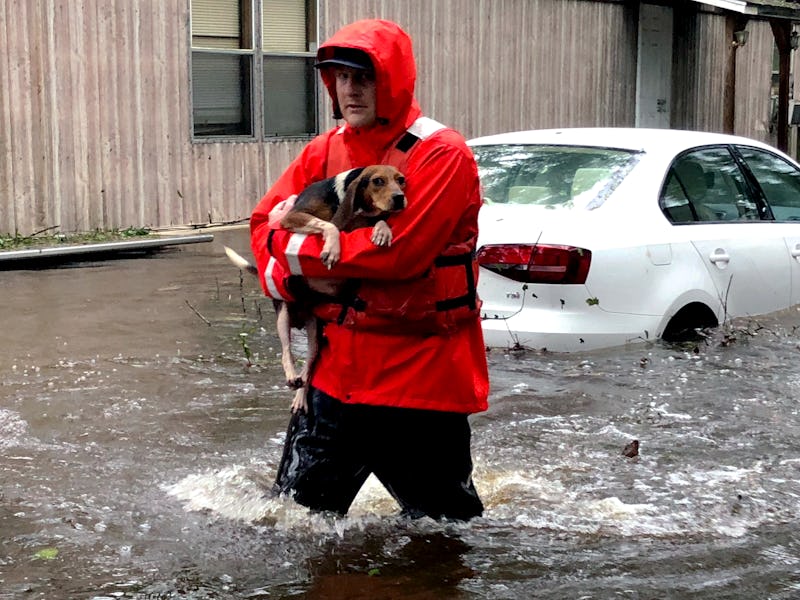 Handout/Getty Images News/Getty Images
Hurricane Dorian has already made its way through much of the Caribbean and is rapidly approaching the southeastern coast of the United States. If you're in Dorian's path, ensuring your own well-being is obviously incredibly important. And while you may already know what to do to keep yourself safe, you should also know how to protect your pet during a hurricane. There are actually quite a few steps you can take to make sure your pets weather the storm as easily as possible.
Hurricane Dorian is currently expected to hit Florida on Labor Day (Sept. 2) as an incredibly powerful Category 4 storm, the New York Times reported. The paper added that, while it's not yet known exactly where the storm will strike the state, Florida's governor has declared an emergency for all counties that could potentially be in Dorian's path. The governor also advised people in Florida to have seven days' worth of emergency supplies on hand to get through the storm — and to prepare for possible evacuations, the Wall Street Journal noted.
As people get ready for Dorian to make landfall, remembering that pets are vulnerable too is so important. The tips below will help you get started.