How To Protest Trump's Latest Attempt To Bar Migrants Seeking Asylum In The US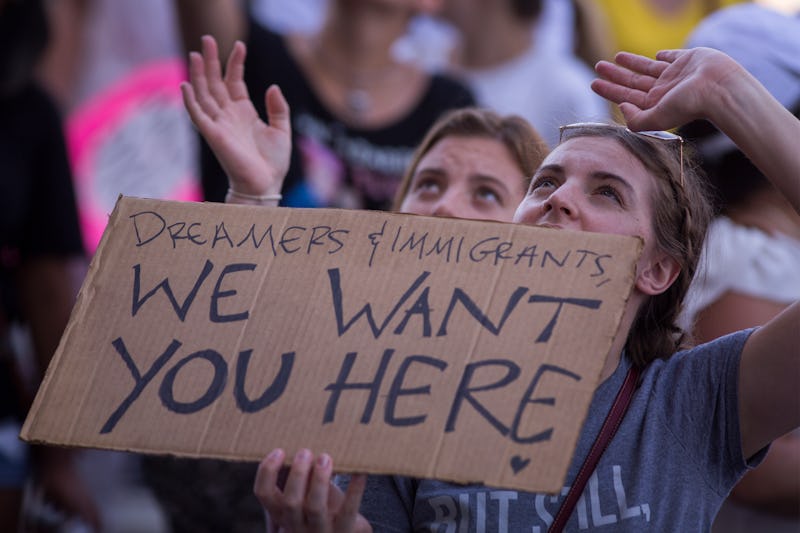 David McNew/Getty Images News/Getty Images
On Wednesday, a federal judge made a decision that could profoundly affect migrants' ability to come to the United States as asylum seekers. The judge ruled against temporarily blocking the Trump administration's new rule, which would bar most Central American migrants from seeking asylum in the United States. Following the decision, you might want to know how to protest Trump's asylum rule — and what steps you can take to help those affected by it.
As CBS explained, the Trump administration's new asylum rule mandates that migrants who cross into "safe" countries before they reach the United States apply for asylum there instead of at the U.S.-Mexico border. The outlet added that the rule says that only migrants who prove that they were denied asylum in another country or that they were victims of "severe" human trafficking can directly apply for asylum in the United States.
As NPR noted, several immigrant advocacy organizations filed lawsuits — one in Washington, D.C. and another in California — to stop this rule from taking effect. In Wednesday's decision, which came out of the Federal District Court in Washington, Judge Timothy J. Kelly refused to issue a restraining order against the rule while the lawsuit is decided, the Washington Post indicated. Therefore, the rule will go into effect while the lawsuits move through the court system.
As NPR described, implementing the rule could very much hamper migrants' ability to apply for asylum in the United States, limiting their options when seeking refuge from unsafe conditions. If you want to take a stand against these new asylum rules, the list below will help you get started.