How To Remove Glitter Nail Polish In 5 Minutes Or Less
by Hannah Baxter, Coveteur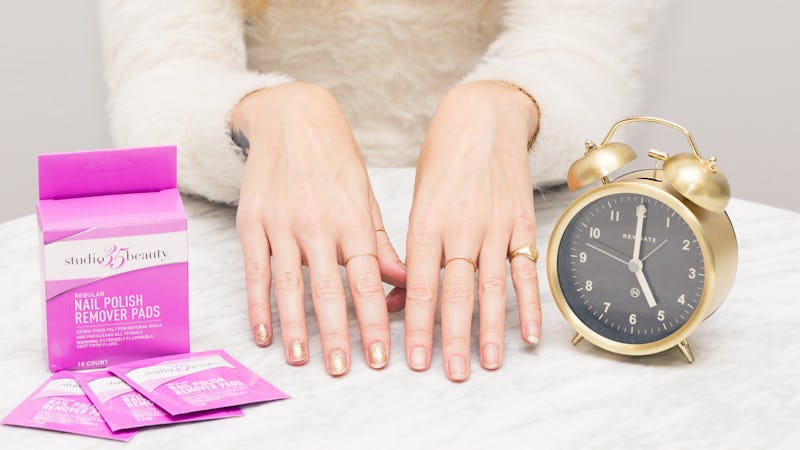 Alec Kugler/Coveteur
Bustle and Coveteur are working together to bring you the best mix of the season's hottest releases, shopping tips, and gifting ideas in ways that are both inspirational, and attainable. Check The Holiday Edit channel weekly to see what we're up to.
One of the best parts of the holiday season is getting to dress up in our chicest sequined, velvet, and New Years Eve-worthy looks. Naturally, in order to achieve full-on glamour status, our beauty routines receive an extra dose of sparkle as well. From our eye palettes to our nail polishes, we firmly believe you can never have too much glitter. But unfortunately, after the party's finished and the lights turn on, it can be tough to remove the layers of flecked polish you carefully applied for maximum Kirakira moments. Rather than relinquish our favorite shimmering polishes, we've found the best product and technique for removing even the glitteriest formulas in under five minutes.
The Crucial Trick
We know what it's like to have a new sparkly, disco ball-like nail polish bottle in your hand. You want to dive right in and get that stuff on your paws stat! However, apply a base coat and possibly a coat of traditional lacquer before you start coating your nails with glitter and you'll thank us later. It is much easier to remove when there are non-glitter base layers on your nails as straight glitter polish really adheres to a naked nail and can even cause damage when you try to remove it later. No need to splurge on a pricey base coat—we like Sally Hansen Complete Salon Manicure Clear'd For Takeoff, a clear top and base coat in one, or Hooked on Onyx, a black lacquer that will really make your glitter pop.
The Secretly Amazing Remover
At this point in our beauty careers, we've tried pretty much every polish remover on the market, and we've found a universal consensus in a drugstore favorite—Studio 35 Nail Polish Remover Pads. The felt pads are presoaked in acetone and are sturdy enough to handle all ten nails—although depending on how many layers and the consistency of the glitter, you might want to use one for each hand. Also the $5 price tag for 10 pads cannot be beat.
The Removal Technique
Each pad can fit in the palm of your hand, so we recommend utilizing all four corners and working inward so that every nail has a fresh section of acetone. Use firm pressure and swipe back and forth across the nail bed until the glitter lifts. Our expert tip? Use a nail file and quickly run over each nail prior to using the wipe. That way the top coat of glitter loosens and the remover can dissolve the polish faster.