Here's How To See Who Has Voted In Your Poll On Instagram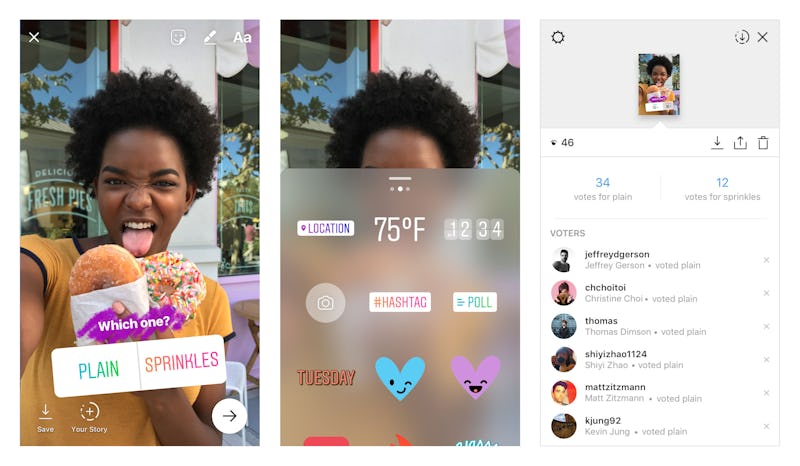 Instagram
The best part of Instagram stories is scrolling through your stories' viewers list to see who peeped at your content. Viewer interaction! Mild stalking! It's great. Now, as of Oct. 3, Instagram is adding another feature that allows users to interact with their friends and followers thanks to a brand new polling option. You might be curious as to how you can see who voted on your poll on Instagram though — but if so, don't worry, this guide will take you through everything you need to know!
If people sliding into your DMs after you post a Stories series about cooking pancakes or something gets you giddy, this polling feature will rock you. Because this feature gives you feedback in real time. So if you don't know if the blueberries or chocolate chips will be better suited for your pancakes, all you need to do is add a poll to a picture of lonely batter and let the fate of your breakfast be determined for you in no time.
This is, of course, very exciting because it will allow individuals and businesses to get real life opinions from their friends and followers. A spokesperson from Instagram notes that, "the update gets even more creative with two new advanced tools for fun with stories: a color picker for text and brushes, and an alignment tool for text and stickers." Beyond creating your polls, you can even keep them ~on brand~.
Here's the simple how-to you need to find out who is voting on your poll so that you can get on to analyzing the results to your questions!
Snap Your Content For Your Story
To refresh, your story is a 24 hour time capsule for updating friends and followers on the interesting place you've currently ventured to or what you have bubbling and cooking on your stove top for dinner that night. Facing a tough decision picking out a dress for that wedding next weekend? Step one is to take a picture of your options.
Select The "Poll" Sticker
Where you once only dropped in to select your hashtag or location, now is the time to pick the "poll" sticker and place it wherever you'd like over you picture.
Select Your Text Color And Ask Your Question
Now that you've placed your poll in the appropriate spot, ask your question and customize your choices with colors. Decisions, decisions.
Swipe Up For Results
When voters click on an option, they'll be able to see what is in the lead. And that's great information for them to know because perhaps it will also help them answer a similar question of their own.
But this is your poll. And for you to get the results to see if you're going with the blueberries or chocolate chips for breakfast this morning, all you need to do is swipe up. This will open the viewers list on your story and show you an organized division in answers. You'll be able to view how many people voted in your poll. And even more exciting and illuminating, by just clicking on one of the options, you'll be able to see who is team chocolate chips and who is team blueberries.
Whether you're a business account or personal account, this interactive feature enables a closer connection to your followers. It's sure to be a revelatory tool that offers exciting insight into your friends preferences. The best part is, finding out the answers to your questions is as easy as swiping up!
I will certainly be polling my followers to see what ingredient I should fill my pancakes with this weekend. And it's mostly because I'm curious to see what side my mom is on. Happy polling, Instagram!