Christine Blasey Ford's Supporters Are Writing Her Letters & You Can, Too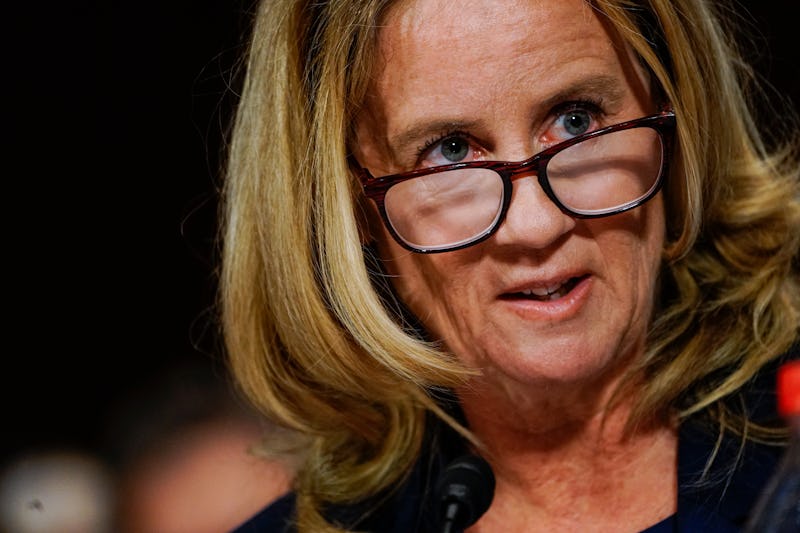 Pool/Getty Images News/Getty Images
Women across the country are expressing their gratitude to one woman brave enough to speak out publicly during the Supreme Court confirmation battle about her experience of sexual assault. Her allegations against Brett Kavanaugh, which Kavanaugh denies, rocked the country and the Supreme Court justice's confirmation process. Here's how to send letters of support to Dr. Christine Blasey Ford to thank her for coming forward.
Ford first brought forward her assault allegations in a letter to Sen. Dianne Feinstein, and now, many are saying thank you the same way — by sending her a note via snail mail. The actions of gratitude and support are being documented on Twitter, where the action went viral following comedian Giulia Rozzi's tweet with a picture of her letter of support, addressed in its envelope.
There are different suggestions online for how to get your message to Ford, with some pointing out that postcards are a better, safer choice. The two addresses that have been shared belong to Palo Alto University and her member of Congress's local office. Supporters trust the messages will be passed along. If you want to send her a note, you can address it here:
Dr. Christine Blasey Ford
c/o Palo Alto University
1791 Arastradero Rd.
Palo Alto, CA 94304
Rozzi wrote that she was sending Ford the thank-you note after having read that they meant so much to Anita Hill after she came forward in 1991 about her allegations of sexual harassment against Justice Clarence Thomas (he denies them) and went through a similar confirmation battle.
Hill wrote about how important the letters were to her in Time in 2011, 20 years after Thomas was confirmed. Hill explained that the letters started arriving at the University of Oklahoma, where she was teaching in the law school, shortly after the confirmation. "At first they trickled in, but soon the mailman was delivering my mail in trays, as many as four a day, each with hundreds of letters. Eventually, the deluge overflowed my office and filled a storage closet," she wrote.
"I found them hard to read, but eventually I decided that I would read them anyway, and they wound up impacting my life in a way I could never have foreseen," Hill continued. The letters were in greeting cards, on lined paper, or even typed up on letterhead — and many of them were personal stories of sexual harassment at work.
Supporters wrote about what they faced when they stood up to their abusers, and when they didn't. At the time the letters numbered some 25,000 (and have probably increased since renewed efforts to thank her sprung up following the Kavanaugh controversy).
In 2011, Hill also wrote about the good that came from speaking out — even though Thomas was confirmed then, just as Kavanaugh was now. "The public discourse that followed changed our collective understanding of the nature of a behavior that had been the bane of women's and girl's experience for centuries, notwithstanding laws that prohibited it," Hill wrote.
Now, Ford's supporters are counting on the letters they write to send a similar message.
If you or someone you know has been sexually assaulted, call the National Sexual Assault Telephone Hotline at 800-656-HOPE (4673) or visit online.rainn.org.