How To Send Thank You Notes To The Black Women Journalists Trump Keeps Singling Out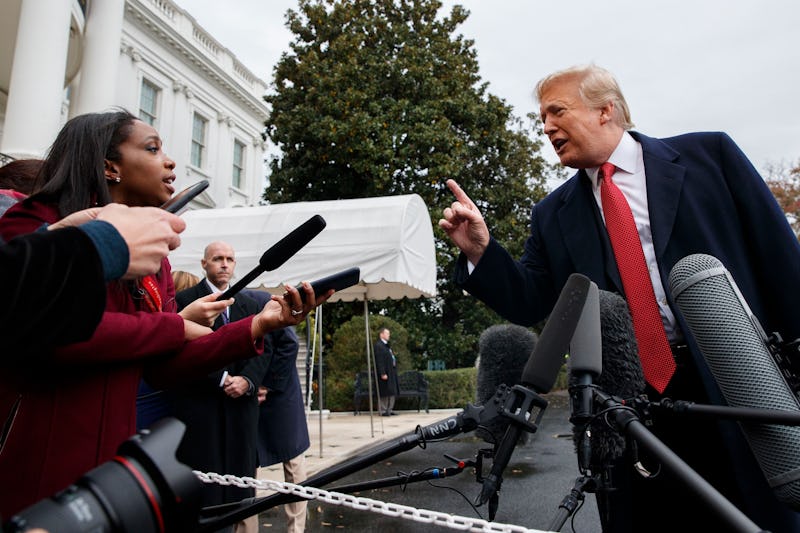 Evan Vucci/AP/Shutterstock
President Trump's relationship with the press is nothing short of controversial. In November, Trump publicly singled out a number of prominent African American reporters — Yamiche Alcindor, Abby Phillip, and April Ryan — which led to media company Brave New Films launching a page that allows people to send thank you notes to these black female journalists for their work — and perseverance.
Noticing the "level of insults" these journalists endured, Robert Greenwald, the president of the company, tells Bustle he "did a little Googling" about them and "saw the wonderful achievements and accomplishments of these reporters." Brave New Films made a video titled "Thanks" to honor PBS' Alcindor, CNN's Phillip, and American Urban Radio Network's Ryan, listing all their professional milestones. For instance, Phillip went to Harvard and has worked for institutions like The Washington Post, Politico, and now CNN. Ryan is a veteran award-winning reporter covering White House, while Alcindor reports on the same beat for PBS.
The idea behind this effort, Greenwald explains, was to list their professional successes — not focus on the "lies and distortion" from Trump. The president has disparaged each reporter separately in the past few weeks, sparking widespread backlash. He called Ryan a "loser"; told Alcindor that her question about white nationalism was "racist"; and snapped at Phillip when she brought up the Robert Mueller probe, saying she asks "a lot of stupid questions."
In The Post, Ryan responded to the president's attacks by saying, "All of us, including the African American women covering this White House, will continue to do our jobs no matter how we're treated by Trump."
One way to express your gratitude for the work that Philip, Alcindor, and Ryan do is by heading to the Brave New Films' website and writing the journalists a public thank you note. Greenwald also suggests following them on Twitter and Facebook, all the better to keep track of their work and support them. But that's not all.
"You know, it's old-fashioned but subscribing, watching, and listening to the work they do because that ultimately is what they — and many other reporters and journalists — are about," he says. "Good, serious, important work."
Through actively following these journalists, people can learn more about their work and professional trajectories. It's an opportunity, Greenwald says, to show their respect and appreciation for journalists like Alcindor, Ryan, and Phillip.
The film has already received attention from Ryan, who retweeted it. Others, too, have shown their appreciation for the journalists in their own ways. There have been plenty of people voicing their solidarity with the reporters, like cartoonist Ed Hall, who drew a sketch of Ryan, Alcindor, and Phillip doing their jobs as reporters the while standing like the famous black athletes protesting during the 1968 Olympic games.
The Post's political columnist Karen Tumulty also tweeted, "Trump says he watches [Phillip] 'a lot.' He should do it more. Abby Phillip is what class and professionalism look like."
And giving this kind of backing is crucial, Greenwald says. "We the public," he says, "need to make sure that we are watching, listening, hearing, and supporting that work."