How To Set Your Make-Up In Hot Weather Because This Heatwave Isn't Going Anywhere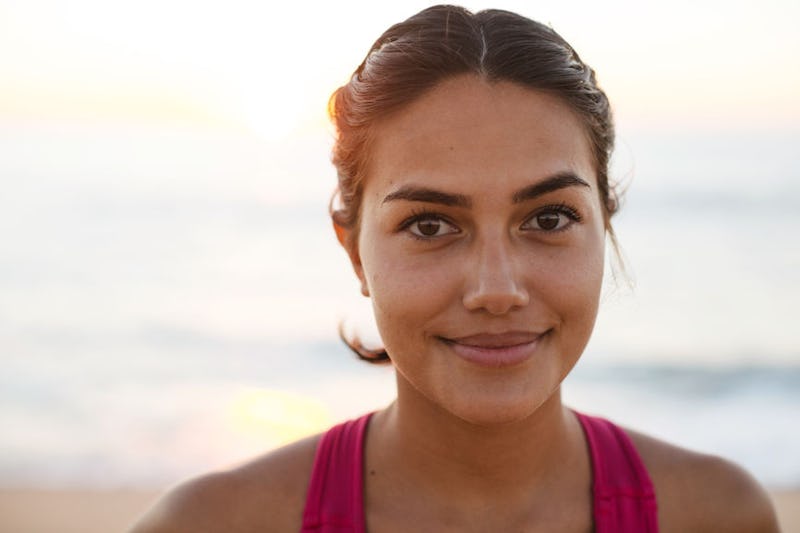 Rob and Julia Campbell/Stocksy
The UK is currently experiencing a heatwave like it has never experienced before. (OK, I have nothing to back that up but I have never felt so hot.) Now that it's officially summer, you've probably been inundated with party invites. While you could brave the bare-faced look, a lot of people will want to at least attempt a dramatic eye or lip. But how the hell do you keep it from sliding all over your face? Don't worry, for I think I have found a way to set your make-up in the hot weather.
Everyone's been there. You spend an hour pristinely applying your make-up only for it to sweat off within a few minutes. Trust me, I would know. It was the summer of 2016 in New York City. The temperature was something ridiculous like 38℃ but I wasn't going to waste a day of sightseeing. But within half an hour tops, my full face of foundation had disappeared. I could see it literally dripping off of my face. But there was nothing I could do. It was gone.
If only I had read up on this advice before leaving my beautifully air conditioned hotel room two years ago.
Before even thinking about putting on make-up in hot and humid weather, you need to prepare your skin. "To ensure [make-up] adheres to the skin and lasts, you need to clean the skin thoroughly, removing any oil or perspiration before applying any skincare or make-up," Bobbi Brown's senior artist, Hannah Martin, recently told Harper's Bazaar.
Once you've got that part down, you'll need to find a primer aka the one product that will keep you glowing like a goddess rather than looking like a sweaty mess. The Ordinary's High-Spreadability Fluid Primer is said to be one of the best for those who prefer something super lightweight. It works to stop any cakey dryness and is vegan too.
Next up is the trickiest part of all: the foundation. It's alright for make-up artists and skincare experts to advise wearing tinted moisturiser to avoid any cosmetic mishaps in the summer, but not everyone has perfect skin. And if you've been out most nights drinking and eating takeaways, you've probably experienced a few breakouts that a sheer product just won't cover up.
So what to do? Well, try investing in a water-based foundation that isn't too thick. Something like MAC's Studio Waterweight Foundation should do nicely. It doesn't feel heavy on your face and provides long-lasting medium coverage so you can walk, run, or dance the day and night away without rushing to check your reflection every five minutes.
Of course, you're going to need to set that foundation. This is one of the most vital parts. No setting equals no staying. Opt for a loose powder brushed across the T-zone in particular and a setting spray to keep things where they should be. While I love NYX's dewy finish mist for normal weather, you might want to go for the matte version to avoid looking extra sweaty.
In terms of eyes and lips, you can stick to your normal look and set with the aforementioned spray (and don't forget some waterproof mascara). However, it's best to avoid anything too glittery or a product that mentions the word "highlight" on the bottle. Why? Because while this looks perfect under normal circumstances, a heatwave will just create too much shine, undoing all your hard work.
And before you leave the house, ensure you have the following stocked up in your bag just in case: powder and blotting paper. The powder is for obvious touch-ups but the blotting paper is ideal for soaking up any of that sweat or shine before redoing your make-up. (Beautyblender's blotting sponge is a particularly innovative item.) You may also want to keep your setting spray or a face mist on you at all times in case your skin's starting to look a little dry.
Do all of the above and you should end up with a look that won't budge no matter how hot it gets. Just think matte, lightweight, and oil-free and you're sorted.