How To Start A Feminist Book Club In 7 Steps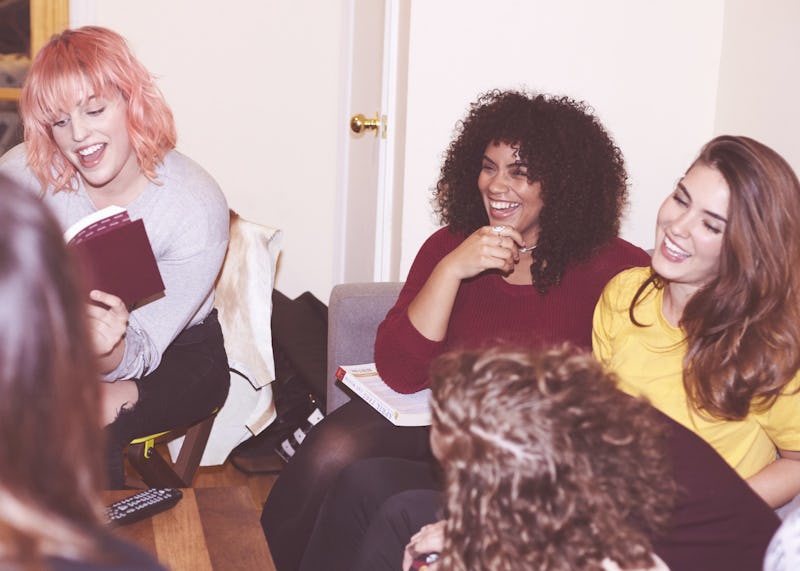 Hannah Burton for Bustle
It's only three months into the new year, but 2017 has already proven to be a year of resistance for people across the nation —  especially for women who have refused to let their voices — or their rights — be drowned out by the clamor of the Trump administration. If you're one of the many who have joined this massive activist movement and are looking for more ways to get involved outside of rallies and protests, I'm here to tell you how to start a feminist book club, because there's no easier (or more enjoyable) way to resist than with a good book.
Acts of resistance come in all shapes and sizes, but one of the most simple yet powerful ways to fight back is through educating yourself and others, and reading is a great way to do just that. As Bustle's own Books editor Cristina Arreola explained when discussing the new Bustle American Woman Book Club, "2017 is a year for action. It's more important than ever that American women try to understand each other in the face of such partisan division and that we come together in the quest for social justice and equality." What better way to do exactly that than by starting a feminist book club to educate, celebrate, and give a voice to the many different women in the world?
While there are plenty of feminist book clubs out there you can already join, including Emma Watson's Our Shared Shelf and Bustle's book club, starting your own is as easy as gathering up all of your feminist friends, picking a
If you aren't sure where to start, here are seven easy steps to starting a feminist book club.