How To Help Stop Betsy DeVos' Proposed Campus Sexual Assault Rules In Their Tracks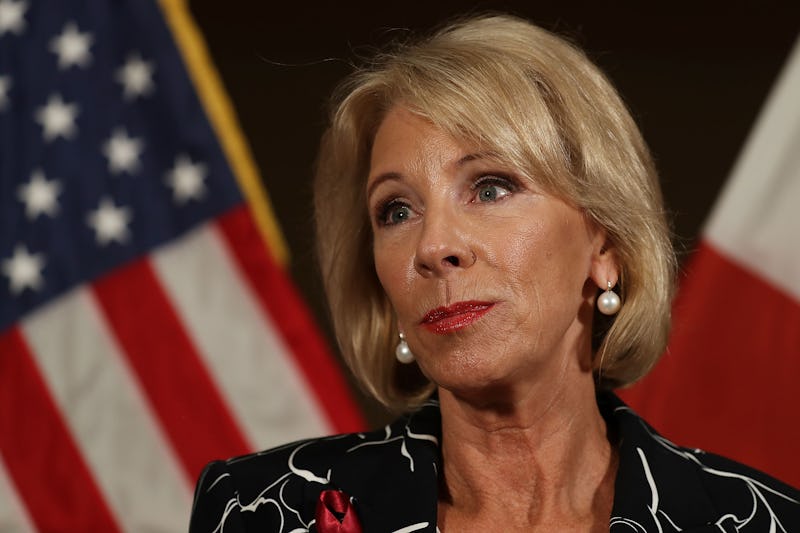 Joe Raedle/Getty Images News/Getty Images
Since the beginning of the Trump presidency, the Department of Education has taken steps that make it more difficult for survivors of sexual assault and harassment to have their cases rectified. On Wednesday, A New York Times report exposed what might be the latest of these steps: Betsy Devos' new proposed campus sexual assault rules. Among other things, these potential rules would enact a narrower definition of sexual harassment, higher standards of evidence, and decreased accountability for schools, while strengthening the rights of students accused of sexual assault.
"We are in the midst of a deliberative process," Department of Education Press Secretary Liz Hill tells Bustle in a statement about the supposedly proposed rules. "Any information the New York Times claims to have is premature and speculative and therefore we have no comment."
Already last year, DeVos moved to scrap Obama administration rules that protected survivors from having to engage in mediation with their accused attackers, and recommended creating appeals processes for sexual assault cases. According to CNN, the move was applauded by men's rights groups who said that the old rules favored female accusers over those accused (generally men).
The administration is able to roll back Obama-era protections for sexual assault and harassment victims without congressional approval — meaning, calling your senator won't necessarily work this time. However, there are still actions you can take to support survivors and ensure their protections in the future.