7 Solutions To Try If You Sweat A Lot At Night, According To Experts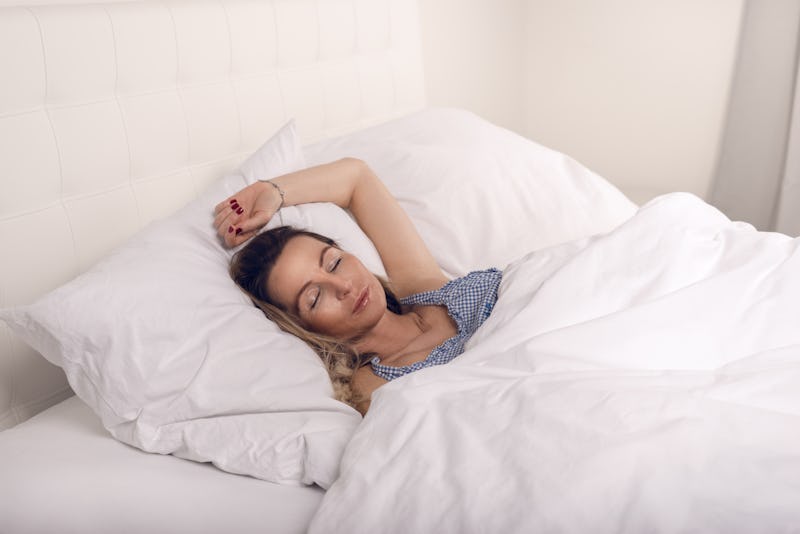 Shutterstock
Getting enough quality sleep each night is important to your overall health and wellbeing. But waking up in the middle of the night drenched in sweat is sure to get in the way of that. If you have night sweats and they are keeping you up, there are some simple things you can do to reduce it.
Before you start looking for solutions, the most important thing to do is figure out why you're having night sweats in the first place. As Bill Fish, certified sleep science coach and co-founder of Tuck, tells Bustle, it's a little tricky.
"True night sweats are known as sleep hyperhidrosis," Fish says. "It's known as persistent sweating or flushing that drenches your sheets, interrupts your sleep, and occurs independently of environmental factors."
According to Fish, that last part is key. "Many times what people think are night sweats are actually caused by your environment or even current condition," he says. Wearing heavy pajamas, sleeping in a room that's too hot, and dealing with a cold, can all cause you to sweat in your sleep. In these cases, these are not "true night sweats." But other things like menopause, medications, antidepressants, anxiety disorders and pregnancy, are known to be legitimate causes of night sweats.
How you deal with it really depends on the cause. So here's what you can do to reduce excessive sweating at night, according to experts.