Here's How You Can Stream Beyonce's Coachella Performance From Home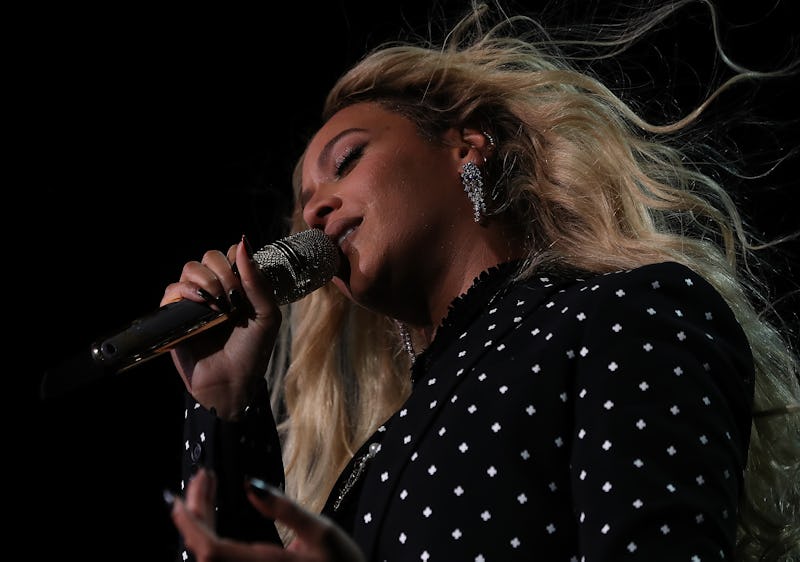 Justin Sullivan/Getty Images News/Getty Images
Beyoncé is headlining Coachella this week, after cancelling her festival performance last year while she was pregnant. The 2018 event will definitely be fun for fans — but those at home can still enjoy the show, too. You'll be able to stream Beyoncé's Coachella performance via YouTube streamed on YouTube, so even if you're not in California, you can watch Queen Bey's show.
The Fader confirmed Monday that Beyoncé's performance will be included among the live stream videos on Coachella's YouTube channel. Beyoncé won't be the only artist whose performance is live streamed, either. The YouTube stream will also feature Coachella sets from Migos, The Weeknd, Haim, St. Vincent, Tyler, the Creator, Post Malone, and other artists, according to the report.
To see the list of all 88 artists whose performances will be live streamed on YouTube, Coachella's channel has all the details. You can also check what time your favorite artists will be performing on the official Coachella lineup below, to make sure you don't miss any big moments that will be live streamed. It's not the same as actually attending the music festival, of course. But if you aren't able to get to Coachella in person, the live stream is definitely a nice alternative to catch your favorite artists perform.
Plus, thanks to the Coachella lineup, fans can plan out when to tune into the YouTube channel to watch the performances from Beyoncé and the other artists. According to the schedule Coachella shared on Twitter this week, Beyoncé's Coachella set will start at 11:05 p.m. PT on Saturday, April 14. And if you're planning on watching multiple artists' performances on YouTube, it's worth checking out the schedule beforehand. You can create a customized schedule on YouTube based on the artists you want to see — it's like traveling between festival stages, without ever having to leave home. The only downside of the YouTube coverage is that Coachella won't be live-streaming the second weekend of the festival, which will take place from April 20 to April 22.
And if watching the Coachella livestream makes you want to see even more of Beyoncé, she has a tour planned after the festival is over. She and JAY-Z are teaming up for the On the Run II tour, a world tour that will last from June through October. There likely won't be any live streaming options for that tour, but it's sure to be a memorable one. The upcoming tour marks the first time Beyoncé and JAY-Z have toured together since the first On the Run tour in 2014.
Plus, even if you are lucky enough to be an On the Run II ticket holder, Beyoncé's Coachella performance doesn't sound like one to miss. Beyoncé's lead choreographer, JaQuel Knight, told Entertainment Tonight that her Coachella set will be "amazing, beyond, iconic, life." So the fact that fans across the globe can share in that "iconic" performance through YouTube sounds pretty spectacular. ET also notes that Beyoncé and her dancers have been rehearsing for as many as 11 hours a day leading up to Coachella, so there's a lot of effort that's gone into making her headlining set as epic as possible. (The outlet also speculates that Beyoncé could be joined by a special guest onstage, like the other members of Destiny's Child or JAY-Z himself — and while that's all just speculation for now, well, you never know.)
If you have the ability to go to Coachella in person, watching a live stream probably can't compare to the experience of going to the festival IRL. But for people who can't make it out to California this weekend, it's nice to know there's still a way to witness Queen Bey's performance in all its glory.