Here's How Much $$$ Beyoncé & JAY-Z's Tour Is Going To Cost American Fans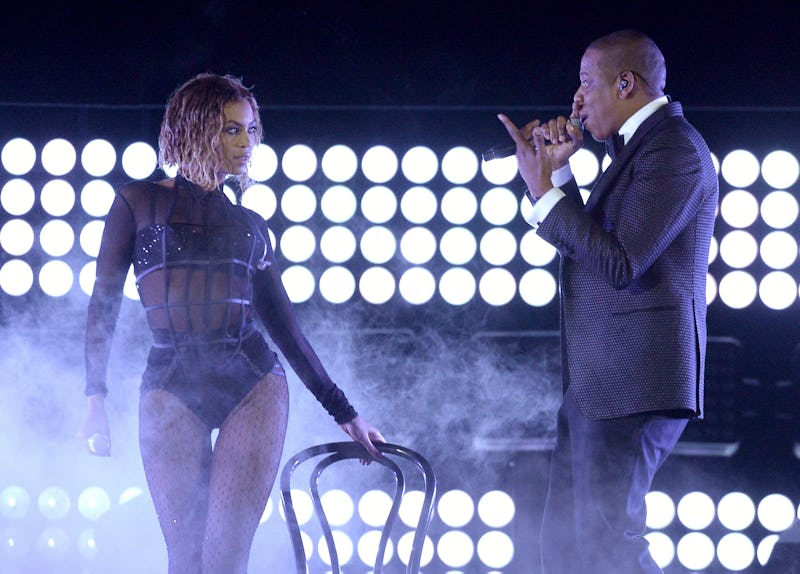 Kevork Djansezian/Getty Images Entertainment/Getty Images
It's that time of year again, where we have to ask ourselves, "What can I do without in order to see Beyoncé in concert?" Or, if you're not quite there yet, how much are tickets to the On the Run II Tour? Are we talking giving up coffee for the month? Rent? All social events for the foreseeable future? How bad is it? The good news is, it doesn't have to be terrible.
It depends on the venue you're eyeing, of course, but, for the Aug. 2 show at MetLife Stadium in New Jersey, for example, Live Nation lists OTRII tickets starting at $25 and going up to $380 for General Admission. Those numbers seem similar to what's being offered tour-wide, and represent a range well-suited to hit every price point and level of fandom. So there should be some very happy people come Mar. 19, when tickets go on sale.
The lower price level is a great option for anyone who doesn't need anything fancy and isn't trying to drain their bank account, but is just happy to be in Her Holy Presence. (No disrespect to JAY-Z, who will reportedly be in attendance as well or whatever.) But, as you might expect, those tickets are far from premium; at MetLife, they're in a ring of seating called Concourse 3, the farthest from the stage. And other seats in that same zone can go up to $125, likely dependent on view.
If you want to get closer, tickets in Concourse 2 go up to the same price — $125 — but start a little higher, at $54.50. Move in one more ring to Concourse 3, and the seats still start at $54.50, but they can run you all the way up to $380 for field seats.
And as a reminder, folks, we're still just talking about General Admission. If you have your eye on anything fancier like, say, Premium General Admission, you might as well hand over your wallet now. Beyoncé and JAY-Z know the kind of show they're bringing, and how eager you are to see it, and their seats are priced accordingly.
Sitting in the Premium GA area will run you a cool $775 at MetLife, while if you want to sit along the Runway that Bey and Jay will be strutting down, it appears you'll have to shell out for the VIP Lounge Package, which is $1,250. Want to sit on the VIP Risers? That bumps the price by $600, up to $1,850. Or maybe you'd like to go backstage on top of all the other perks listed, like complimentary food and drink, a piece of merch, and lots more? The price tag on that one — The Runway VIP Experience Package — will come in just under two thousand dollars. Hope you have $1,995 around, because it sounds fabulous.
Of course, as mentioned, these numbers and seating locations will differ slightly at all of the many OTR II stops. What won't differ is the fact that Beyoncé and JAY-Z will be onstage in all their glory, and that the last time they toured together was the original On the Run Tour in 2014. If you miss this opportunity, could it be another four years before another one like it presents itself? Maybe longer? It's a lot to weigh when deciding whether or not to pull the trigger on these tickets.
And that's assuming you can move your little fingers quickly enough to actually snap up the tickets you want. They're already one of the most hotly-discussed commodities on the internet right now — the pre-sale sold out in literal seconds — so start your stretches now. You're going to want to make sure that your fingers and your wallet are all nice and limber.