How To Stream O.J. Simpson's Parole Hearing As It Happens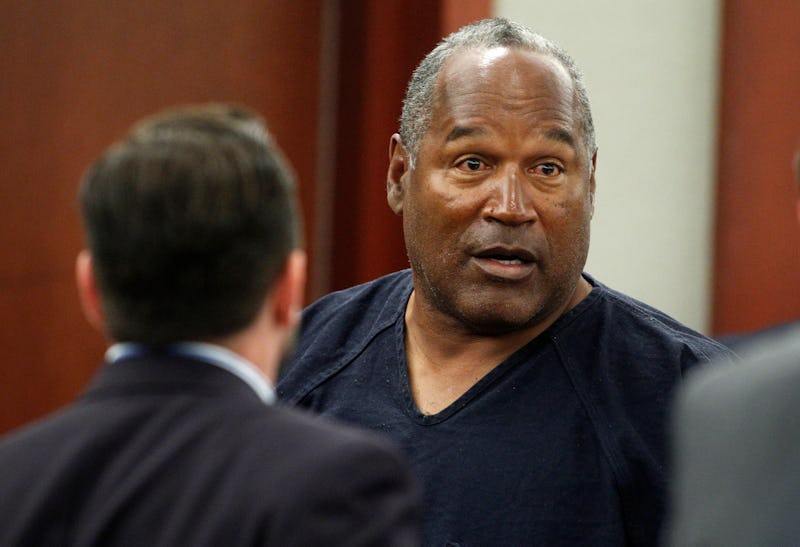 Pool/Getty Images Entertainment/Getty Images
This week, the man who was once at the center of the most high-profile criminal trial ever will be sitting in a parole hearing at Lovelock Correctional Facility in Nevada, with his freedom on the line. Former NFL star O.J. Simpson will soon be eligible for early release from prison, having served nearly nine years for his 2008 robbery conviction. And given his towering place in American culture, countless people are going to want to watch. Fortunately for them, there's a way to stream O.J. Simpson's parole hearing.
Simpson, who was charged with the murder of his ex-wife Nicole Brown and Ron Goldman in 1994 and ultimately acquitted in the so-called "trial of the century," was sentenced for a separate robbery conviction in October 2008. He was sentenced to 33 years, with the possibility of parole after nine years behind bars. That means he could potentially be released in less than three months, and the parole hearing scheduled for Thursday will help dictate whether or not that happens. Simpson has reportedly shown good behavior as an inmate at Lovelock, though whether that will ultimately secure his release remains to be seen.
If you're interested in watching the hearing, you're in luck. It'll be shown live on CBS News' 24-hour online stream, CSBN, starting at 1 p.m. ET on Thursday, July 20. You can also watch it on broadcast television on ESPN, if it's available to you.
According to CBS News, legal experts believe Simpson has a strong chance of being released, given his positive record as an inmate and his advanced age. He's currently 70 years old and reportedly suffers from some health issues, including balky knees (likely exacerbated by the decade he spent playing professional football) and diabetes.
Back in September 2016, The Los Angeles Times reported that Simpson was called "disciplinary free" in a previous hearing, and a former guard at the prison described him as "the perfect candidate for parole." Public awareness of Simpson and his history surged last year, in part thanks to the FX miniseries The People vs. O.J. Simpson, and the Academy Award-winning ESPN Films documentary O.J.: Made in America.
Of course, while the details of his previous murder trial and acquittal shouldn't be relevant to his current situation in any way ― regardless of anyone's personal opinions about the case, he was acquitted ― it's impossible to say for certain how that history could impact the decision-making of the parole board.
The Simpson murder trial came at a time of intense racial division and strife in Los Angeles, and that was reflected in public opinion polls on the case at the time ― white people overwhelmingly believed him guilty, while black people overwhelmingly supported his acquittal. More than 20 years later, however, those numbers have changed somewhat, as a majority of black respondents now believe Simpson committed the murders.