How To Stream The Grammys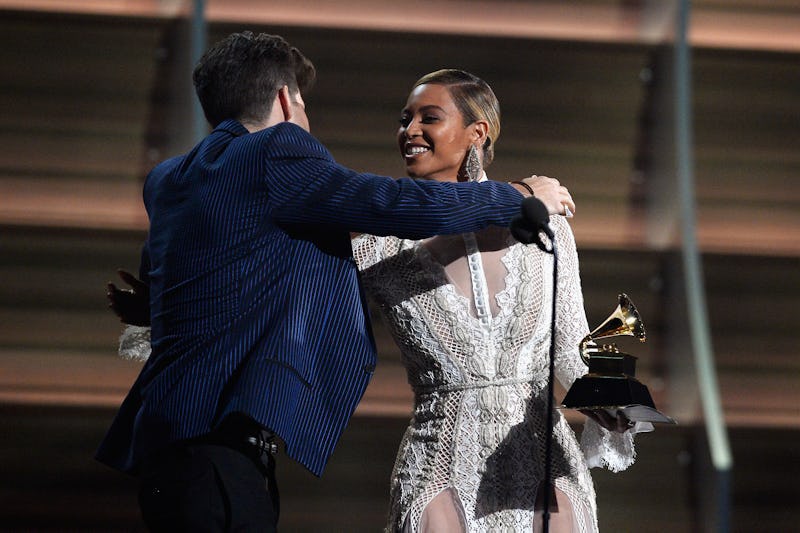 Kevork Djansezian/Getty Images Entertainment/Getty Images
This year's Grammy Awards will celebrate that, while lots of other things may have gone totally sideways in 2016, the music was pretty spectacular. From Adele's Hello to Beyoncé's Lemonade, the albums in contention for the year's biggest prizes are still fantastic, and there's plenty of performances planned that promise to be exciting. So, there are plenty of reasons why you'd want to stream the 2017 Grammys. Luckily for you, there are also plenty of options to watch the ceremony on your computer/tablet/other Internet-connected device, or basically anything with a screen that isn't a TV connected to cable.
The Grammys will air on Feb. 12 at 8:00 p.m. ET/5:00 p.m. PT on CBS, and that means the best place to watch the series is by using CBS' app, CBS All Access. If you sign up for the app — which, it should be noted, offers a free week trial — then you can stream the network live and, if you like to get some bang for your non-bucks while trying out a new streaming service, you can also watch all of CBS' non-Grammys shows. It's certainly the easiest way to stream the show. However, if that doesn't appeal to you, you can also stream the Grammys by watching on any other service that allows you to stream CBS live — that means using your access to Xfinity, Optimum, or Spectrum's apps, or, depending on where you live, using Playstation Vue, since only some areas have CBS.
There should also be a Grammys backstage livestream that won't really help you get the full picture of what's going on, but could help you keep track of who's heading offstage carrying a golden gramophone. But, no matter how you choose to tune in, you really don't want to miss the Grammys. There's already so much planned — here's a few of the probable highlights.
Beyoncé AND TWINS
She's already confirmed to perform, and the first time she performed while pregnant, she literally dropped the mic. I look forward to discovering the onstage personalities of her recently announced twins.
Lady Gaga & Metallica Duet
Gaga is in the middle of revealing her newest persona, one that's less grand dame doing duets with Tony Bennett, and more the kind of beer-drinking, cowboy hat wearin' rock star who sings patriotic themes at the Super Bowl. Throw the Grammy-nominated Metallica in there, and you're curious. I can tell.
Drake & Rihanna & Nicki & J. Lo
This quartet are all in some stage of dating, breaking up, flirting, or just trolling the hell out of their Instagram followers. And RiRi, Nicki, and J. Lo will all be there, though reportedly Drake won't be attending — even though he has so many nominations, there will be plenty of chances to cut to his exes.
Chance Will Cheer Us Up
He pioneered the Optimistic Challenge, his Obama-themed clothing line is already largely sold out, he's generally the happiest rapper alive, and this is his big year. I want to see cutaways to Chance the Rapper laughing, I want to see Chance brought onstage to do a bit, or in a filmed sketch, even if it means paying attention to James Cordon. And, of course, he's scheduled to perform and he's nominated, so it could be an even more Chance-heavy night.
Savor This Adele Performance
Adele doesn't really make that many tabloid headlines. Before Hello was released, she was basically completely under the radar for years. But at the Grammys, she's bound to give a stunning live performance. Hopefully, no mic issues this time.
So Many Well-Deserved Tributes
At the 2016 Grammys, David Bowie's artistry was given a tribute by none other than Lady Gaga. And in the intervening year since, there have been many more sad passings. Other awards shows got the chance to do a major tribute to Prince — but not the Grammys. And George Michael's untimely death on Christmas 2016 has yet to receive any major awards show attention, so it seems like the Grammys are prime for that. The show this year will be filled with dramatic events and moments that you'll be glad you didn't miss, no matter how you watch.