How To Stream The 2017 VMAs & Make Sure You Don't Miss Any Big Moments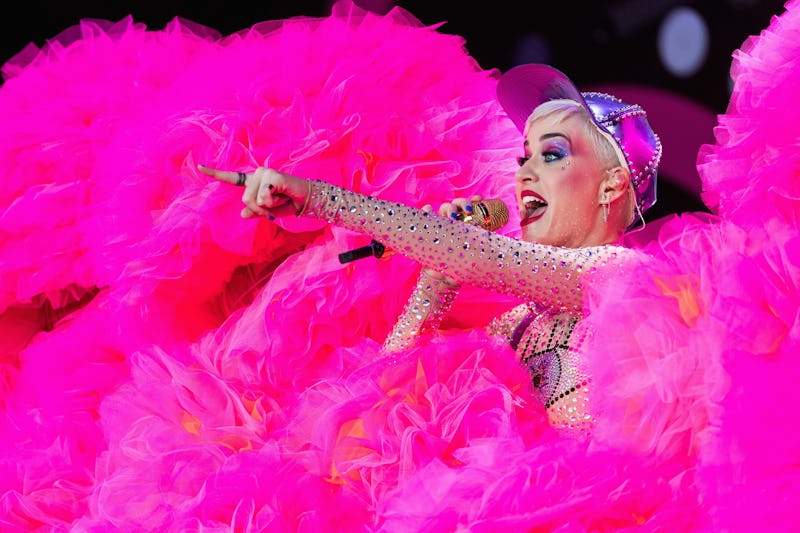 Ian Gavan/Getty Images Entertainment/Getty Images
The MTV VMAs are more than just an awards show — they're often a place where musicians go to perform a stunt, call out a rival, reveal some shocking news, or debut a new song or video. In the past, that's included the blessed announcement that Beyoncé was pregnant with Blue Ivy, Nicki Minaj's "Miley, what's good?" challenge, and Kanye West's infamous "Imma let you finish" interruption. If you're even a little bit curious about what will go down this year, you'll want to know how to stream the 2017 VMAs.
This year, Katy Perry, the host of the VMAs, will be taking the stage just days after Taylor Swift, her longtime rival and former friend, released "Look What You Made Me Do," the first single off of her new album Reputation, that appears to reference the many grievances Swift has had with people over the the years. Reportedly, Swift will not perform at the VMAs, but her new video will be premiering at the awards.
Even for those who are no KatyKat or Swiftboater will certainly want to be aware of what the rest of the Internet will be discussing come Monday morning — for example, the VMAs are also debuting their new, gender neutral Moon Person award. Luckily, there are plenty of methods available to watch the VMAs on Aug. 27. If you don't have a TV with cable, don't worry, MTV's got you covered. You could, of course, just watch the reactions roll in on Twitter all night long, but here are the best ways to use your Internet connection for what might be the most eventful night in music for some time.
MTV Live
The easiest and probably best way to stream the VMAs is to use MTV Live, the streaming service provided by the network. You technically need a cable account to sign in, so now's the time to call your wealthiest friend or parent and find out their username and password.
MTV App
If you download the app, you can use MTV Live on places other than your web browset, like Android or iOs devices, tablets, and even an Xbox One.
Sling TV
If you're subscribed to Sling TV, the service that lets you watch selected networks, you're in luck: MTV is one of the networks you can watch as a part of your streaming package. And, you can get a seven day free trial.
DirecTV Now
Another streaming option that's free of expensive equipment usually associated with satellite television. Yes, naturally, MTV is one of the available DirecTV Now channels.
Roku
This is a physical box that can stream all types of apps, and MTV is offered on Roku with a cable login. If you sign up for DirecTV Now, you can get a deal on a Roku, giving you two different ways to watch.
If you're looking for a way to stream the 2017 VMAs, MTV has made it relatively easy to find an option to watch without a cable plan, especially if you know someone else who does have a cable plan. So, whichever way you choose to tune in, make sure you don't miss one of music's shade-throwing nights of the year.