Here's How to Stream The Emmys Red Carpet To See TV's Chicest Stars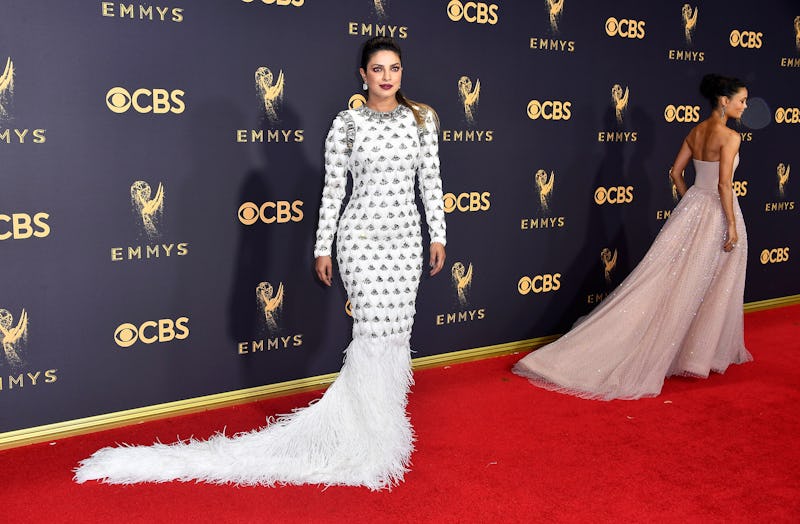 Frazer Harrison/Getty Images Entertainment/Getty Images
Word on the street is that the Emmys are approaching — fast. And while some of us can come through dripping with a cable package to watch all the fabulousness unravel in real time for the 2018 Emmys red carpet, the rest of us fear we have to miss out on Emmys night and see the glam unfold a day later before we can see which "lewks" our fashion-forward faves came to serve. Don't get your thong in a bundle just yet, because this year there are plenty of ways to view all of the Emmys red carpet fashion live.
Back in the more archaic days, we were forced to schedule our lives around a TV guide and, sadly, not all of us were on the TiVo wave. Luckily, we live in the present where even your local coffee shop where you grab your morning espresso has an internet connection, and this year's Emmy Awards can be watched from wherever in the world you are cushioning up to see your celeb faves deliver some of the most memorable arrivals.
As opposed to last year's broadcast on CBS, this year's 70th Emmy Awards will be brought to you by NBC on Monday, September 17th at 8 p.m. ET and 5 p.m. PT. On the other hand, if you're like me and don't have access to modern technology's television, fear not. For you can watch the stars align in their Emmys getups on the People TV free app, people.com and and EW.com. If you're a true fan of Emmys glam, you can also catch all the looks during the pre-show being streamed on InStyle.com, Essence.com, and Time.com.
In previous years, HBO has been the station that brings out the most awards for the Emmys. But according to CNet, your go-to streaming service, Netflix, is taking the crown for most nominated shows, scooping up 112 nominations. So prepare to see Millie Bobbie Brown, the Stranger Things cast, and all the rest of the Netflix and Chill family to have outfits that'll have you shook.
If you don't have a computer, though, we've still got you covered. To get all the night's fashion and beauty moments, you can download the NBC app to switch between smartphone and tablet (if you're that dedicated, anyway).
Although the app requires a cable TV provider link, you can take the Emmys right along with you as you grab you late night snackage and wine before you settle into the night's main event.
Still not satisfied? Welp, there's a heap of information called good ole Twitter to get every last look in the book. Use and abuse the search bar with the hashtag #Emmys or even #Emmys2018 and see TV's finest comment, but more importantly, compliment.
This year, it's pretty much impossible to not watch the Emmys unless you're willingly trying to avoid all the hype, but who would be crazy enough to miss out on the head to toe fab fashion and beauty on a night like this?