Here's How You Can Stream The Midterm Results In Real-Time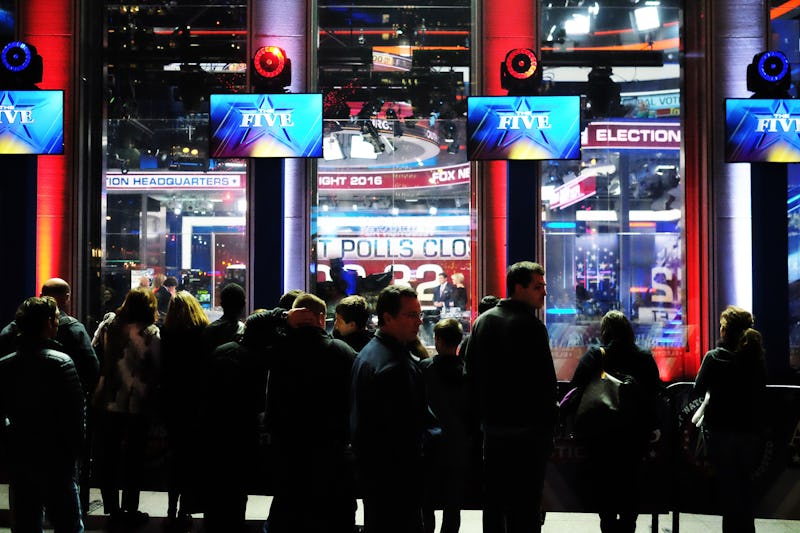 Nicholas Hunt/Getty Images Entertainment/Getty Images
Americans are heading to the polls for the first nationwide general elections since Donald Trump's upset victory in 2016. Most of the networks will be covering the returns as they come in; if you'd like to stream the midterm results but don't have a cable subscription, you have several options.
CBS News is live-streaming coverage of the results over at its YouTube channel. So is the Washington Post, NBC News, Fox News, and The Blaze — and all of those channels are free to watch, so you won't need any type of log-in or subscription to watch. If you're looking to stream the midterms from a computer, any of those channels will do the trick. If you do have a cable subscription but don't have access to a television, you can probably log in at your provider's website and stream the election results over a computer.
Of course, watching the election results isn't the only way to keep track of them. Vox, FiveThirtyEight, Politico, the New York Times and many other websites have real-time trackers that can keep you posted on the state of the midterms. On Twitter, the Associated Press is using the #APRaceCall hashtag to report races as it calls them — and of course, there's always the radio.
Although most pre-election polls suggest that Republicans will lose the House of Representatives while retaining control of the Senate, it's entirely possible that the final outcome won't be clear until well after election night. If control of the House comes down to California, which closes its polling stations late in the night and can take quite some time to tabulate votes, it could take weeks to know which party controls the lower chamber of Congress.
Similarly, there's a decent chance that the Senate race in Mississippi will go to a run-off, which is required under state law if no candidate wins 50 percent of the vote on election night. If this happens, the winner of that election won't be known until Nov. 27 — which means that control of the Senate, should it come down to a single seat, may not be known until after Thanksgiving.
A Democratic takeover of the House would have significant ramifications for President Trump's domestic agenda. Without Republicans controlling both branches of Congress, Trump would have a very difficult time passing any major new legislation without significant Democratic support. Moreover, a Democratic-controlled House would likely move to protect Robert Mueller's Russia investigation, and perhaps launch their own investigations into the president.
In August, Trump suggested there could be "violence" if Republicans lose control of the House. In the more immediate build-up to the election, however, he tempered his rhetoric slightly, saying that a Democratic-controlled House would be "bad for the country" but ultimately, not a reason to worry.
"My whole life, you know what I say?," Trump said at a rally in West Virginia while discussing the possibility of Democrats winning the House. "Don't worry about it. Just figure it out. Does that make sense? I'll just figure it out."