The 'Rise' Soundtrack Is 'Hamilton' Meets 'Glee' Meets Pearl Jam — Here's Where To Find It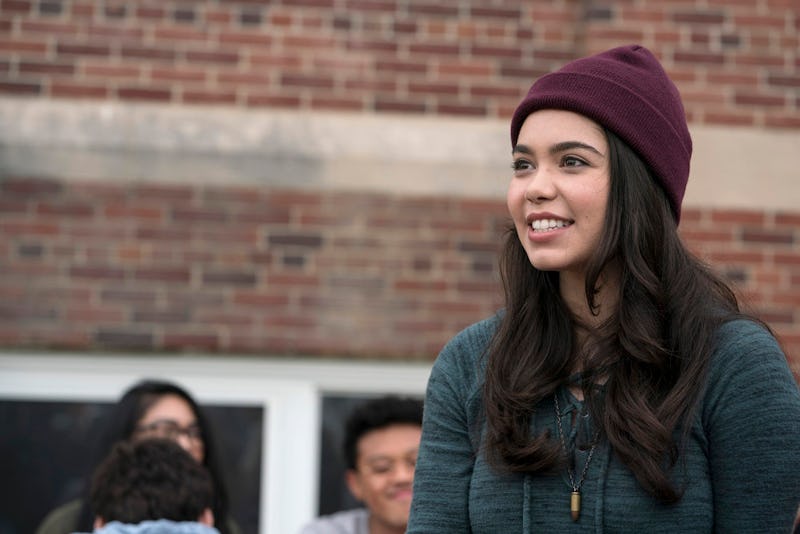 Peter Kramer/NBC
It's been a while since a coming of age musical drama has hit TV and really resonated with audiences — not since Glee has anything quite captured the big, blockbustery, theater-kid ballads that viewers crave. But that all could change with NBC's Rise, premiering March 13 at 10 p.m ET. The promos tease a high school theater program with a musical component that's similar to the Ryan Murphy series, but feels bit heavier — a bit less cheeky than Glee tended to be. The common strain between the two shows is really the music — so how can you listen to the Rise soundtrack?
According to Playbill, NBC plans to release weekly cast recordings of the soundtrack ahead of each new episode, and the songs will be both the numbers sung by the cast in the show as well as cast remixes of "non-musical theatre tracks that play throughout the episode." The first batch of recordings, made up of five songs, including two songs from the musical Spring Awakening, is both on iTunes and Spotify as of a few days ago. The tracks were a little finicky to find without first knowing their titles, but searching "Rise cast" should yield immediate results for anyone hoping to get a sneak preview of what this show has to offer, and from there you can bookmark or follow the page for easy access in the future.
The songs are also featured on the YouTube page for Atlantic Records, which has a playlist specifically dedicated to Rise tracks. That's where you can find lyric videos, if you're itching to sing along from your very first play. Rise itself also has its own YouTube channel, and while it doesn't seem to yet have all the tracks available on other mediums, it does have a music video or two thrown in there along with cast interviews and other fun behind the scenes clips. Perhaps once the songs actually appear on TV, the Rise page is where that footage will go.
Regardless, there appear to be a few different ways fans can rock out to Rise, even if all the tracks aren't up all at once. It'll actually probably lend to the excitement as fans wait each Friday to see the new batch of songs, and speculate how they'll fit into the show's narrative. It seems like there might be some songs showing up in episodes that aren't dropped ahead of time, too, so Rise showrunners are still leaving some anticipation up in the air. "Some episodes have less music, some have more," Kevin Weaver, president of Atlantic Records, West Coast, told Billboard. "We'll base it on the music in that week's episode. We're releasing the most important featured songs."
The talent behind the show's tracks is undeniable. Weaver is a five-time Grammy award winning producer, and Tony and Pulitzer Prize winner Tom Kitt is also collaborating on the music's production, according to Playbill. Moana powerhouse Auli'i Cravalho is one of the show's stars, and the legend himself Lin-Manuel Miranda even wrote an original song for Rise, the same article reports.
The songs featured in even the first batch of songs also shows the variety Rise could tackle — you might not expect to see a Pearl Jam cover thrown in the mix with Spring Awakening montages, but the cast really goes for it (as a devout Pearl Jam die-hard, I admit I was skeptical, but the twist on the song is actually unexpected and very pleasant). The point is, Rise, its showrunners, its producers and its cast are offering up Broadway-level talent, and we're lucky enough to watch it unfold without making a trip to New York City theater. Even if you don't catch the latest episode, give the soundtrack a listen as tracks drop each week — so far, at least, they can definitely stand on their own.