How To Help Detained Immigrant Families One Year After Trump's Zero Tolerance Policy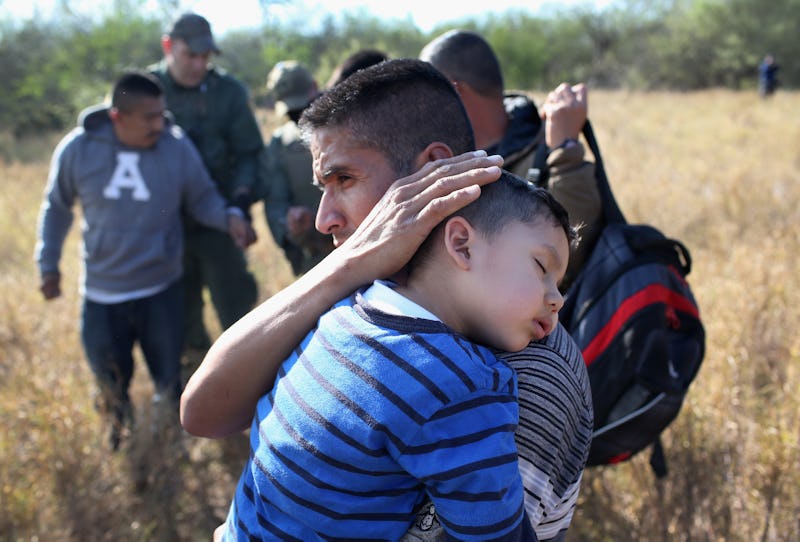 John Moore/Getty Images News/Getty Images
On May 7, 2018, the Trump administration officially enacted its "zero tolerance" policy for immigration at the southern border. Though the administration ended its family separation policy soon after and declared it would detain immigrant families together as a unit, the policy's impact didn't disappear overnight. If you want to support detained immigrant families one year later, there are a few ways to help.
After facing national and international uproar, Trump ended his immigration policy of separating families in June last year and replaced it with the practice of indefinitely detaining them together, Vox reported. Immigration law experts have argued, however, that the new policy has its downfalls.
In a report published in June 2018, attorneys told Bustle that Trump's new policy of detaining families together could still leave room for family separations due to ambiguity in his executive order. In fact, the federal government has been given a deadline of six months to identify and reunite thousands of presently unaccompanied immigrant children in detention centers, per a federal judge's ruling in April. According to The Washington Post, there are at least 47,000 cases of unaccompanied minors — from July 1, 2017 to June 25, 2018 — that require the federal government's attention.
If you want to help detained immigrants, the list below provides some options. From calling your representatives, organizing or attending protests to volunteering with advocacy groups, and using social media to create awareness, there are a few actionable steps you can take to show your support for the dignity and safety of immigrant families.