Here's Your Holiday Mercury Retrograde Survival Guide, Based On Your Zodiac Sign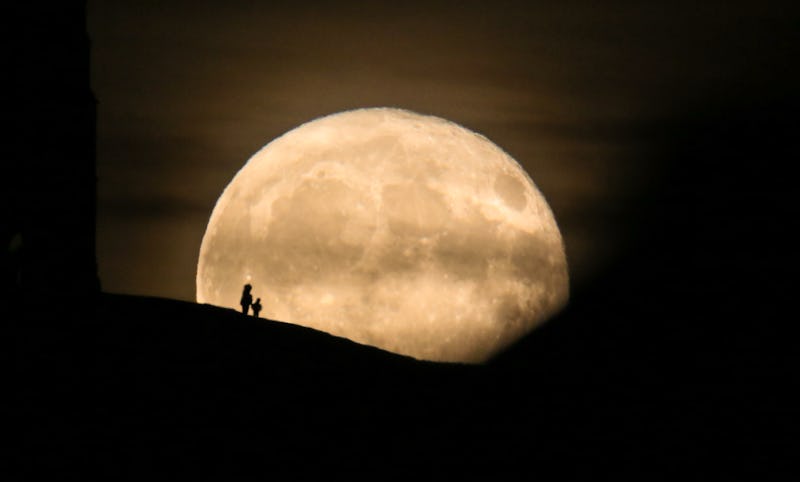 Matt Cardy/Getty Images News/Getty Images
Prepare yourselves — Mercury is officially in retrograde. From Dec. 3 to Dec. 22, Mercury retrograde is here to make trouble during the holiday season. With Mercury retrograde happening during the same time as 2017's only supermoon as well as the winter solstice, you can expect a major shift in energy and cosmic vibes. What does it mean for you individually? There are ways to survive Mercury retrograde based on your zodiac sign, and you might find them necessary to get through this month unscathed.
In general, Mercury retrograde means a lot of mishaps, communication issues, some electronic hiccups, and added travel stress. The fact that it's happening during a Gemini-centric full moon means that it's also a great time to reflect on the past and tie up loose ends. It's definitely going to be a complicated time full of misunderstandings, and you might find yourself feeling a bit off. But, of course, it's not going to be exactly the same for everyone. Some signs will feel the effects a bit worse, while others just need to keep a few things in mind. With the added stress of the holidays, you'll want to keep on top of this — trust me! Find out how to get through this cosmic kerfuffle the best way possible by paying attention to your horoscope.
Aries (March 21 - April 19)
When Mercury is in retrograde, communication gets totally out of whack. This can, make things uncomfortable for an Aries, since this sign is normally super to-the-point when it comes to talking to others. Aries like conversations to be quick and direct, and Mercury retrograde might make that impossible. It will feel frustrating, but try to listen to others and communicate more thoroughly instead of getting angry.
Taurus (April 20 - May 20)
Mercury rules communications and financial issues for you, which could make things tricky for the holiday season. While Mercury is in retrograde, you might not want to make any big decisions concerning finances or romantic partners. Instead of starting anything new, focus on letting go of the past and working through some issues you've been dealing with — with Mercury retrograde coinciding with the Gemini supermoon, this is an ideal time to reflect on the last year and get ready for the new one coming up.
Gemini (May 21 - June 20)
Things get tricky for Geminis: Mercury retrograde is happening during the Gemini supermoon, and so all of the communication issues that everyone else will be feeling will be a little more intense for them. To get through this, be extra careful when talking to anyone, especially a romantic partner or someone close to you. Misunderstandings may be more likely, so be open to talking things through, be as detailed as possible, and make sure to listen closely. Avoid jumping to conclusions and just give yourself time to work through whatever comes up.
Cancer (June 21 - July 22)
Things are going to be extra tricky for you when it comes to work and daily routines. According to Cafe Astrology, "your intuition usually serves you very well, but may not be up to par for the time being." Be careful about anything you do when it comes to work — look over everything you do twice to avoid mishaps and don't consider starting any big new projects until Mercury retrograde is over. You can reflect on past work to learn from your mistakes, but don't put too much energy into something new.
Leo (July 23 - August 22)
Mercury retrograde really affects the financial aspects of your life, so now is not the time to invest in something big or make any life-changing financial decisions. That may seem hard during the holidays, when you're buying gifts for the people you care about, so focus on the details and really think things through before making any final decisions. You also need to be careful around your partner and other loved ones. Avoid unnecessary arguments by being as clear as possible when talking and avoiding judgment.
Virgo (August 23 - September 22)
Astrological news isn't great for Virgos — it's one of the signs most affected by this particular Mercury retrograde. You'll find it even more difficult than usual to be patient, and arguments might spring up more often. Try to avoid making spontaneous decisions and be extra clear when communicating with others. According to Cafe Astrology, "career matters are Gemini-ruled for you," so definitely don't make any big work decisions. Instead, try to stay calm during this time by avoiding any big projects and added stress.
Libra (September 23 - October 22)
This Mercury retrograde cycle may have you feeling extra forgetful, and also might bring up annoying issues from your past. If you don't have to travel, don't — stay home for the holiday season! Mercury retrograde always affects travel, but following directions correctly might be even more of a struggle for you. Be extra careful when it comes to speaking with anyone, whether it's a loved one or a stranger. Plan in more time for anything scheduled throughout the day just in case you forget about something you needed to get done. According to the Farmer's Almanac, "Libra, representing beauty, grace, charm, and diplomacy, is out of balance. Refresh, relax, and rejuvenate."
Scorpio (October 23 - November 21)
You'll definitely find your financial situation to be a little more tricky than usual thanks to Mercury retrograde. Instead of making new decisions, you should try re-budgeting. Use this time to go over your finances, look at your spending, and rework things to your advantage. This isn't the time to make big financial decisions, but it is a good time to reflect on what you've been doing with your money and how you can improve. And, as usual, reign in your emotions. Mercury retrograde can throw them even more out of whack, so be aware and careful!
Sagittarius (November 22 - December 21)
Mercury retrograde is in Sagittarius, which means that normal side effects might seem more intense. According to Dark Pixie Astrology, "the retrograde begins at 29 degrees Sagittarius, so those of you Sagittarians born after Dec. 18 can feel the start of this retrograde most." According to Cafe Astrology, your body language may be misinterpreted more this month, and you might give off a lot of mixed signals to others. So, this is a good time to reflect on how others perceive you. You also shouldn't rush into any decisions, and you should spend your time trying to be as clear as possible when communicating.
Capricorn (December 22 - January 19)
This Mercury retrograde will have some seriously intense side effects for you. Dark Pixie Astrology says that because of the timing of retrograde, you might find yourself struggling more than normal when it comes to all things adulting. You might find legal and financial troubles more difficult than usual. Put off any important decisions, especially ones that concern money. You might also find that your intuition is off, and you might not be able to pick up on things as well as you usually do. You should also be careful about your private life - avoid getting into deep conversations if there are things you don't want to reveal to others.
Aquarius (January 20 - February 19)
Mercury retrograde is going to make communication difficult, especially with friends. Be extra careful when it comes to talking to friends and making plans, especially if you have a large group of friends. You might even find old friends reappearing - that's fine, but avoid making any life-changing decisions regarding them. Since this Mercury retrograde is a good time to reflect, this could actually be a good time to take advantage of the reappearance of old friends.
Pisces (February 20 - March 20)
Communication is definitely going to be tricky this holiday season. Be extra careful when speaking to anyone, whether it's a romantic partner, a friend, a co-worker, or a stranger. Make sure you're clear and acknowledge that there might be some misunderstandings. According to Cafe Astrology, you also might find yourself "re-thinking matters regarding your life path." That's fine, but only let yourself think — don't make any final decisions just yet.
As it turns out, Kylie Jenner's year of realizing stuff statement might have been said too early. Be cautious, reflect, and good luck everyone!