7 Signs You Aren't As Happy In Your Relationship As You Think You Are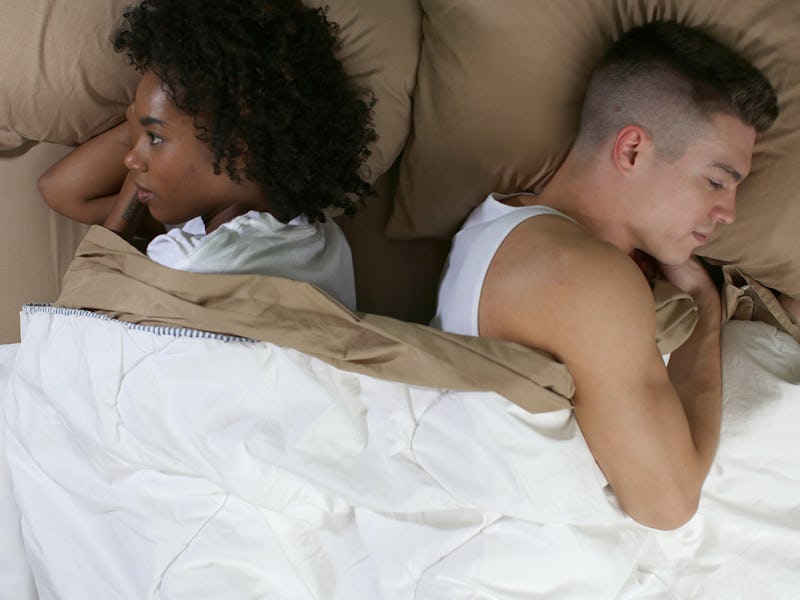 Ashley Batz/Bustle
When I was single for a long time, I used to assume that whenever I eventually found someone who wanted to be with me long-term, I'd be on cloud nine all the time — that I'd be happy simply by virtue of having someone to call my partner. As I've now learned, I couldn't have been more wrong: long-term relationships are full of ups and downs, and your happiness with your partner can wax and wane over time. That being said, learning how to tell if you're truly happy in a relationship is often easier said than done. But what does it mean to be happy in a relationship, and is it the same for every couple?
"True happiness in a relationship can generally be measured by how secure you feel that the other person is 'there,'" relationship and dating coach Brooke Bergman tells Bustle. "It's the feeling that if push came to shove your partner would be there — that they will fight for the relationship. It is feeling that you can share your most vulnerable feelings. But mostly it is in knowing that you will always return to each other."
Of course, everyone has a different personal definition of happiness, (especially within the context of a relationship) and thus it's impossible to say exactly what it means to be truly happy with your partner. Ultimately, your happiness is something only you can measure — but it's not always easy to reflect and be honest with yourself about whether you're really happy, or merely content in your relationship.
"Generally speaking, we tend to think we know when we're happiest a lot better than other people do, but in truth this isn't always the case and more often than not, you'll find that an objective opinion can shed a lot of light on whether you're really happy in your relationship or not as happy as you may have thought you were," Caleb Backe, Health and Wellness Expert at Maple Holistics, tells Bustle. "Sometimes, we also get caught up in denial trying to justify why staying in a relationship would be better for you than leaving or trying to make excuses for our own happiness based on the happiness of others or at the sacrifice of our own happiness for the sake of the relationship."
If you've been feeling meh about your relationship and are worried you're not being fully honest with yourself, here are seven signs experts say you're not as happy in your relationship as you think you are — whether you want to stay and work on your relationship or move on and find a new happiness elsewhere is up to you.