It's Humid. You're Itchy. Here's How To Deal With Heat Rash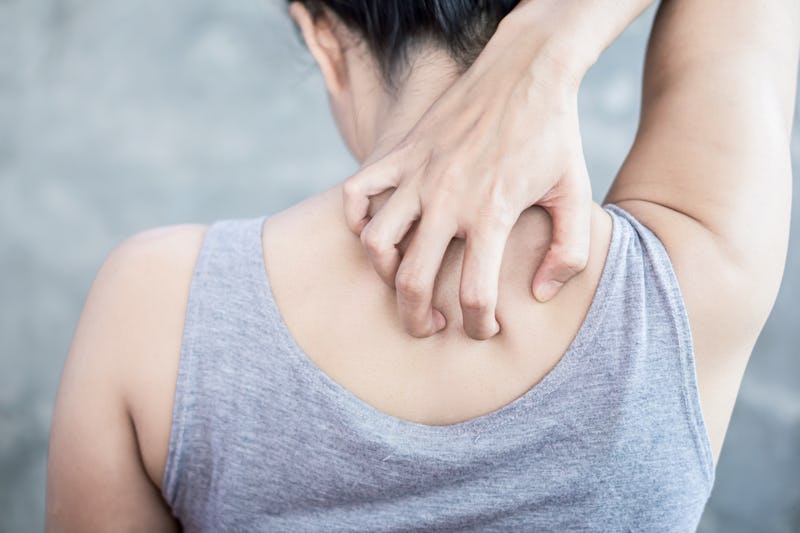 Doucefleur/Shutterstock
Summertime, and the livin' is ... hot and sticky. Seriously, sometimes the heat and humidity that accompany summer can make it feel like you're spending three months living inside of a closed mouth. And all of that hot damp skin means you might also become much more familiar than you'd like with the dreaded heat rash. Fear not my friendlies, all is not lost. There are ways to treat heat rash and heat-related hives. But first, it's important to make sure your skin issues are the result of heat rash and not something else.
"Heat rash is a painful skin condition that often occurs in hot weather," Dr. Gretchen Frieling, a Boston-area board certified dermatopathologist, tells Bustle. "The symptoms of heat rash include small clusters of tiny, raised bumps on red, irritated skin. A prickly, burning, or itchy sensation may also accompany heat rash."
Also known as prickly heat, sweat rash or miliaria rubra, heat rash usually appears around skin folds on the neck, groin, and under the arms when your pores trap sweat (cute!). While heat rash isn't dangerous, and will typically go away once you cool down, it's certainly uncomfortable. "While there are many natural remedies for prickly heat, preventing it is key," Dr. Frieling says. And although it's not 100% preventable, there are definitely things you can do to reduce the likelihood you'll spend your entire summer walking around itchy and irritated.