Here's A Quick & Easy Guide To Instagram's New Poll Feature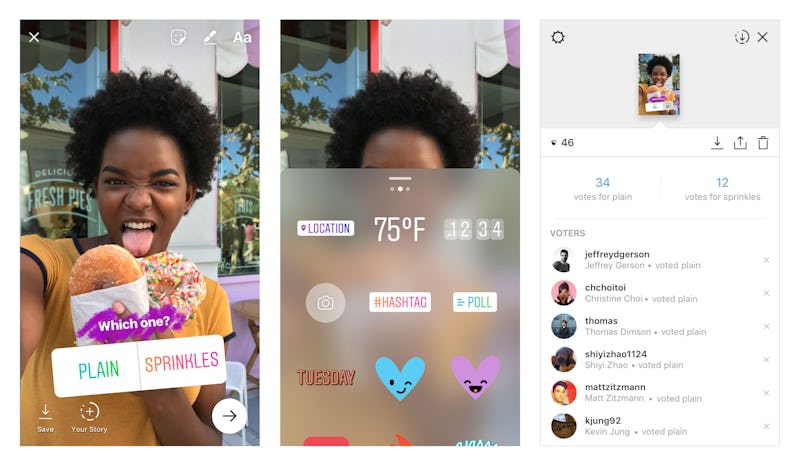 There's an exhilaration in the air, and it's not the crisper weather or the leaves tumbling from branch to ground. It's actually happening inside your phone on Instagram, and it's about to change the way we all interact with each other: On Oct. 3, the social media platform launched their new poll feature. In light of that, you might be wondering how to use polls on Instagram — but don't worry, it's totally as simple and straightforward as creating your stories as you normally do. I know that anything new can at first seem overwhelming, but it's really not this time!
Whenever a new app morphs into a more mature, updated version of its former self, I tend to fumble through the changes for a minute before finding my flow. But this Instagram update that we have all been blessed with is the kind of new feature that's thankfully ready to use for seasoned story creators. A spokesperson for Instagram assured in a press release that when users hit their creative stride with this addition, "users will be able to interact directly through Instagram Stories outside of just direct messaging, making it even easier to engage with friends and followers."
Instagram went ahead and correctly guessed that the modern person encounters approximately one million and a half questions during the day. Using these polls will surely make life — and early morning decisions (almond milk or soy for the latte?) — a lot more interesting. If you've already been using Instagram Stories, you'll definitely skip the fumbling part of adjusting to a new feature and ease into the steady use of it. I promise you that this is an update that's painless to get used to, and I for one can't wait to make use of it.
So, there's really no need to stress over acquainting yourself with a new feature. I have full confidence you'll be set up and getting your friends to your polls in no time. Here's how you can get started on your very first poll.
Create An Instagram Story
At this point, we've all snapped a picture of our whereabouts and our delightful avocado toast and uploaded it to our story. To start with your poll, you just have to do the same thing! Take a picture or video to add to your story.
Select The "Poll" Sticker
Next to the #hashtag sticker, you'll find the new "poll" option. Click on this to get started with your question. You'll be able to customize your answer options once you've placed the sticker over your picture.
Customize Your Poll
Once you have your sticker placed and your question thoroughly thought out, it's time to get creative with your ~colors~. Choose from an array of hues and you can even accessorize the poll with stickers. That will definitely catch your friends' and followers' eye, enticing them to engage in your poll!
Check And Analyze Your Results
Now that your poll has been posted, the interesting part can commence. With this update, you'll get feedback in real time so that you are able to make decisions as soon as they need to be made. As your friends and followers begin to vote, you'll be able to check in on what side they've chosen by heading into your stories and swiping up. There you'll see your poll options. Under the two choices you'll not only have access to view the amount of friends who participated in the vote for that particular choice but who exactly thinks choice A is better than B.
This update in Instagram Stories allows interaction between account and follower in a new, more creative way and on an informative level that connects accounts beyond direct messaging. And the best part is, it's as easy as a feature you're already used to.
Now that you have completed this course in Instagram polling and are undoubtedly a social media professional, I send you off into this update with the utmost confidence that you'll get the results you want.