You Can Use The New "Shortcuts" Feature In iOS 12 To Hack Your Morning Routine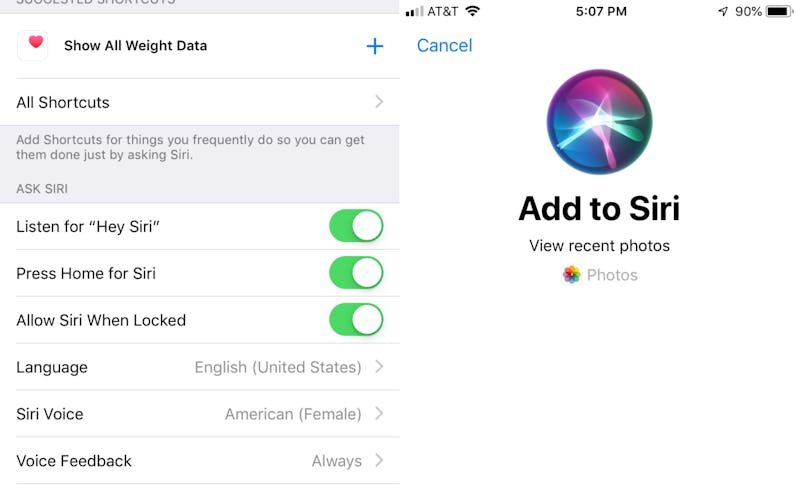 Emma Lord/Bustle
It's 2018, and by definition of being a human in this time, you are busy as all heck. With our schedules as hectic as they are, every second counts — so why not take measures to try and save some of those seconds for important things like marathoning Netflix rom-coms and naps? Once you learn how to use Shortcuts in iOS 12 to save you time on your daily routine, you'll get some of those precious seconds back again and feel like kind of a badass to boot.
"Shortcuts" is one of many new features included in the iOS 12 update, but arguably the most convenient. "Siri can now intelligently pair your daily routines with third-party apps to suggest convenient shortcuts right when you need them," according to Apple. "So if you typically pick up a coffee on the way to work, Siri will learn your routine and suggest when to place your order from the Lock screen. You can also run shortcuts with your voice or create your own with the Shortcuts app."
Kind of a dream come true for a lazy person on the go, right? If you're eager to use this new function in your day-to-day, here's a quick rundown of how it works, and how you can set it up.
Download iOS 12
Yes, you'll probably have to delete 16 apps and sign away your firstborn, but it's worth it. Go to Settings, then General, then Software Update, where the iOS 12 update should be available. Hit "download" and wait out the storm.
Find "Siri & Search"
Once you're all updated, go to General, then Settings, and hit Siri & Search. It will lead you to this screen here, where it might suggest shortcuts for you based on your previous activity (for instance, I'd checked my step count for the day just before this, prompting it to suggest the above).
Once you've reached this page, tap "All Shortcuts".
Record A Voice Memo
You'll reach a page that suggests Shortcuts to you based on your "Favorites" in contacts, your home address, your recent activity, etc. Tap whichever one you'd like to make a shortcut of, and Siri will direct you to this screen, where you can make a voice command to match it. After that, once you issue that vocal command to Siri, you ought to automatically see that function play out — whether it's calling your sister, routing you to a saved address, or checking your step count.
But what if you want Siri to prompt a Shortcut for you that you don't verbally tell her? That, interestingly enough, is one Siri has to "learn". All you have to do is live your life the way you normally live it, and she'll start suggesting Shortcuts for you in the form of notifications on your screen. For instance, if you order coffee via mobile app in the morning around the same time, it may prompt you with a notification that automatically opens that app.
In the meantime, if anyone needs me, I'm setting up Siri Shortcuts to call my sisters anytime I say "call the nerdy ginger" or "call the musical theater dweeb". Technology, guys! It really is great.