The New "Shortcuts" Feature For iPhones Will Save You A TON Of Time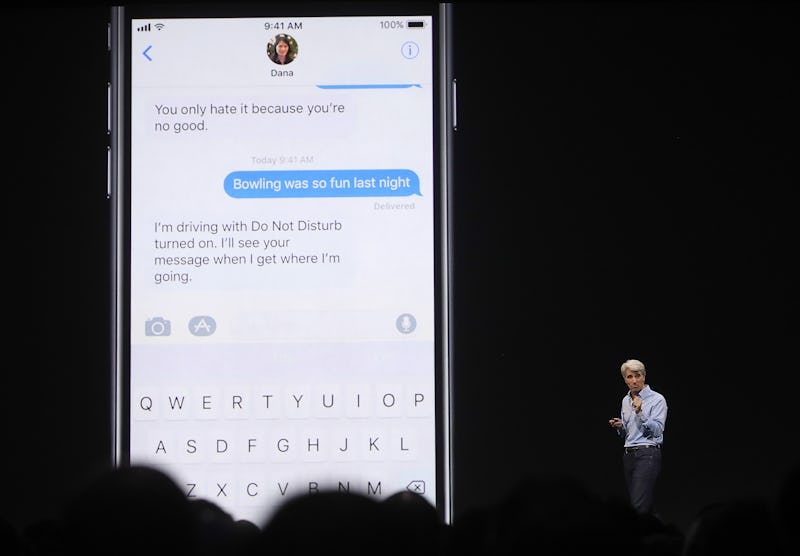 Justin Sullivan/Getty Images News/Getty Images
Apple may have announced the latest additions to the iPhone family last week, but there's also an update those who already have iPhones and iPads can use. The update for iOS 12 is available as of Monday, September 17, and it has a lot of new and, frankly, spooky features, including iOS 12 app Shortcuts, which puts Siri to work in a new way.
iOS 12 was originally announced in June during Apple's Worldwide Developers Conference. At that time, many of the new updates were revealed, but Apple shared even more information about the new operating system during the Apple Keynote on September 12.
In addition to being able to measure real life things using virtual reality technology (it's pretty cool to watch) and a feature that lets you monitor your screen time, another big iOS12 update has to do with Siri and a new Shortcuts app, which replaces Workflow.
You know how your iPhone does that thing where a message will pop up at the bottom and say something like, "Arrived home. Siri suggests Instagram"? Well, iOS 12 adds another level to that. According to the Apple site,
Siri can now intelligently pair your daily routines with third-party apps to suggest convenient shortcuts right when you need them. So if you typically pick up a coffee on the way to work, Siri will learn your routine and suggest when to place your order from the Lock screen.
In addition to this, the Shortcuts app allows users to "create or customize your own shortcuts to run multiple steps at once." Apple explains you can "Get started with examples from the gallery and personalize with steps from across your apps." So, instead of opening the home screen, going into an app, and going to what you need to within that app, you can create a shortcut that goes right to what you're looking for. You can also use Siri voice commands to use a shortcut. To go back to the coffee example, you could tell Siri "order coffee" and an order for your usual coffee at your usual café could be placed.
As The Verge notes, Shortcuts will allow users to do things like set up their morning routines — for example, opening emails, launching your news source of choice, turning on music — but some of the usefulness of the feature will rely on the developers of the third-party apps being used with Shortcuts and how the two will work together.
Reviews of Shortcuts haven't started rolling in just yet. As of now, it looks like a lot of people are still waiting for the iOS 12 update to become available on their phones and are posting about their repeated refreshing on Twitter:
There are also a number of reminders about backing everything up before updating just in case:
Soon enough, though, everyone with an iPhone 5S or newer (or an iPod Touch 6th Generation or many different types of iPads) will be able to try out iOS 12, and see if they like the new Siri or if they'd rather just turn it off.