Here's How To Watch All Of Ariana Grande's 'Dangerous Woman Diaries' Episodes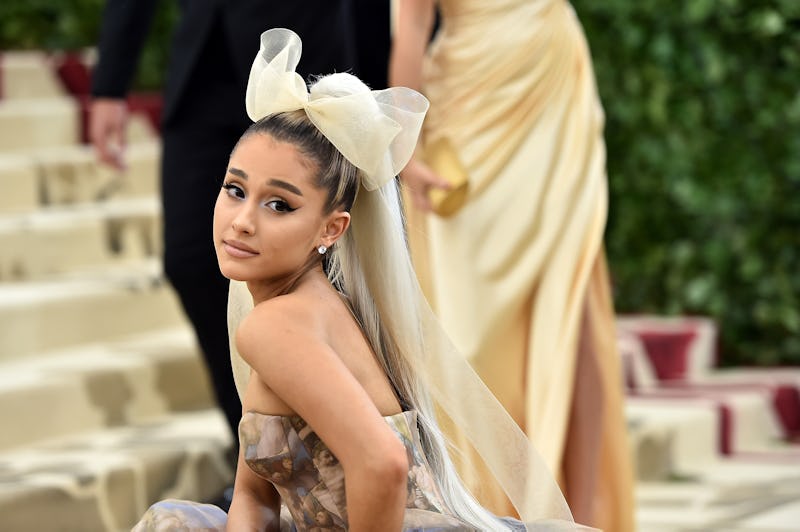 Jason Kempin/Getty Images Entertainment/Getty Images
At long, long last, Ariana Grande's first docuseries has debuted, and it has fans all over bursting with excitement. Called Dangerous Woman Diaries, the four-part series is an intimate behind-the-scenes look at her most recent tour and also the last year. And while many are wondering how to watch all the Dangerous Woman Diaries episodes, and itching to do so, look no further than trusty YouTube. That's where all four episodes of the series are, and you can begin watching them this very minute.
The first episode, which she titled after a song on sweetener, "the light is coming," premiered on YouTube Thursday, Nov. 29. By the lovely grace of Ariana Grande, that episode is available, right now, to watch at your leisure for free. The second episode ("Here's The Gag"), third ("Grateful"), and last episode ("One Love"), are available with YouTube Premium. You can try it free for one month, and then afterwards it's $11.99 a month, or $5.99 if you're still a student. While it's a small bummer that it's not entirely free, you can definitely fit in all four episodes in during your free trial, so that's a plus.
If you're also worried or iffy about the free month trial for whatever reason, Ariana Grande also tweeted that she thinks you can watch "one episode a week (for free)." Meaning that episodes will roll out for free week to week (Episode 2 next week, and then 3 the week after, etc.). So if you're also someone who likes to savor shows, this might be the best option for you, as well (and you won't have to get Premium).
As the trailer for the docuseries showed, the series highlights a lot of her most recent tour, which was, as you probably guessed by the name of the series, the Dangerous Woman Tour. It ran for most of last year (from February through September of 2017), with the tragic bombing in Manchester taking place in March.
Also, as you watch the first episode, you'll see that you also get glimpses into Grande's recent work, including a behind-the-scenes look at the recording of her album sweetner.
To be more specific, thanks to the official description for the series, the rest of the episodes will allow fans to take a closer look at the shooting of the music videos for "the light is coming" and "God is a Woman," her transcendent VMAs performance, and "live performances including Focus, Into You, Touch It, Side to Side, One Last Time and Dangerous Woman."
And if you're waiting for each episode to be released for free each week, or love trailers before you start something, the trailers for the upcoming episodes are available to watch right now free of charge. "Here's The Gag" trailer shows Grande getting hyped up by her backup dancers before a show on the Dangerous Woman Tour. The "Grateful" preview shows her getting glammed up and being her adorable, great story-telling self. And the trailer for "One Love" is pretty beautiful, with Ariana Grande going over ways to get through rough patches in your life. If you're a fan of Grande, you'll know that "One Love" was also the name of the benefit concert she hosted in Manchester on June 4, 2017, to honor the victims of the Manchester bombing that occurred at her concert there in March.
Grande shares a lot with her fans, but her Dangerous Woman Diaries series might be the best way to get a look at who Grande really is.