FYI, There's A Legit Way To Watch 'HTGAWM' Season 5 Ahead Of Its UK TV Release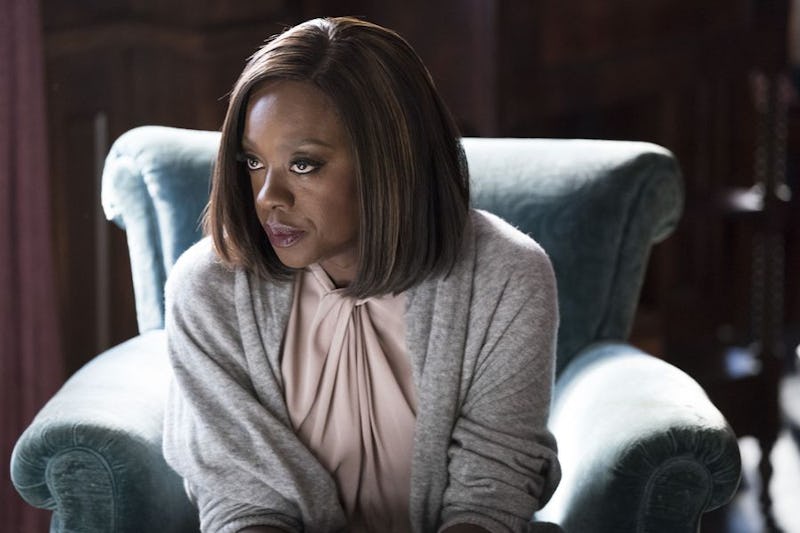 Mitch Haaseth/ABC
The only thing that puts me more on edge than watching How To Get Away With Murder is trying to find the next episode before my pals in the U.S. spoil it for me. If you've not seen it, this multi award-winning show stars the queen that is Viola Davis, who's also won awards for her role as the conniving teacher Annalise Keating. But whether you've seen it or not, this is the show that everyone should be watching. Although it can sometimes be tricky to find, here's a guide on how to watch How To Get Away With Murder in the UK.
Season 5 of the increasingly tense show is well underway in the States, and the premiere was seriously well received. It had "intrigue and suspense," Kayla Kumari Upadhyaya of AV TV Club wrote, and "lined up all the pieces," while hinting in classic HTGAWM style that it will "soon knock them all down".
But enough teasing. If you want to see what all the hype is about without having to get a plane ticket, then there's a few ways for you to get in on Annalise Keating's grizzly shambles.
According to the Express, Season 5 of HTGAWM premiered in the States on Sept. 27, but it won't come to Sky Living until 2019. That's an awful lot of time to get amped up following last season's cliffhanger. So, instead of marathoning over and over into the new year, you can sign up for a Hulu account and watch sooner than most (have a viewing party and invite me, please). But if you've not caught up that far yet, Season 4 is finally available to UK viewers on Netflix, and has been since July, as The Sun reported.
But what can you expect from Season 5? Well, back in March, HTGAWM show-runner Peter Nowalk began to tease fans who attended the Season 4 finale screening at Sunset Gower studios. As Deadline reported, Nowalk hinted at Connor Walsh (Jack Falahee) and Oliver Hampton's (Conrad Ricamora) wedding, although, Nowalk said to expect the unexpected at their big day. He said: "I will say I personally kind of hate weddings. And I hate the trope of it, so we're going to do it in our own fun way."
I really hope that doesn't mean tragedy's on the cards for the show's hottest couple.
There are also going to be more appearances from Annalise's twisted late husband, Sam Keating, who Nowalk's found much more storyline potential with. "There's so much of their marriage that we didn't explore, and before they met each other, so that's definitely a story goldmine for me," he said at the same event. But what fans are most concerned about — massive spoiler alert incoming — is the fate of Bonnie Winterbottom (Liza Weil). While I personally still can't un-see her as Paris from Gilmore Girls taking a very weird turn, things did get real during Season 4's penultimate episode. She was last seen in a potentially fatal car accident, so now, Season 5 just needs to hurry up so I can see what's happened to Paris. Sorry, I mean Bonnie.