How To Watch Hurricane Irma In Real Time, Because It Could Be The Storm Of The Century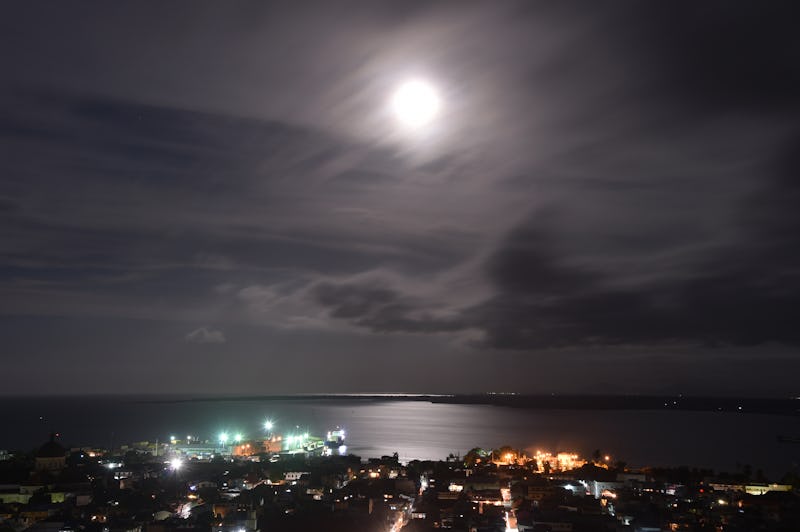 HECTOR RETAMAL/AFP/Getty Images
Hurricane Irma has rapidly become the most powerful storm ever recorded in the Atlantic Ocean. With wind speeds of up to 180 mph, this Category 5 hurricane is on track to cause some major devastation to islands in the Caribbean and areas in South Florida.
But even if you don't have friends or family in these areas, and if you're not a resident yourself, you'll still want to know how to watch Hurricane Irma in real time, so you can keep an eye on what could very well be the storm of the century. Irma made landfall early Wednesday morning in the Caribbean, and there are a number of websites and outlets that will be proving real-time updates on its path.
A good place to start for updates is the National Hurricane Center website run out of the National Oceanic and Atmospheric Administration. The homepage of the website provides updated information on the wind speed, rain levels, and location of the storm, as well as important public advisories you should be aware of. The NHC Twitter account is also a great place to turn to for quick updates, and so is the National Weather Service's website and Twitter account.
There are also a number of reputable meteorologists who will be Tweeting frequent updates based on NHC and NWS data. Jeremy Smith, Gary Szatkowski, Stu Ostro, and Eric Holthaus are all people to look out for.
If you're interested in actually watching the impact the storm has as it makes landfall, EarthCam is hosting a number of livestreams from a variety of locations that you can tune into. For example, a webcam has been set up on San Juan Beach in Puerto Rico to provide an aerial view of the storm's impact on the waterfront, and on Sombrero Beach in Florida. Web cams are also set up in other areas across the Florida Keys.
If you're still interested in diversifying your storm coverage a bit, Emmy-award winning professional storm chaser Jeff Piotrowski will be posting frequent updates and live coverage on his Periscope page. Piotrowski gained national attention last week for his coverage of Hurricane Harvey, during which he journeyed directly into the hurrican's path as it hit Rockport, Texas, to give viewers an inside glimpse of the storm's devastation.
Natural disasters bring indescribable tragedy to so many people, but they also offer communities the opportunity to come together to support neighbors, near or far, who have lost everything. Given that Hurricane Irma will undoubtedly cause significant damage to many areas, tracking the storm is an important first step in staying informed, staying safe, and finding out how and when you can help others.