This New U.S. Drama Is Being Called The New 'Lost,' But For Brits There's A Catch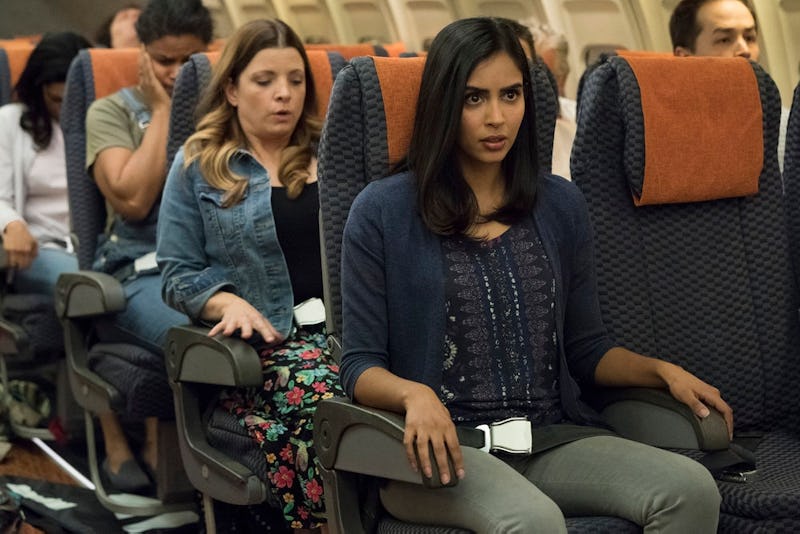 Virginia Sherwood/NBC/Warner Brothers
Brand new U.S. drama series Manifest has already stirred up a lot of audience buzz this week after it's pilot episode aired across the pond on NBC, but UK viewers might be wondering how they can get in on the hype, and how to watch Manifest in the UK? Well, luckily for British fans who have been hoping to get a glimpse of the show, Manifest will begin airing on Sky One at 9 p.m. on Tuesday 30th July. The series is 16 episodes long, so will run for the next couple of months.
Earlier: The show follows the story of a family who take off on a rocky flight from Jamaica to New York, and after landing discover that five years have passed. Although it appears to the plane's passengers that no time has passed, much has changed for the rest of the world, which includes friends and family of those on board. The opening episode has drawn some comparisons to other hit U.S. shows including Lost, and enjoyed over 16 million total viewership when including recordings and realtime viewers, according to CinemaBlend, a record breaking debut for the network.
When speaking of the idea behind Manifest, Jeff Rake, the show's creator and producer told Syfy that he initially came up with the concept 10 years ago. He said "I pitched Manifest around a decade ago, nobody wanted it" and continued, "Then, seven years later, Malaysian Airlines happened and suddenly my crazy idea felt a little more real, a little more relatable, in the context of Malaysian Air, suddenly people were interested." These comments came after other, darker comparisons of the brand new show have been drawn from the real life airline tragedy of flight MH370 — a mysterious event which involved the disappearance of a Malaysian Airlines flight back in 2014.
Reviews of Manifest currently range from mixed to positive, and the show has earned a respectable 59 percent Rotten Tomatoes score. The general consensus on the television and film review website read "Manifest's attempts to balance supernatural mystery and melodrama largely work thanks to its well-chosen cast — though it could use a few more distinguishing characteristics."
During this summer's San Diego Comic-Con, one of the show's stars, Josh Hall, spoke of his adjustment to not working alongside wife Ginnifer Goodwin, as the pair previously acted together in Once Upon A Time. E! Online quoted him as explaining, "I gotta say, it's hard. She is not only the love of my life, but she is an exceptional actress, and to be on set with her every day is like going to school. So I miss that, and I will always miss that, and to work with her is the best. and when further discussing the change, he added "But you know, I'm adjusting, I'm working through it, I mean I'm working with Melissa Roxburgh, and you're pretty good. So I think it's gonna be OK."
If the show's eerie premise, massive debut viewing figures and of course critic and fan reactions are anything to go by, it sounds as if Manifest could be one of the most interesting U.S. dramas in a long time, and I for one cannot wait for it to hit UK screens.
This post was updated to include UK release dates.