Amy Adams' Creepy AF Thriller Is Coming To The UK & It's About To Be Your New Fave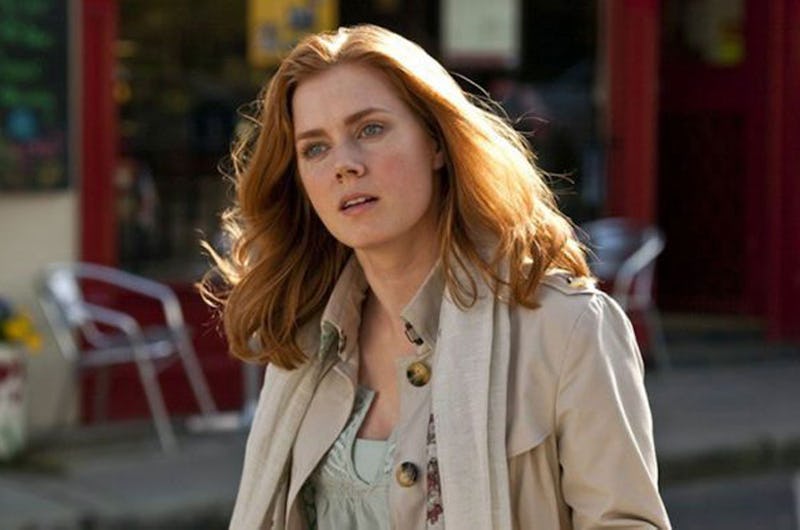 HBO
Gillian Flynn's debut novel Sharp Objects arrived to critical acclaim, but not much fanfare, when it was released back in 2006. Since then, it's become a much-deserved cult favourite and is revered by many as the thriller writer's best novel to date. Now, 12 years after its release, Sharp Objects is finally getting the attention it deserves in the form of an eight-part miniseries, starring Amy Adams, for American broadcaster HBO. That's of course great for our friends across the pond, but how do you watch Sharp Objects in the UK?
Firstly, I can confirm that you can indeed watch Sharp Objects in the UK. Much like Game of Thrones, Sharp Objects will be available for us Brits to watch on Sky Atlantic and on streaming service NOW TV. Better yet, it will be available to watch in the UK at the same time as its US premiere on Sunday nights. Annoyingly, this means that — because of the time difference — hardcore UK Flynn fans will have to stay up late in order to watch the first episode. Still, it's better than nothing.
Meanwhile, for those Brits buzzed to watch Adams in action in her first major TV gig in years but are not prepared to stay up until the early hours in order to do so, Sharp Objects also airs on Sky Atlantic at 9 p.m. on Mondays. It'll be on at the same time for the next eight weeks. Similarly, episodes will be available for NOW TV streamers to watch anytime post the Sharp Objects 2 a.m. simulcast, meaning they can watch it pretty much whenever they like.
Well, now you're up to speed with how to watch the series in the UK, let me fill you in on what Sharp Objects is actually about?
Sharp Objects tells the first person story of Camille Preaker (Adams), a St Louis journalist who — pretty much fresh out of a stint in a psychiatric facility — is sent by her editor back to her hometown of Wind Gap, Missouri, to cover the murder of one girl and the disappearance of another. As is slowly revealed, there are a number of reasons Camille isn't too thrilled to return to her hometown, and her mental and physical health soon start to decline while she investigates the spooky goings on.
If you haven't heard of Sharp Objects before, that's probably because author Flynn didn't reach our UK radar until the worldwide success of her 2012 novel Gone Girl. Indeed, in an interview with The Sunday Times, Flynn herself admitted Gone Girl sold more copies in a week than Sharp Objects did in a year, so it wasn't an instant bestseller. Nonetheless, Sharp Objects is totally my favourite Flynn novel thus far. (The author has at least two more novels in the pipeline, so I'll be waiting to see if any surpass the gut-punching effect Sharp Objects and its seriously haunting ending had on me following my first — but certainly not last — read).
My top-notch recommendation aside, why else should you watch Sharp Objects?
For one, Sharp Objects has a banging cast that could win some serious Emmy and Golden Globe shout-outs come the TV awards season. As well as five-time Oscar nominee Amy Adams, the HBO drama also stars Patricia Clarkson, The Mindy Project's Chris Messina, The Handmaid's Tale star Sydney Sweeney, IT actress Sophia Lillis, and Matt Craven.
Sharp Objects also has the backing of horror heavyweight Stephen King, who had this to say when he blurbed Flynn's novel years ago:
"To say this is a terrific debut novel is really too mild…[it is] a relentlessly creepy family saga. I found myself dreading the last thirty pages or so, but was helpless to stop turning them. Then, after the lights were out, the story just stayed in my head, coiled and hissing, like a snake in a cave."
For those not fussed about literature and just looking to get into a new TV series, there's also the possibility of a Sharp Objects Season 2. Flynn — who helped write the Sharp Objects screenplay alongside Dietland scribe Marti Noxon — herself told Entertainment Tonight: "My characters are are always going in my head and Camille had a rich, full life for 12 years, so Wind Gap is its own little microcosm, its own working city. I mean, never say never. I know what everybody [would be] doing."
So, invest in Sharp Objects now, British crime fans. Or, forever wish you had.
Sharp Objects airs at at 2 a.m. and 9 p.m. on Monday on Sky Atlantic. It is also available to watch on NOW TV.