You Could Go "Bankrupt" Because Of Your Cervix If Trump's New Title X Changes Go Through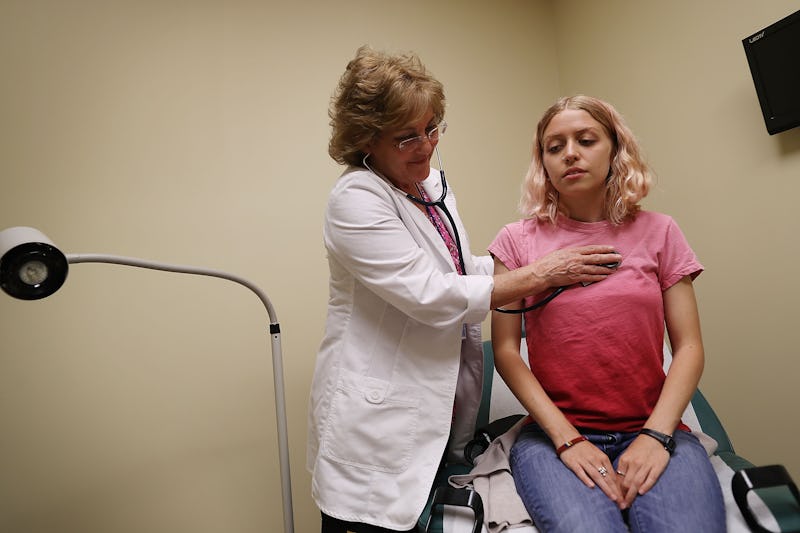 Joe Raedle/Getty Images News/Getty Images
When Christy Miceli got a call from Planned Parenthood telling her that the results of her pap smear were abnormal, she thought there must have been a mistake. She was 24 years old at the time and felt perfectly fine. She'd visited a clinic in West Bend, Wisconsin for her yearly exam because, while bartending and training to become a flight attendant, she didn't have health insurance. Title X funding covered the cost of the routine test.
"I didn't have any symptoms of being sick," Miceli, 39, tells Bustle. "If I hadn't been going to get yearly exams, I would have gotten sick. And by the time I did, it would have been too late."
The pap test ultimately found cancerous cells in Miceli's cervix. Now, 15 years later, she's a small business owner going without health insurance once again. She's one of roughly 4 million people who use Title X family planning funds each year for cancer screenings, birth control, and testing and treatment for sexually transmitted infections. But patients who go to Planned Parenthood for those services may have to start paying out of pocket — or find another clinic altogether — if a rule proposed by the Trump administration last month goes into effect.
Last month, the Trump administration announced a plan to divert Title X funds away from organizations that provide abortions or refer women for the procedure, as well as prioritize organizations that promote abstinence-only family planning (Title X funds already cannot be put towards abortion services). This proposal, known as the domestic "gag rule," would limit which health clinics women could visit with the aid of federal funds. It is currently under review by the Office of Management and Budget.
Who Actually Uses Title X?
Title X is the only federal program exclusively focused on family planning. While anyone can utilize those funds, the majority of Title X patients have incomes at or below the poverty level, according to a Department of Health and Human Services (HHS) report released last year.
When it comes to cancer screenings, nearly 700,000 women had pap tests in 2016 that were covered by Title X, according to the HHS report. The same report found nearly 1 million women had breast exams paid for by Title X that year.
Women who are never, or rarely, screened for cervical cancer are more likely to receive a diagnosis at later stages than women who are screened regularly, a 2017 report published by the Centers for Disease Control and Prevention (CDC) found. Low-income women, women between the ages of 21 and 30, and women who don't have insurance are also less likely to have regular exams.
"I would have had to be bankrupt because of my cervix."
"For many clients, Title X centers are their only ongoing source of care," the CDC report reads. The report adds that Title X contributes to reducing cervical cancer by providing cervical cancer screenings to low-income women, a conclusion Rebecca Kreitzer agrees with.
"Undoubtably, Title X has increased access — not just to cancer screenings, but to crucial STI screenings, like HIV," Kreitzer, an assistant professor of public policy at the University of North Carolina at Chapel Hill, tells Bustle.
Kreitzer also explains that because Title X services are required to be confidential, they're often a resource for domestic violence survivors and teenagers.
"Sometimes people use Title X because they don't want their activities to show up on their health insurance," she tells Bustle. "It's available to anybody, and clinics are allowed to have sliding scales."
A Lifeline For Women Without Health Insurance
Miceli's cancerous cells were caught early, and she underwent three loop electrosurgical procedures (LEEP), in which cancerous tissue is scraped from the cervix, followed by one cryotherapy procedure to freeze the cells off. One LEEP procedure can cost up to $1,500, but Miceli says the West Bend Planned Parenthood staff helped her find specialists who would perform the procedures at reduced rates, as Title X doesn't cover the treatment.
"I can't even imagine what it would have cost if I had to go to a hospital with no insurance. I would have been bankrupt at 24," Miceli says. "I would have had to be bankrupt because of my cervix."
Once the cancerous cells were gone, Miceli had a pap test — partially covered by Title X — done at Planned Parenthood every six months for two years to ensure the cancerous cells didn't return.
"Reproductive health care is not a luxury. It's life-saving care that every person should be able to access."
Those same follow-up tests were necessary for Rhea Beddoe, a 37-year-old non-profit director in New York, after she had pre-cancerous cells removed from her cervix in 2012. When Beddoe's first abnormal pap smear came back, she was working at a law firm and had what she describes as "Cadillac insurance." But six months after she had a LEEP procedure to remove the cells, she was freelancing and no longer had health insurance.
A simple pap test can cost up to $200 at a private doctor, but Beddoe was referred to Planned Parenthood, where patients can pay on a sliding scale with the help of Title X funds. She still didn't know how she would pay for that visit, but she also knew she shouldn't skip an appointment meant to check whether or not she was developing cervical cancer.
"I was concerned because at the time when I went to Planned Parenthood, I didn't even know that was Title X funding," Beddoe says. "I just thought it was some magical thing. Because when you have insurance, you don't think about those kind of things."
An Uncertain Future
Beddoe and Miceli both worry about how low-income women and women without insurance will get regular cancer screenings if the Trump administration's proposed domestic gag rule goes through. Planned Parenthood serves 41 percent of all Title X patients, according to its website, and other clinics that refer patients for abortions and/or focus on contraception rather than abstinence would be cut out of the program as well.
"It's just so cruel what they're doing. Especially knowing that I was a recipient of Title X funding, health care is a really serious thing," Beddoe says. "A lot of us go to the doctor for our annual checkup just like a routine. You don't go in expecting that you'll hear some bad news, or something that might put your life on hold."
Miceli believes the pap test she did 15 years ago with the help of Title X funding saved her life. She says she's now scared her 5-year-old niece won't have the same health care options at that critical age.
"Reproductive health care is not a luxury," she says. "It's life-saving care that every person should be able to access no matter how much money they make — no matter the feelings of politicians."