The 'RuPaul's Drag Race' Season 10 Cast Just Got Announced & Fans Will Be SO Excited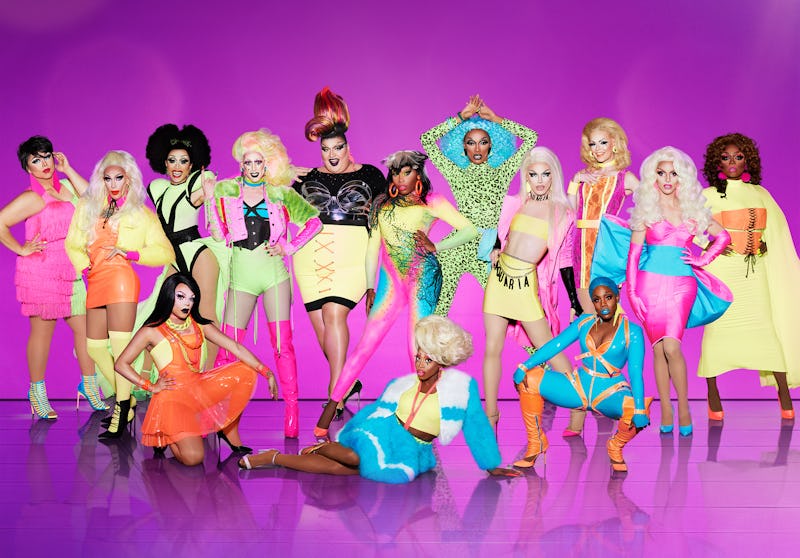 VH1
As fans continue to speculate who will win this season of All Stars, there's even more news for Drag Race fans to obsess over. On Thursday, Feb. 22, VH1 announced the queens competing on RuPaul's Drag Race Season 10. Yes, this milestone season just became even more exciting. Dropping exactly a month before the season officially kicks off on Thursday, March 22, the casting news gives you plenty of time to start picking favorites. Or, if you're rooting for all of them, at least you can make some predictions about who will be America's Next Drag Superstar.
Along with the return of the competition, VH1 is bringing back the beloved aftershow, RuPaul's Drag Race: Untucked, which gives fans a backstage look at what exactly goes on between those lip-sync battles and Snatch Games. Plus, each of the episodes will be 90 minutes long this time around. So if you combine Untucked with the episode, you'll be getting two hours of Drag Race goodness per week.
In a press release, RuPaul, the award-winning host and executive producer, teased what may be the most over-the-top season yet:
"To celebrate a decade of 'Drag Race' we've pulled out all the stops. The queens, the challenges and the shenanigans are off the mother-tucking charts. And I'm thrilled that 'Untucked' is back on VH1. 'Cause, henny, if you ain't watching 'Untucked,' you're only getting half the story. Okurrr?"
You hear that? You should probably prepare accordingly. And the first step in bracing yourself for all those "shenanigans" is seeing who exactly will be lip-syncing for their lives.
So without further ado, here's the list of the 14 queens competing in Season 10 of Drag Race.
Asia O'Hara
Asia is joining the competition from Dallas, TX. According to her bio, she designs costumes for ice skaters and color guard teams as a side hustle. You can follow her on Instagram and Twitter at @AsiaOharaLand.
Aquaria
This 21-year-old is from Brooklyn. And don't you dare underestimate her because of her age — she's already been photographed in the pages of Vogue Italia. Her Twitter handle is @aquariaofficial, while her Instagram is @ageofaquaria.
Blair St. Clair
Meet Blair, who's coming from Indianapolis. Her Drag Race bio describes her as a "Broadway baby at heart." Her Twitter is @BlairStClair, and she's over on Instagram at @blairst.clair.
Dusty Ray Bottoms
Another New York native, Dusty is known for "signature dotty-faced makeup." Oh, and this queen's self-description is "dark, glamorous, and trashy." You can follow Dusty on Twitter at @DustyRayBottoms or Instagram @dustyray.
Eureka O'Hara
Remember Eureka? True Drag Race fans know this queen from last season. She was sent home after injuring her knee, but just like Ru promised, Eureka is officially back. She's on Twitter and Instagram at @eurekaohara.
Kalorie Karbdashian-Williams
Based on name alone, Kalorie Karbdashian-Williams may be a fan-favorite. Either that or her "infectious giggle" may be quick to win you over. On Twitter and Instagram, her handle is @kalkarbdashianw.
Kameron Michaels
Described as the "body builder Barbie doll," this Nashville native is equally into glamour and working out. Find her on Twitter at @KameronMichaels and Instagram at @kameronmichaels.
Mayhem Miller
In her bio, Mayhem is listed as the drag sister of former contestants Raven, Morgan McMichaels, Delta, and Detox. This California native is on Twitter and Instagram at @TheOnlyMayhem.
Miz Cracker
Yet another New Yorker, Miz Cracker is described as "pretty and witty," and her belly laughs are teased in her bio as something to look out for. She's on social media at the handle @miz_cracker.
Monét X Change
Once again, New York is taking over. Monet is from the Bronx. Her bio says this queen "blurs the lines of comedy, performance and New York City grit." Her Insta and Twitter handles are both @monetxchange.
Monique Heart
Apparently this contestant has already dubbed herself "the heart of Season 10." Religion is a big part of this Kansas City queen's life. She's on Twitter at @IAmMoniqueHeart and Instagram @kevinandmonique.
The Vixen
This Chicagoan is into political art and protest, so expect to see that in her performances on the show. You can find her online at @TheVixensworld on both Twitter and Instagram.
Vanessa Vanjie Mateo
You may recognize Vanessa's drag mother, Alexis Mateo, from Drag Race Season 3 and the first season of All Stars. This Tampa queen is ready to carry out that legacy. Her username on Instagram and Twitter is @VanessaVanjie.
Yuhua Hamasaki
Last but not least, one more New Yorker. Yuhua is originally from China and came to the States at age 7, per her bio. She's actually a seamstress as her day job. Her Twitter is @YuhuaNYC and she's on Instagram at @yuhuahamasaki.
Wow, that's a lot of talented queens. Now you'll just have to wait until March to see who takes home the title. Let the games begin.