James Comey's Replacement May Face Long Odds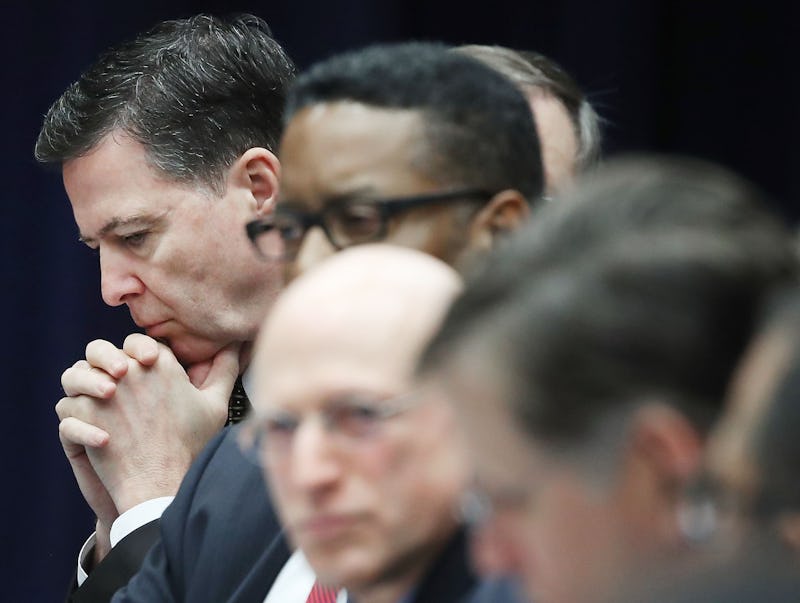 Mark Wilson/Getty Images News/Getty Images
News that President Trump had fired FBI Director James Comey on Tuesday came as a shock to the American people. Apparently, it took even Comey himself by surprise. The now-former head of the FBI became a household name during the 2016 presidential election as his agency investigated Hillary Clinton's private emails. In March, the world learned that Trump too was under an FBI investigation concerning the possible collusion between Russia and his campaign team. Aside from questioning the timing and political implications of his dismissal, another immediate concern is how James Comey will be replaced.
The FBI is meant to be an independent investigative body. That's reflected in its directors' 10-year term, which aims to insulate them from becoming too deferential or dependent on any one president. In fact, only one FBI director was fired before Comey — William Sessions, let go by President Clinton due to an ethics investigation into Sessions that Clinton claimed had compromised the public's trust.
Losing the public's trust does not appear to concern Trump all that much, despite his claims of the opposite. Not only did he just fire the man heading an investigation into Russian influence in his administration (and election campaign), but Trump is meeting Russian foreign minister Sergey V. Lavrov on Wednesday — in the Oval Office, no less.
Since Trump will appoint the next FBI director, these actions raise serious and troubling questions about what kind of person he will nominate. Like other high-ranking appointments at the Justice Department, the role of FBI director is decided by the president and subject to Senate approval.
In a different scenario, that senatorial rubber stamp might force Trump to choose a verifiably nonpartisan candidate. However, since Republicans hold a majority in the upper chamber, the likelihood of them rejecting a Trump nominee is already far less likely — one only has to look at the way the GOP almost unanimously approved all of Trump's Cabinet appointees to come to that conclusion. This time, though, several GOP lawmakers have publicly expressed concern over Comey's abrupt firing, raising the possibility that Trump's nominee for FBI director could receive pushback.
Several names have already surfaced as possibilities for the position of FBI director. Perhaps the least controversial is John Pistole, a former FBI deputy director who currently serves as president of Anderson University. He is close with Comey, and earned a positive review from another former FBI director, Robert Mueller. Andrew McCabe, who as deputy director is now temporarily filling in for Comey, seems like another obvious choice. However, his ties to the Clintons may derail his chances.
But whoever Trump picks as the next FBI director, he or she will need senatorial approval in order to take the job. In light of the chaos and concern that Comey's firing has caused, that may ultimately prove more difficult than Trump expects.