The Solar Eclipse Is Probably Going To Be Huge For Your Love Life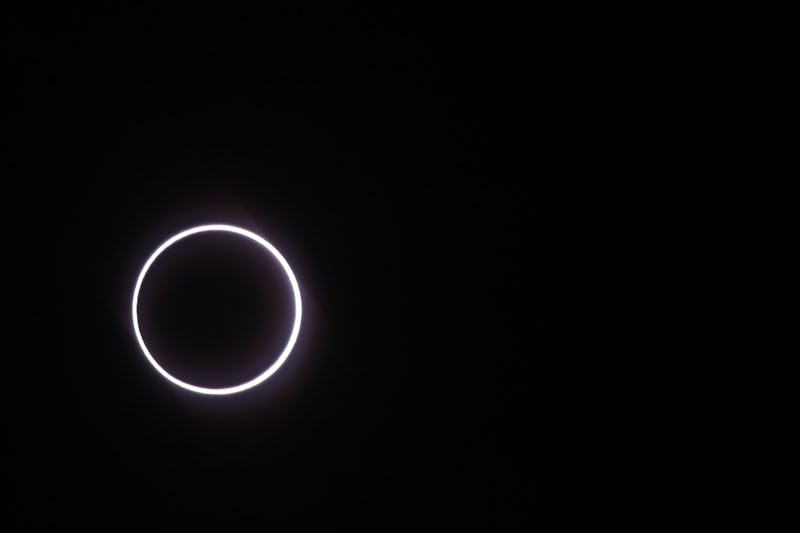 RICHARD BOUHET/AFP/Getty Images
If you believe that solar activity has an affect on your love life, you probably have a lot of anxious feels about the upcoming solar eclipse and your heart on Aug. 21. Even the sight of the monthly full moon holds a spiritual significance for you, so a solar eclipse — an event that only happens once every 18 months, and one that hasn't occurred over the American mainland in 38 years — probably feels like a big deal to you. But, if you can't decide whether you should be fearing the eclipse or looking forward to it for good romantic fortune, rest assured that all signs point toward the eclipse having mostly positive effects.
Natural phenomenons bring people together. According to some of the most seasoned eclipse chasers, viewing an eclipse can be life changing. For the rest of us, they're just the cause for celebration that we're always looking for. So if you're in a relationship, chances are, you'll look to each other to make the significance of the eclipse even more meaningful, together. You'll be inspired to make plans to enjoy it by each other's side, subconsciously hoping that experiencing it together will somehow strengthen you. But if you're looking for extra strength and security, chances are, you might not be in as sturdy of a place as you thought you were.
The eclipse will surely inspire awe in each of us, but it will also force us both very literally and figuratively, to look at the dark side as well. Don't be surprised if around the time of the eclipse, you and your partner have a conversation during which something is called out. You might not realize it, but on some level, the eclipse will encourage both of you to see things for what they are. Watching the epic event together will be a special moment, and chances are you'll never forget it — but instead of blurring pre-existing issues, it will probably bring them to the surface.
That said, this is a good thing. It's easy to push your troubles aside in the summer. The summer is a great time to be in love, and a great time to have a romantic partner in crime. But it's also an easy time to avoid the harder conversations that are necessary to move relationships forward or into a healthier place. August's Leo moon is fearless and it inspires courage in us to face our lives full-heartedly. So, look forward to the eclipse being a special experience for you and your loved one, but also go into the experience prepared. Consider the issues that might be hiding under the surface and face them head-on. You're strong enough to acknowledge them, and no matter what it means for your current relationship, it's always better to live in the honest light.