Here's Everything We Know About The Huda Beauty Collab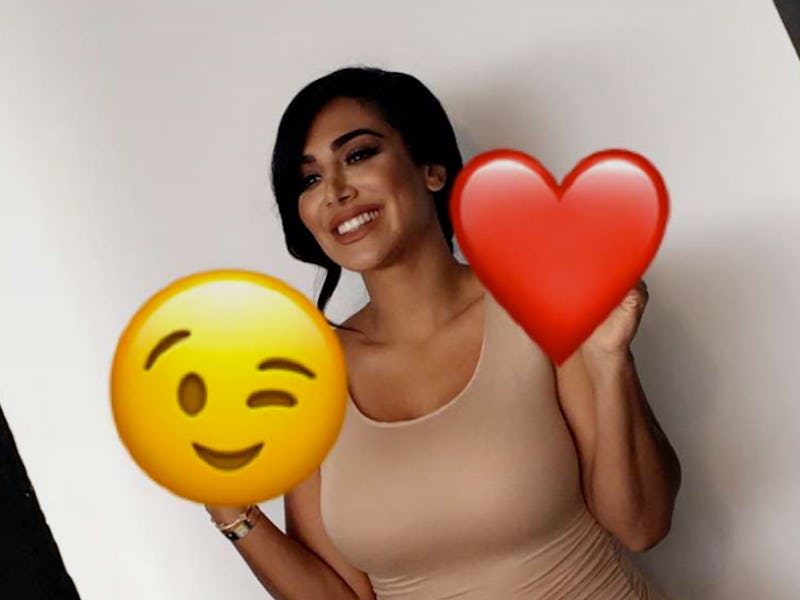 Huda Beauty Snapchat
In the midst of launching their 3D Highlighting Palette and line of new nude liquid lipsticks, it looks like this beauty company has something even more exciting in the works. According to Huda Kattan's Instagram post, Huda Beauty is collaborating with a brand. All of the details are being kept a secret right for now, but she did leave people with some pretty great clues for making their own guesses. Here's everything you need to know, so you can decide for yourself.
It's only four months into the year, and already this brand is having one heck of a year, and it can only get better from here. Not only does this company have a foundation in the works, but Kattan posted sneak peeks of a behind-the-scene photo shoot for a new collab. She showed off what she was wearing and live-Snapchatted herself getting ready, but she's keeping the brand a secret.
According to the Instagram video, Huda Beauty is the first beauty company from the Middle East to work with the mystery brand, and Kattan is also the first YouTube influencer to partner with them. That cuts out some of the big named brands like Too Faced, Urban Decay, MAC, and Kat Von D Beauty. There was also one more hint; Kattan said in the video that this is a brand that she has been using forever.
One thing is for sure — it's a beauty product. "I've been using this beauty product for years and years and years and years, so I'm so excited to be collaborating with them," Kattan says in her Instagram video.
In the Snapchat video, Kattan is holding two different items in her hands. Although the exact products are blocked out, this is still pretty exciting. The fact that they're being featured in a photo shoot means that they should be coming sometime soon.
From looking at the behind-the-scenes photo, there's nothing that sticks out as an obvious product. If I had to guess, I would say that it's not a highlighter, since the brand has their own coming out soon. Kattan's brows do look on-point, so that's a possibility as well. Honestly, it could be anything.
Bustle reached out to Huda Beauty for more info on the collab. I don't know about you, but I'm dying to know what it is. Hopefully more sneak peeks come soon or fans might go crazy!