Jimmy Meets His 'Breaking Bad' Bodyguard On 'Better Call Saul'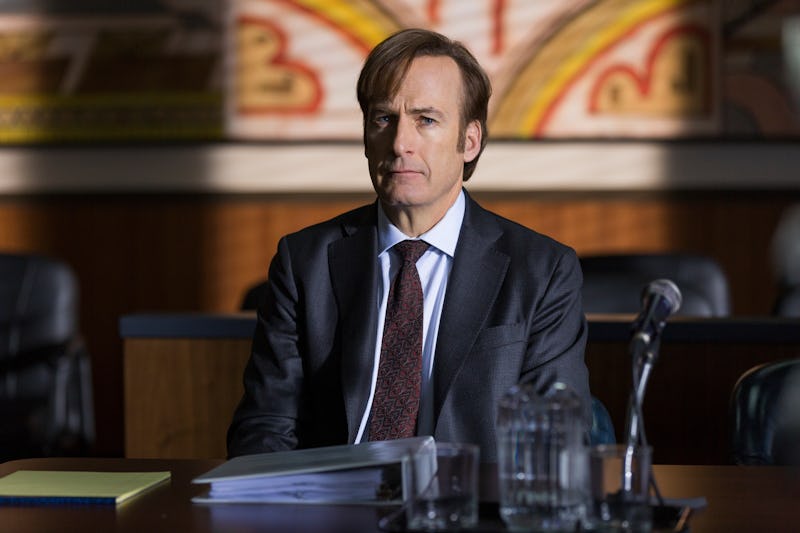 Michele K. Short/AMC/Sony Pictures Television
One of the low-key greatest characters of Breaking Bad was none other than Saul Goodman's bodyguard — Huell Babineaux. Although Lavell Crawford's character has had no part in Jimmy's life before now, Better Call Saul introduces Huell to Jimmy during the May 8 episode, "Chicanery." Huell is actually Jimmy's partner in crime when it comes to the titular chicanery and this initial interaction helps explain how this criminal alliance between the sleazy lawyer and the hulking henchman was formed.
While Huell's final fate was never revealed on Breaking Bad, with some fans theorizing he's still in the DEA safe house (Vince Gilligan cleared it up and said in Breaking Bad: The Official Book that Huell is actually free as Reddit user maalbi shared and UPROXX reported), Better Call Saul is at least providing how Huell's career with Jimmy began. Fascinatingly, on the page about Huell on the Breaking Bad wikia from Fandom, it is written, "He appears to have been hired more for his size than his intelligence." However Better Call Saul proves that this statement is actually kind of inaccurate.
In "Chicanery," Jimmy visits Mike's shady veterinarian Dr. Caldera to hire someone with a "light touch," who is "highly skilled, high-end, discrete — a real pro." Anyone who remembers what happened with Ted Beneke knows that Huell doesn't really match that description, but when Caldera asks if Jimmy needs him to fit into a tight space, Breaking Bad fans should have rejoiced nonetheless in the knowledge that Huell was going to meet Jimmy.
Contrary to what Saul said to Walt in the Season 5 premiere of Breaking Bad — that Huell has "fingers like hot dogs" — Huell successfully ends up planting a cell phone battery in Chuck's pocket before he takes the stand at Jimmy's bar hearing. It leads to Chuck having a breakdown on the stand, which helps prove Jimmy's point that Chuck was just trying to destroy him.
This hearing is clearly pivotal in Jimmy becoming Saul, but it's also important because long-lasting business relationships are formed because of it. Not only is Francesca Liddy — Jimmy and Kim's recently-hired assistant, who continues to work for Saul in Breaking Bad — involved in conning Chuck by orchestrating the arrival of his ex-wife, but Huell's reverse pickpocketing makes him a go-to guy for Jimmy when he becomes Saul.
With Francesca and Huell in place on Better Call Saul, now fans should be eagerly awaiting the arrival of Bill Burr's Patrick Kuby to round out Saul's A Team. Because while you wouldn't expect someone like Saul Goodman to have truly devoted employees, Better Call Saul shows that people who stood by Jimmy when he most needed them stuck around for his transformation.