Hundreds Of Children Are Still Separated From Their Families A Month After The Deadline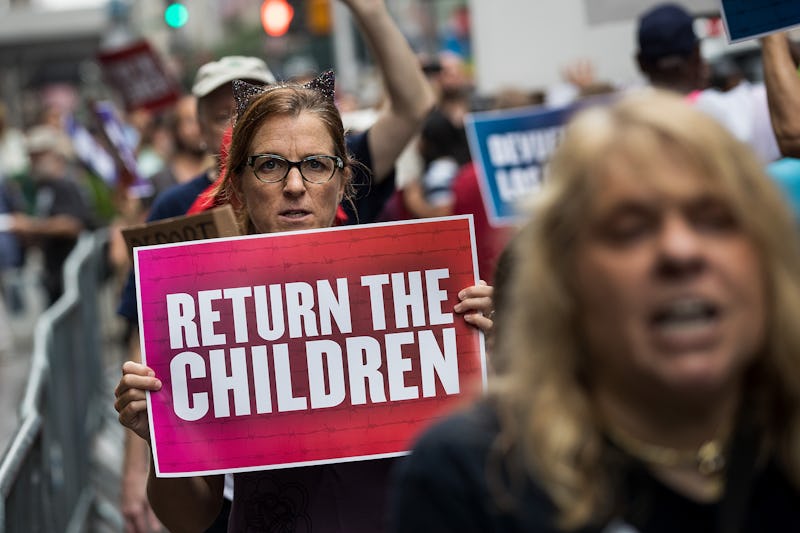 Drew Angerer/Getty Images News/Getty Images
President Donald Trump's "zero-tolerance" policy — which made it so anyone caught crossing the border illegally would be criminally prosecuted — separated thousands of children from their parents. Then this summer, federal Judge Dana Sabraw set a deadline of July 26 to reunite all of the eligible families who had been separated. Now just over a month past that deadline, hundreds of children are still separated from their families.
CNN obtained a court filing Thursday that noted at least 497 kids are still in the government's custody, and that number includes 22 kids under the age of 4 whose parents were already deported without them.
The number of children reunified since last week has gone up by 14 — bringing the total number of kids who've been brought back together with their families to 1,937, CNN reported.
There are a host of reasons why the government is taking so long past the deadline to make sure children are returned to their parents and loved ones. For example, more than 400 parents were deported without their children, Reuters reported at the beginning of the month. They said most of the parents who'd been removed were sent back to home countries including Guatemala, Honduras, and El Salvador. Now, the latest report from CNN has this number down to 322.
Meanwhile, the American Civil Liberties Union (ACLU) says the numbers are in question. They were the legal force behind the lawsuit on behalf of separated parents, and they say they originally got a list of deported parents that adds an extra 70 cases to the numbers already put out by the government, CNN reported. They told CNN's reporter Tal Kopan that the Trump administration told them some kids were released from government care and that's why the numbers aren't clear.
The ACLU has not responded to Bustle's request for comment.
At the beginning of the month, Ivanka Trump spoke out in an interview with Axios' Mike Allen about family separation, agreeing it was a "low point" for her.
That was a low point for me as well. I feel very strongly about that, and I am very vehemently against family separation and the separation of parents and children. ... I think immigration is incredibly complex as a topic, illegal immigration is incredibly complicated. I am a daughter of an immigrant, my mother grew up in Communist Czech Republic, but we are a country of laws.
Last spring, Attorney General Jeff Sessions announced the "zero- tolerance" policy as a way to show the government was toughening up on illegal immigration, Time reported. Then, on June 20, Trump signed an executive order that stopped the separation at the border, The New York Times reported at the time. "I didn't like the sight or the feeling of families being separated," Trump said at the time he signed the order. "This will solve that problem."
As it stands now, the problem has yet to be solved for 497 children still under the government's care instead of their families.