How I Did My Makeup Without Looking In A Mirror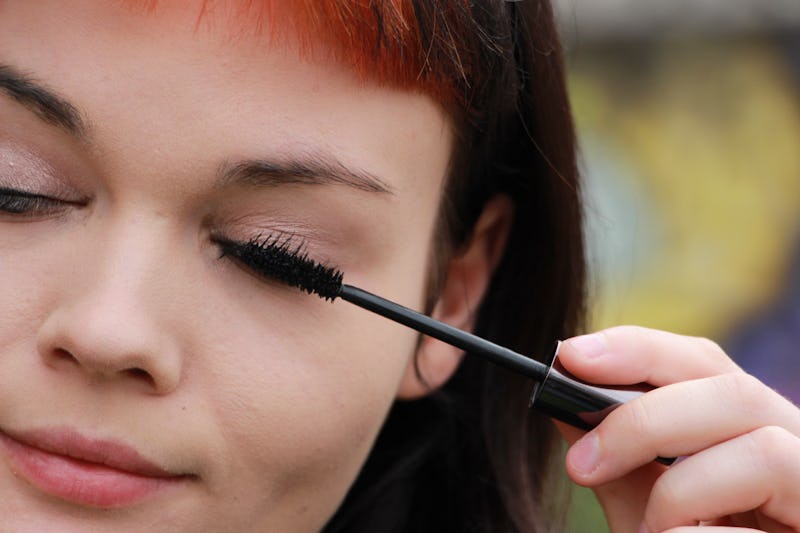 Everybody has their own secret special talents, whether it's being particularly proficient at the old mouth trumpet or something weirder, like blowing a bubble out your eye. After recently witnessing a friend apply a full face of makeup without a mirror in front of me, my first reaction was one of being sincerely impressed. Then, I had a profound realization: I'd never attempted the same trick before in my entire life.
As somebody who wears a full face of makeup on a near daily basis, I figured it was probably important that I test out this important life skill. After all, it'd be good practice for any future scenarios where I suddenly needed to gussy up without a mirror present, like if I was trapped in a closet somewhere and Leo DiCaprio was on his way over, or if I was kidnapped by an evil cartoonish villain who would only let me go free if I won a "Doing Your Makeup Without A Mirror" contest. Don't question me on the likeliness of these hypothetical situations actually happening, it'd just be a good thing to have a go at really.
The truth is, applying your makeup without a mirror is daunting, but if you're someone who does your makeup every day, you shouldn't be afraid to try it. There's something instinctual about the process, and while it wasn't perfect, I think my results speak for themselves.
After realizing that the indoor lighting wasn't quite cutting it for these photos, with a dollop of foundation heating up on the back of my hand, I quickly decided to take the experiment outdoors. Whilst passing neighbors stared as they walked by, adding an extra element of anxiety to the situation, it was pretty fun to witness their confusion as they tried to work out what was going on without flat out asking.
Without further interruption, my trusty Beautyblender got to work dabbing my foundation on top of my freshly washed and moisturized skin, all without the use of a mirror. It felt weird to guess where to apply product and I tried my best to do the most thorough job possible.
Once I felt like my face had an adequate amount of foundation, having attempted to dab each area of my face three separate times just to make sure, it was time to fix up my eyebrows. Usually this is the area that requires a little more detail, as following the shape of my natural arch needs a bit of precision.
Because I couldn't actually see what I was doing, I tried to apply the tiniest amount of brown eyeshadow to my brows in order to avoid accidentally making my face look as though I was constantly raising an eyebrow throughout the day. On looking back on these photos, I definitely applied way more to one eyebrow than the other.
Although I am often quite partial to a striking eye look, this was not the day for that, as one fatal slip could have severe consequences. In order to avoid any untoward clown-like aesthetics, I grabbed my trusty Urban Decay Naked Palette and chose a fairly neutral looking color to apply to my eyelids. In all honesty, this was probably the easiest part of the whole process.
Next up was eyeliner. Luckily for my poor eyeballs, I'm more into using jet black gel with a soft angled brush as opposed to a stabby kohl pencil or a gloopy liquid liner. Trying to locate the lash line was genuinely really difficult but I got there in the end. In hindsight, they weren't exactly the cleanest lines but it was still pretty neat seeing as it was being blindly applied.
Not going to lie, applying mascara without a mirror is actually really easy. Genuinely nothing really to report here.
The brush in Benefit's Hoola bronzer pack comes with a rectangular brush that makes it fairly easy to do the actual application of the product but knowing how much of it was going on my cheeks was another story altogether. I tried to blend in the same amount of powder onto each side of my face, it didn't quite work that way but I'm fairly sure that I was the only person to fully notice. At least, nobody mentioned it.
Trying to make this as easy for myself as possible, I opted for a liquid lipstick instead of a lip liner and lipstick combo, which actually came clean off after a cup of coffee only to never be reapplied again. The bottom lip came out really well but it's upper sister was lacking slightly, with the cupid's bow mostly untouched. It was probably for the best that my caffeine withdrawal came a calling, honestly.
Above are the results — can you believe how good they are? Me neither. Granted, I had to correct many eyeliner smudges throughout the day and the overall look wasn't exactly glamorous or head turning, for a casual daytime look, but it definitely did the job. It feels pretty good knowing that I had the talent to put my makeup on without a mirror all along, and I'd say I definitely made a case for trying it yourself at home. As for me, I can definitely forego a mirror in the future — with this blindly executed full face, I'm definitely ready for Leo to come and grab me out of that cupboard now.
Images: Hatti Rex