I Did An Entire Face Of Makeup Using Only Glitter, Because We All Deserve To Shine Bright Like A Diamond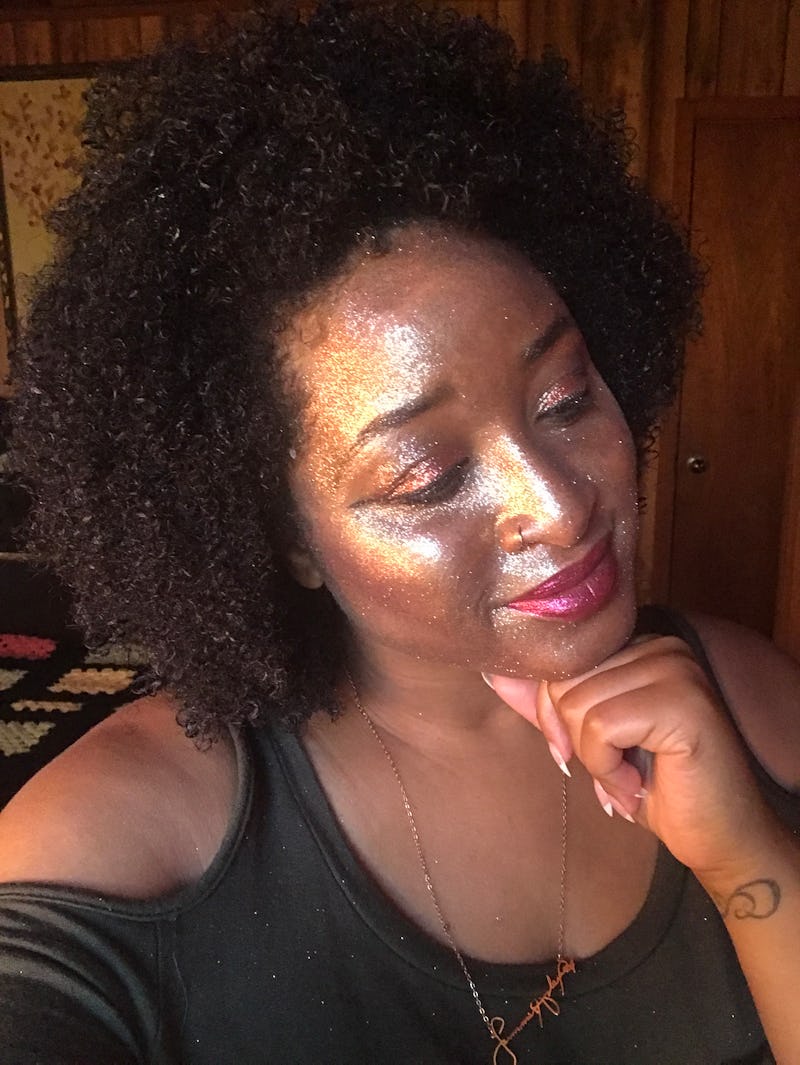 As if sculpting on-fleek brows or carving out the perfect contour aren't major accomplishments already, beauty gurus have been making the quirkiest makeup challenges a thing — and weirdly, I'm so here for it. I've been known to get adventurous with my makeup, so accepting the full face using only glitter challenge was fitting for a beauty fanatic like myself.
My Instagram bio reads, "Lipstick hoarder, highlight enthusiast, glitter connoisseur." The technicians at my local nail salon even refer to me as the "girl who always gets long, pointy, glitter nails." In other words, sparkle is kind of my thing, which explains why I didn't think the glitter challenge would be too hard to master. I had already done my fair share of challenges, after all. I did an entire face using only liquid lipsticks and it went extremely well. I've found ways to use a single tube of red lipstick all over my face. I even dared to let my dad do my makeup once. So, I'm clearly no makeup challenge newbie— not to mention, I'm somewhat of a glitter freak.
I knew I'd make a huge mess (glitter fall out is no joke!), and the thought of getting specs in my eyes freaked me out. Still, I put on my big girl panties, pinned my hair back, and went to work dusting on more glitter than my face could handle.
The Setup
I rounded up a few of my favorite glitters for the challenge: NYX Face & Body Glitter, Obsessive Compulsive Cosmetics Cosmetic Glitter, and Stila Magnificent Metals Glitter & Glow Liquid Eye Shadow. I've used each of these glitters many times before, so I just knew this was going to be a piece of cake. Boy was I wrong!
1. Brows
NYX Glitter Primer, $6, Ulta; NYX Gunmetal and Bronze Glitters, $6, Ulta
I start every makeup application with brows so this time wasn't going to be any different. After adding a tap of NYX Glitter Primer, I dusted on a mix of NYX Gunmetal and Bronze Glitters to mimic my brow hairs. Why in the world I thought mixing black and bronze would somehow create dark brown glitter, I will never know. These aren't paints, after all. But from a tilted angle, My fill in job actually looked pretty acceptable.
2. Eyes
NYX Face and Body Glitter, $6, Ulta
There was no way I was going to gunk my pricey brushes up with sticky primer and chunks of glitter so I broke out some old fashioned foam applicators for the job. I started my "eyeshadow" look off with NYX Bronze Face and Body Glitter in my crease. Not surprisingly, it didn't blend well at all.
Smoked Plum Cosmetic Glitter, $15, Obsessive Compulsive Cosmetics
Adding more fuel to the flame, I made an attempt — key word: attempt— at deepening my crease with OCC Smoked Plum Cosmetic Glitter, one of my all-time favorite shades. It didn't look so bad, but things quickly started looking downright hideous when I added glitter to my lids.
NYX Face and Body Glitter in Copper, $6, Ulta
How could I ever go wrong with NYX Copper Face & Body Glitter, I thought to myself. I've used it so many times across my lid after creating stunning, smokey red eye looks with my Anastasia Beverly Hills Modern Renaissance Palette. It was hot mess thrown in with the bronze and plum glitters, however. With their resistance to blending, I had a color-blocked eye look going on and that was far from my intention.
Stila Molten Midnight Liquid Glitter, $24, Sephora
I made a few more attempts at blending, after settling with using Stila Molten Midnight Liquid Glitter as liner to save the look. It did do my lids some justice, so when in doubt, wing it out!
3. Foundation
NYX Born to Glow Liquid Illuminator, $7, Ulta; Anastasia Concealer, $20, Anastasia
Here's where things started to get intense. Before covering my facade in glitter, I primed with a mix of NYX Pure Gold Born to Glow liquid illuminator and Anastasia concealer in shade 3.5. I knew I'd need to have a tacky base that layers of glitter would adhere to easily. So far, so good.
As if my horrid facial expression doesn't say it all, I was not a fan of packing glitter onto my face. Not only was it coarse with a heavy feeling, but it also took a solid 20 minutes or so to get my face fully coated in an even layer.
A pound of sparkle later, it took me by surprise that the NYX Bronze Glitter wasn't a completely terrible shade for my foundation. But don't let that seemingly joyous smile on my face fool you. As for using glitter as a base, in my Randy Jackson voice: it's going to be a "no" from me, dawg!
At this point, I noticed a stark contrast in my glittery facade and bare brow bones. I solved my dilemma using Stila Smoky Storm Liquid Glitter to highlight under my brows, ensuring every stitch of my face was coated with sparkle.
4. Contour
Highlighting and contouring are usually my favorite parts of makeup application, and somehow this wretched challenge put me in no mood for sculpting my facade. To say I was disturbed by putting yet another layer of glitter on my face is an understatement, but it had to be done. NYX Copper Glitter was my contour shade of choice, and it actually did a pretty solid job of accenting my cheekbones.
5. Blush
NYC Rose Glitter, $6, Ulta
Topping off my face, I added a flush to my cheeks with NYX Rose Glitter. Glow baby, glow!
6. Lips
NYX Red Glitter, $6, Ulta; Anastasia Beverly Hills Moon Jelly Gloss, $16, Sephora
Then, on to the lips to pull everything together. I used NYX Red Glitter for my pout, after first prepping with Anastasia Beverly Hills Moon Jelly Gloss to create a sticky base.
7. Highlight
NYX Ice Glitter, $6, Ulta
No matter how much I hated packing on one glitter after another, I could not forget to highlight. An iridescent opal shade, NYX Ice glitter made for the perfect shimmer to give my cheeks the ultimate blinding glow.
8. Setting
Mario Badescu Rosewater Facial Spray, $7, Amazon; NYX Vegas Baby, $6, Ulta
I figured a little more sparkle really couldn't hurt. May as well go hard or go home, right? Hence, I set my makeup with Mario Badescu Rosewater Facial Spray that I had already infused with NYX Vegas, Baby! Pigment to create a shimmer mist.
9. Final Result
Photographed at the right angle, it wasn't half bad — even if it might be difficult for me to walk around in public like this. Glitter lips get a pass. I'm always down for glitter liner. I'd even try a glitter brow again, if I master carving with sparkle as precisely as I do with pomade. I definitely wouldn't do a full face, though.
One very, very important note: The removal process was seriously a pain in my ass. I can normally remove a full face with just one makeup wipe, but it took three to completely take off all the layers of glitter. It was literally everywhere, my dress and hair included. I even purchased an eye wash to do for good measure, because I swear I could feel glitter inside my lids.
The thing about glitter is that you never think you can have enough — until you have far, far too much. That being said, this is definitely a worthwhile challenge. Everyone should sparkle this hard at least once in their lifetimes, and all it takes is a ton of the shiny stuff (and a significant amount of elbow grease to remove). Like all beauty challenges and weird trends, it boils down to two words: Why not?