I Drank A Mushroom Beauty Latte Almost Every Day For 30 Days & Now I Kind Of Love It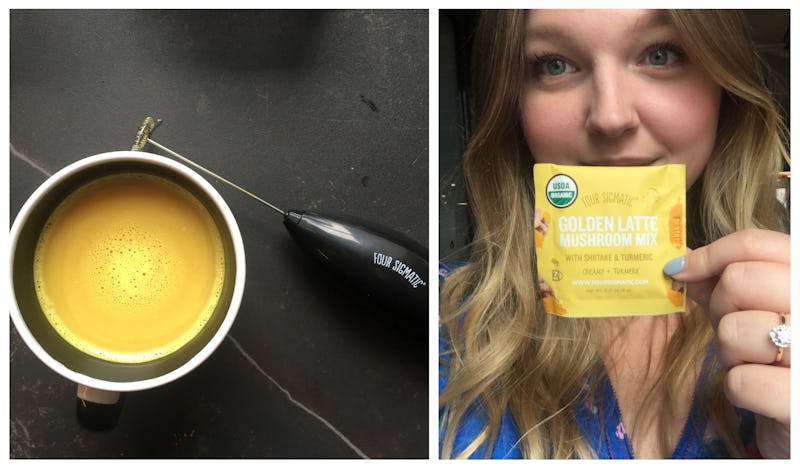 Courtesy Olivia Muenter
Almost every afternoon for the past month or so, I've been drinking a steaming hot mug of mushroom juice. Well, sort of. The technical name of the beverage is Four Sigmatic's Golden Latte Mushroom Mix, a blend of shiitake mushrooms and turmeric that claims to generally "beautify" your skin. Other ingredients in the blend include coconut milk powder, coconut palm sugar, ginger powder, tulsi powder, black pepper powder, and Reb A (a stevia extract) — all organic, of course. According to the Four Sigmatic website, the powder supports a "glow-from-within" and general skin health. It goes on to describes it as literally "your own personal airbrush tool."
I've used powdered collagen before, tried made-for-you gummies and vitamins, and tested what seems like a few hundred skin care products that are touted to be "magic" for complexions. Some may say it's all just a little too gimmicky to be effective, but I think it's fun. Sure, a lot of it (most of it) is hit-or-miss, but it's still always interesting — and this latte seemed like it could be interesting, too. Plus, the concept of a personal airbrush tool didn't seem half-bad either, so I added the latte to my daily routine about 4-5 times a week and waited patiently to be beautified.
The Claims
In an email interview Tero Isokauppila, the founder and president of Four Sigmatic, tells me how his unique family history and education inspired him to share the power of mushrooms with the whole world. Isokauppila grew up on a farm in Finland and is a 13th generation mushroom farmer. This history led him to study chemistry and nutrition, which has "helped him have a broader understanding of the health and science of mushrooms."
When it comes to the golden latte, Isokauppila says that the combination of ingredients (especially the shiitake, turmeric, and black pepper) creates optimum benefits for the skin.
"We developed our new Golden Latte with beauty in mind. Shiitake, one of the most underrated mushrooms for skin, has been used for centuries," Isokauppila says. "My team and I often turn to shiitake to promote a natural glow from within. The Golden Latte also has turmeric, which practically glows with antioxidant properties. Sipping this creamy drink can help with beautiful skin without the topical creams."
If you think Isokauppila is a little biased, then you should know that many professionals in many fields agree that the ingredients in this latte are pretty amazing.
According to Miami-based dermatologist Dr. Roberta Del Campo, both turmeric and shiitake mushrooms do have pretty great benefits.
"Shiitake mushrooms are filled with antioxidants, essential amino acids, and contribute high levels of vitamins B and D, as well as Selenium. These components help promote energy, boost your immune system, and have even been thought to help acne when combined with vitamins A and E, which are fat soluble vitamins," Dr. Del Campo tells me. "Turmeric is one of the most effective and beneficial nutritional supplements. Some of the most well-known benefits of turmeric include its ability to fight inflammation and act as a strong antioxidant, protecting our body from oxidative damage."
While Dr. Del Campo also notes that supplements don't affect the body of someone who has an already well-balanced intake of daily vitamins from the food they eat. But this latte isn't technically a supplement, which is important to note. While the drink wouldn't necessarily give you your daily vitamin intake, it could boost your overall health with its antioxidant-filled ingredients.
Holistic beauty entrepreneur Adele Uddo explains that skin can be reflective of overall health, and shiitake mushrooms in particular can boost overall health. "Anything that benefits the body as much as shiitake mushrooms is very valuable for maintaining beautiful skin," Uddo says, noting shiitakes valuable levels of vitamins B, D, and E, selenium, minerals and fiber, much like Dr. Del Campo.
The Experiment
Here's the thing about a drink made of mushrooms: it tastes like mushrooms. And, generally speaking, a sweet-and-savory latte is a weird, weird thing. So when I first tried the latte mixed in with just hot water, I was a little alarmed. It is easy enough to make; the powder comes in pre-packaged sachets that you tear open and pour into hot water (although, be warned, the yellow in the turmeric can very easily stain everything around it). But the taste and smell as a bit of a hurdle.
Turmeric on its on is a strong flavor (and smell), but add in mushrooms and what you're left with is a spicy, savory, slightly sweet combo that is also very earthy. I won't say it tasted exactly like boiled soil with a hint of pepper, but it also didn't taste great. I looked up the reviews of the product and I very quickly realized that mushroom juice is definitely a love-hate kind of situation.
"I was so excited to try the lattes, but I was incredibly disappointed in the taste of this Golden Latte," one user wrote on the Four Sigmatic website. "It has such a unique flavor and sadly, I just can't deal with it. It tastes like a turmeric flavored lemon head. It just isn't for me."
While I couldn't quite relate to the turmeric Lemonhead comparison, the "sadly, not being able to deal with it" part certainly sounded familiar. But of the almost 40 reviews on the product's website, 30 are 5-stars.
"Out of all the Four Sigmatic products I have tried, this Golden Latte is definitely one of my favorites...The flavor is amazing on its own, but if you feel like being a bit extra like me a splash of almond milk and a teaspoon of honey make take it to another level!" one user wrote.
Maybe I was missing something, I thought. Like some almond milk. Or honey. Or a different set of taste buds.
Four Sigmatics had sent me a frother along with the latte mix and while I didn't have high expectations, it turned out to be a major gamechanger. After I added some almond milk and frothed it all up, it tasted... better. Did I love it? Not exactly, but it was growing on me. And then it just kept growing on me.
The Results
Day 2 Skin
I found myself looking forward to my 3 p.m. mushroom juice every day, and I started to notice how my body felt slightly different when I did drink it. My digestion was better, I felt less bloated, and it boosted my overall energy levels without any caffeine.
But as the days went on, and I started to take a closer look at my skin, I didn't see things clear up like I was hoping. As a hormonal acne sufferer, my monthly breakout still came right on schedule, and it wasn't any better than usual. I did start to notice more of a ~glow~ toward the end of the month, but my breakouts were still alive and well.
If you compare my before skin photo (above) to my mid-way skin photo (below) you can notice a slight difference in forehead breakouts — but it's not particularly significant. And then when I got my period toward the end of the 30 days, I broke up quite badly again. However, I do have to say that during all of the breakouts (and clearer times) throughout the month, my skin seemed to retain an overall glow and moisture better than in the past.
Day 12 Skin
Even when I dealt with breakouts, my skin didn't get dull or lifeless the way it sometimes has in the past. And this may make sense, given that the latte's main benefit is described as providing a "glow" rather than busting acne. While the airbrush effect didn't really happen for me, I was still happy with the results I got from the latte — particularly when it came to my digestion and overall gut health.
Day 26 Skin
Even if I didn't see a dramatic change to my skin, I was hopeful that I'd at least experience some of the overall health benefits of turmeric and shiitakes. In the end, I did feel like I felt overall healthier, that my immune system and gut health had improved, and that I had more overall energy. All very, very good things.
Four Sigmatics goal as a company is to "help the world understand the real magic of functional mushrooms," and while I can't say that the golden latte really felt magical to me, it did definitely feel good for my body as a whole. It's now something I'm going to keep in my routine and look forward to throughout the week — blemish-free skin or not.