What It's Really Like To Get Off At The World's First Orgasm Pop-Up Shop For Women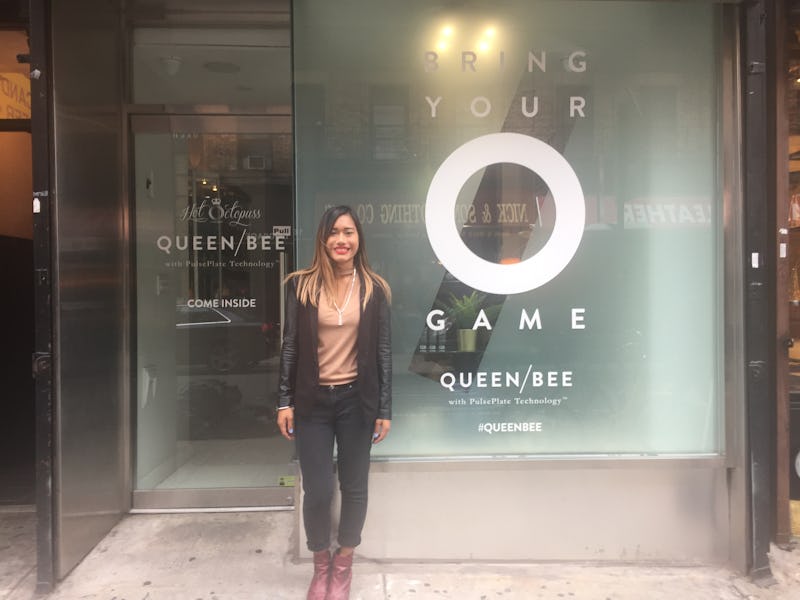 Author's own
On a bustling street in the Lower East Side in New York City, a frosted glass storefront encouraged women passing by to bring their "O" game. Earlier in the day, about 50 women were turned away from "The Changing Room" by Queen Bee, Hot Octopuss' two-day orgasm makeover pop-up shop dedicated to women, due to demand that exceeded their expectations — ironically for a sex toy that a company hopes to exceed women's expectations. While the company had a masturbation booth set up for men last year in New York, with the launch of the company's first sex toy for women, this time, the orgasm shop was for ladies only. As the company pointed out, why can't we try on orgasms like we try on clothes?
"With women, it's a lot more of an experience," Adam Lewis, CEO of Hot Octopuss, tells Bustle. "So you have to be in the right frame of mind, the atmosphere has to be right. The whole idea is that the women can start off with the gentle massage side to get herself in the mood and when she's ready, she can flip it over and use the very intense Pulse plate."
What came out of one man's need for a proper toy for frenulum stimulation, came a mission to break down barriers of not being able to talk about sex. "The pop-up shop is just an opportunity to discuss this topic and normalize it," Lewis says. "It shouldn't be something that is kept in one's own mind. We think it should be shared, discussed and enjoyed. We love pushing the envelope. We love pushing boundaries. We would rather not get any coverage or get anyone's interest because we've taken things too far than be vanilla."
Meeting With An Orgasm Stylist
Behind the glass was a dimly-lit space with Prosecco on hand, a display of the brand new Queen Bee vibrator, and a black curtain standing in between me and my orgasm makeover. But first, I had to meet with a sex therapist.
"What brings you in today?" sex therapist and "orgasm stylist" Diana Barone asked me over the loud music playing in the background. I shared my standard masturbation routine: I lay in bed underneath the sheets, legs slightly spread, read quality erotic writing with well-shot GIFs or Tumblr videos that are aligned with my sexual fantasies and let my two fingers bring me to orgasm — a satisfying one, not a mind-blowing one. I wanted to enter sexual nirvana.
I told her about how sexual I once was and how everyday life had diminished my ability to fully embrace my sexual vitality to the point that I even wondered if I was still functioning properly. I'd never been a person to need candles, music or any of the romantic indulgences in order to achieve my physical goal. To me, it was a separation of church and state: I left everything that wanders in my mind at the door, am fully present, and only focused on what was in front of me, on top of me or in me to breathe in moments of pure bliss. She asked about my masturbation frequency, experience with toys, and discussed with me my necessity for clitoral stimulation.
In many ways this was an attempt to find the raw foundation of my sex drive that I knew well at a younger age. Certain priorities of adulting had taken the front seat while adventurous arousal techniques and a craving to execute them had been thrown in the trunk, if not tied to the roof and hanging on for dear life. This was a problem to be solved by a sex therapist.
"Everything starts and ends in the brain," Barone told me. "You are thinking about getting aroused. You're having thoughts and the nerves are sending messages to the brain that you're masturbating and you're orgasming but it's a full-body experience."
Her prescription for me? "Advocate for your own pleasure. No one else is going to advocate for you. Try and identify what you need, what you want and try and articulate that to yourself and to someone else."
Entering The Changing Room
Barone showed me the Queen Bee and had me rest my hand on the massager side of the wand while it oscillated intensely to mentally prepare me for it. I was offered a black satin robe that was meant to provide a similar relaxation experience to that of a spa before being led to The Changing Room.
When I'd heard about this part of the experience, I didn't realize how literal it was. It was like a typical clothing store dressing room, if not maybe smaller. Lit from a lamp on the floor, the space had hooks on the walls, a full-length mirror, ottoman, and a faux fur rug. It looked whimsical enough to do the job.
"The music is super loud, we're not listening and we can't hear anything so take all the time you need," one of the event guides told me.
I knew this was going to be difficult considering I don't typically use toys. I felt as if I was on the clock and I was putting pressure on myself to efficiently satisfy my craving. I laid nude on my jacket on top of the ottoman, wand in hand, and on my clit. As everyone warned, it was incredibly intense, which left me numb for a bit to my dismay. I thought it was over, that sensation was gone for sure. I was wrong. After various attempts of playing with the settings and placement on my clit, I finally figured it out.
I let the oscillating plate do the work while I laid back for the rest of the ride. Thankfully, just as I couldn't bring the intensity up any higher, my back arched, my mouth let out a series of relieved and uncontrollable moans, and my body finally released a long-awaited orgasm.
"During this was my time to myself, I was more concerned about figuring out the proper settings than if anyone else could hear me."
Despite the fact that through the two closet doors lay the rest of the world and that the Queen Bee can get rather loud on it's most intense setting, I couldn't have cared less about being heard. During this was my time to myself, I was more concerned about figuring out the proper settings than if anyone else could hear me.
I took my time changing back into my clothes, hyperaware of the fact that my body was still sensitive. I thanked the team for providing such an ethereal experience and walked out. My mind and body felt like a weight of that magnitude had been lifted. I let out a sigh of relief knowing I'd made the right choice in taking a risk to tap back into my sexual being, and I wouldn't hesitate for a second to do it all again.