Does Deciem The Ordinary Skin Care Actually Work?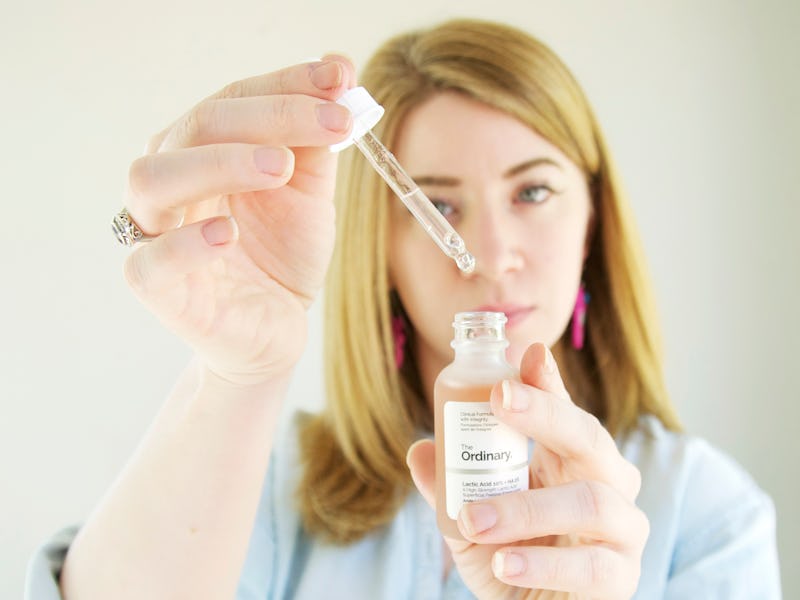 At this point in my beauty career, I am somewhat numb to sticker shock. In fact, I often expect skin care products to hover in the $30 to $75 price range. Then again, I live for a good drugstore deal, and a number of my HG products come in at under $20, sometimes even as low as a buck (hello Cover Girl, Catrice, and Essence Cosmetics).
So, when I caught wind of Deciem's The Ordinary — "an evolving collection of treatments offering familiar, effective clinical technologies positioned to raise pricing and communication integrity in skin care" — I was instantly intrigued. More than that, I wanted to try every single one of their products.
However, seeing as how I ought to be a responsible consumer, and seeing as how I have limited space for products (both on my face and in my bathroom), I narrowed down my selection. In the end, I chose four: 100% Plant-Derived Squalene ($8), High Spreadability Fluid Primer ($8), "Buffet" ($15), and Lactic Acid 10%, HA 2% ($7).
Amidst my excitement, I must admit that I was also somewhat skeptical. How can a company bring me a $7 Lactic Acid/Hyaluronic Acid product that actually delivers? How can a $15 Multi-Technology Peptide Serum with a 25% concentration of active ingredients compete with similar products that are easily $50 more? There was nothing left for me to do but put them to the test.
100% Plant-Derived Squalane
For many years, squalane oil was derived from shark liver, but recent technologies have allowed us to get it from plants, such as wheat germ and olives. Plant-derived squalane is more stable than the animal version, and you'll find that it's a highly emollient moisturizing option. I would consider it a thinner alternative to rosehip oil, and a thicker alternative to camellia seed oil.
The Ordinary's Squalane is pretty straight forward, as it's 100% squalane with no additives, and is USDA Certified Bio-based. At the end of the day, if you're looking for squalane, this is your girl. It has the expected lightweight, slightly oily slip to it, and a couple drops makes for noticeably hydrated skin.
Note that Peter Thomas Roth's Oilless Oil and Indie Lee's Squalane Facial Oil are the same thing as The Ordinary's $8 version. And though I do enjoy all three brands, I would buy the less expensive version in a heartbeat.
Peter Thomas Roth's Oilless Oil, $38, Nordstrom; Indie Lee's Squalane Facial Oil, $32, Dermstore
High Spreadability Fluid Primer
This is a silicone/dimethicone-based primer, and therefore very similar to cult-favorite Smashbox Iconic Photo Finish Foundation Primer. Others that are similar are Benefit Cosmetics The POREfessional Face Primer and DHC's Velvet Skin Coat. A number of low-cost alternatives to these are available, as well, including Maybelline's Baby Skin and e.l.f. Poreless Face Primer.
Smashbox Iconic Photo Finish Foundation Primer, $36, Sephora; Benefit Cosmetics The POREfessional Face Primer, $31, Sephora; DHC Velvet Skin Coat, $21, Amazon; Maybelline Baby Skin, $5, Target; e.l.f. Poreless Face Primer, $6, Amazon
I have actually tried all of the above throughout the years, and I find them to all be very similar on my skin. Each is formulated uniquely, so there are some subtle differences between them if you're looking hard. I find that the primary difference between all these primers tends to be the "slip" and overall thickness.
The Ordinary's lands on the thicker end — not quite as thick as Smashbox's, but thicker than Maybelline's. I also really enjoy The Ordinary's slip, and like the name promises, it does spread easily across your skin to create a nice, soft layer that helps makeup look even and natural.
Lactic Acid 10% + HA 2%
If there's anything I love aside from a good deal, it's a good peel. Give me two-in-one and damn if I'm not a happy skin care junkie. That said, I naturally went for The Ordinary's 10% Lactic Acid version versus their 5% Lactic Acid.
Despite the higher concentration, I still found that it wasn't potent enough for me. To be fair, I have a pretty high tolerance, and I not only appreciate, but crave that tingly sensation that you get from, say, the Sunday Riley Good Genes high potency 40% Lactic Acid (which some argue is way too aggressive with way too low of a pH, but which I argue changes my face instantly and makes me feel like a goddess). In any case, that high of a concentration isn't too common, especially one that's formulated for everyday use, and it comes with a pretty hefty price tag ($105 for the smaller version).
Sunday Riley Good Genes, $158, Sephora
If you want a light peel that still hydrates, The Ordinary's Lactic Acid 10% + Hyaluronic Acid 2% is an extremely affordable option. I do notice that it makes my skin look rosier and more "alive" even hours after application, so it's definitely working. My primary complaints are that it smells funky and it's a bit tacky in texture.
"Buffet"
Buffet — which is named after the assortment of included technologies — has a thin and silky texture that glides onto the skin and sinks in beautifully. For a few moments after application, it feels as if your face has a delicate layer of paper mache on top, and then suddenly it sinks in and your skin is softer than it has ever been before. Bonus: A couple tiny drops is all you need, so it will last a long time.
This is my favorite product I've tried from the line, hands down. And really, you cannot beat a $15 anti-aging serum that boasts a "feast," if you will, of studied skincare technologies in one tiny bottle. It consists of a base of 11 amino acids, as well as peptides, probiotics, and several hyaluronic acid complexes, which together give the skin an instant plumping and hydrating effect while softening and treating/preventing signs of aging. As mentioned before, the total concentration of active ingredients, by weight, is just over 25%.
Because this product is water based, I recommend applying it after your cleanser, toner and essence, and before any oil-based products. And yes, it's absolutely worth every penny of that $15.
In the end, I am pretty impressed with The Ordinary's offerings, and I have to give them props for setting affordable prices and showing the skin care world that you can get quality with fewer dollar signs.
Based on my experiences with these four products, I do plan to try more, including their Vitamin C Suspension 23% + HA Spheres 2%, pretty much all the oils (especially rosehip and marula), and the Caffeine Solution 5% + EGCG. I'm also intrigued by their Serum Foundation, which comes in 21 shades (high five, The Ordinary!) and is apparently in very high demand ATM, so there's a two-week backlog.
I'll end by saying, "Go for it!" if you're eyeing anything on The Ordinary's site. Best of luck on your skin care journey, and may the dollar signs be forever in your favor.