This Is What Happened When I Wore Rainbow Brows For A Day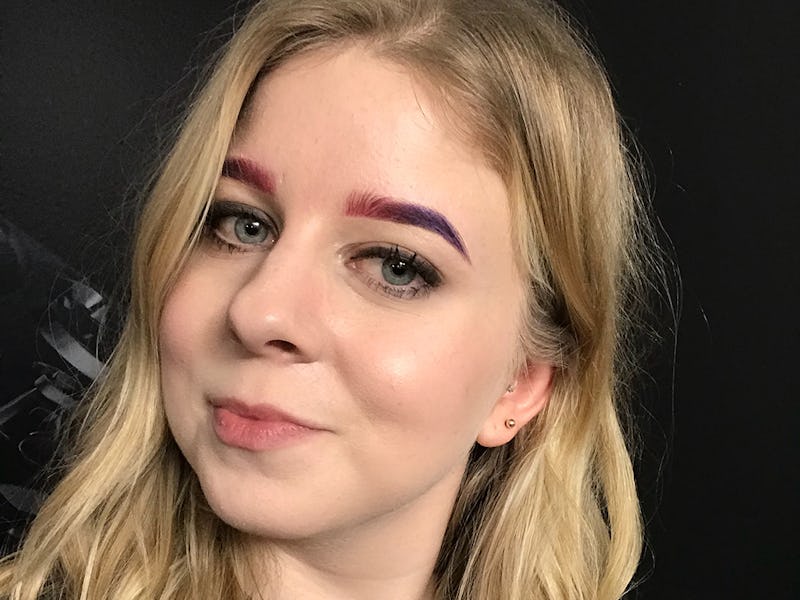 Allie Finn
If you look through my closet, you'll find an array of neutral-colored clothing: gray, beige, white, and black reign supreme in my wardrobe. I have a single red sweater, bought under duress during the holidays in an attempt to be festive, that I wore once and promptly designated to the back of my closet. Basically, I don't really do color — in my wardrobe or my beauty routine, that is until Kat Von D's rainbow brow collection entered my life.
"The way that people do their own brows is a very intimate thing," Kat Von D tells me at a preview for her new 24-Hour Super Brow collection, which includes three different formulas — Super Brow Long Wear Pomade ($19), Brow Struck Dimension Powder ($20), and Signature Brow Precision Pencil ($20) — and two brow brushes.
Von D explains that the inspiration for most of her products comes from architecture, sentiments, and stories (especially the colors in her eye shadow palettes), whereas the brow products were inspired by functionality. "I felt there was room in the industry for a formula that hasn't been created yet," she explains. "I wanted to create something that was really precise. For Super Brow [the pomade], I wanted the most bulletproof brow on the planet, so I would like go to the gym and test it out."
There are 16 shades of the pomade and seven of them are neutral colors, while the other seven are rainbow colors. There's also "White Out," that you can blend with the other colors to make a personalized shade (this is especially great for redheads, Von D tells me) and "Bleach," which gives you the look of bleached brows without the follicle damage.
The rainbow colors (which include pink, purple, yellow, and magenta) were born after Von D noticed that many of her followers and fans were posting shots of them wearing colorful brows using the brand's Everlasting Liquid Lipstick ($20) as the color. "I was like, wow that's really cool, but that's designed for your lips, not necessarily to adhere to hair follicles... so I can only imagine at the end of the day it's crumbling or bleeding." Needless to say, that won't ever happen again with her new brow-specific products.
While colorful brows might sound totally crazy to most people, Kat Von D did not come here to please the majority — she came here to do her thing, something she has always done. "As an artist I think it's so important to stick to your guns and remember why you're doing what you're doing to begin with," she tells me. That's why she believes her brand pioneers rather than follows trends. "I'm not worried about what the world's going to think," she says.
Inspired by that attitude, I decided to take the plunge and go colorful with my brows.
First, I sat down with brow guru Kelly Baker, who expertly shaped my brows. Then I met with Leah Carmichael, Kat Von D Beauty Artistry Collective Makeup Artist, to try out the pomade myself. When she came over holding two shades of Super Brow — a pink and a purple — I thought I had to choose one, like the color-naive person that I am. Wrong. We were going to do an ombré brow. "I'm nervous," I tell her, like I was about to testify before a grand jury or go on a blind date.
After reassuring me that the ombré would look great with my fair skin and blonde hair, she got to work. She started by applying the purple Super Brow using the new Pomade Brow Brush ($18) from the arch of my brow to the outer corner. When using the pomade, she recommends starting at the arch and working your way outward because wherever you start is where the most pigment is going to be deposited. After filling in about two-thirds of my brows with the purple, she brought in the pink and applied it to the inner third of my brow, blending it with the purple to create an ombre effect.
When I looked in the mirror after she was done, I felt like a sexy alien. Or like a character out of one of the urban fantasy romance novels I've been reading lately — one who has just discovered that she's half-faery thanks, in part, to the manifestation of her colorful eyebrows, and who now has to go fulfill her destiny and save the world. In short, these brows made me look approximately 10 times cooler than I actually am (just in case that previous sentence didn't clue you in to the fact that I'm decidedly not cool).
It was one thing to go show off my new brows to my fellow beauty editors (where they were met with gasps of approval), it was another completely to take them out into the harsh light of West Hollywood. I had a happy hour to go to, and I briefly considered taking my brows off before I went. I admonished myself for trying to chicken out. Despite my tendency to shy away from anything brighter than a navy, I was actually really into how my brows looked. So I walked into Gracias Madre, a trendy vegan Mexican joint in LA, with my head held high. I checked in with the hostess and made it to my table without anyone so much as batting an eye over my appearance.
The friends I was meeting were already aware of my experiment, but they were surprised by exactly how colorful my brows were.
Then our server came over. I looked him straight in the eye as I placed my order and… nothing. He didn't even blink, or give any indication that my brows were not the normal color of other eyebrows. It was still daylight. There was no way he didn't notice. He just didn't care.
The two men who were sitting next to us at the bar kept shooting glances at me, but for the sake of transparency, I'm not sure if they were looking at my brows or concerned that the three of us grown women were so invested in dissecting The Weeknd's new album/ Selena Gomez and Justin Bieber.
And as I sat there, sipping my drink, I resolved to be a little more adventurous in my makeup. Does that mean rainbow brows every day? No, not at all. But at the end of the day, I realized, it's makeup. And it can be washed off. The nerves I felt about going out in public with a wildly different look had melted away (and, before you think it, no, it wasn't the alcohol — I had only had half a sangria at this point). It was strangely empowering. Is this how Kat feels all day, every day? I wondered to myself. I became a girl who could pull of colorful eyebrows. Full stop. No apologies.
I then went home and had more work to do. It was late, and I began to rub around my eyes. Miraculously, when I finally was able to unchain myself from my computer and wash my face, I noticed that my brows hadn't budged. Von D wasn't kidding about that bulletproof formula.
"It's a really beautiful testimony to the evolution of the human collective," Von D shares when talking about embracing beauty outside the norm. "It used to be what people were afraid of, or judgmental toward, [and now it] is fully embraced and considered beautiful. And so, if we had a part to do with that, then I'm super honored."
The brow collection will be available April 20 on Katvondbeauty.com and at Sephora online and in stores.