This Heartbreaking Line From The Weeknd's New Album HAS To Be About Jelena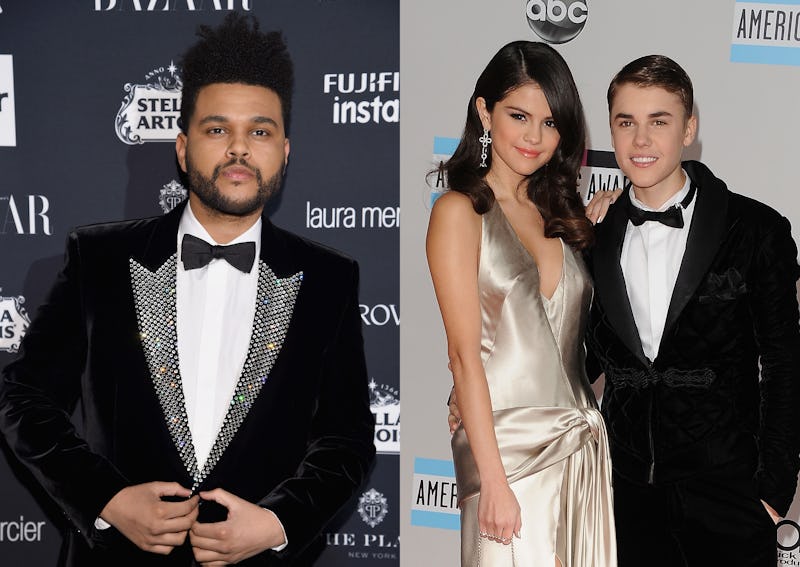 Dimitrios Kambouris/Getty Images Entertainment/Getty Images; Jason Merritt/Getty Images Entertainment/Getty Images
The Weeknd surprised fans by dropping a new EP on Thursday night, and people are already analyzing the My Dear Melancholy, songs for clues about who the lyrics might be referencing. "Call Out My Name," one of the songs from The Weeknd's new album seems to reference Selena Gomez and Justin Bieber. There's one lyric, in particular, that could definitely be about Gomez reportedly reuniting with her ex not long after breaking up with the rapper.
In "Call Out My Name," The Weeknd sings, "Guess I was just another pit stop / 'Til you made up your mind / You just wasted my time." It's not hard to imagine those lyrics being about Gomez going back to Bieber. And if the song is referencing Gomez, it sounds like she and The Weeknd didn't exactly end things on good terms.
The Weeknd and Gomez broke up at the end of October, after dating for 10 months. Then, in November, Gomez was seen kissing Bieber, sparking rumors that the two of them were back together. Since then, though, Gomez and Bieber are reportedly taking a break again.
Fans were quick to point out the fact that "Call Out My Name" is almost certainly referencing Gomez and Bieber. There seems to be a mixed reaction to the lyrics, with some people blaming Gomez for the split and others focusing on how much they like My Dear Melancholy,. And plenty of people are pointing out that they feel bad for The Weeknd after his apparent heartbreak.
The line about wasted time isn't the only "Call Out My Name" lyric fans think is about Gomez, either. Hollywood Life cites the line "I almost cut a piece of myself for your life," speculating that The Weeknd may have considered donating his kidney to Gomez. Gomez had a kidney transplant last summer, with her friend Francia Raisa donating her kidney to help the pop star. Still, the idea that the line is also about Gomez — and that The Weeknd may have considered donating his own kidney — is just conjecture at this point.
And as far as Bieber goes, some fans don't think "Call Out My Name" is the only song on The Weeknd's new EP that references him. Amy Mackelden at Marie Claire speculates that "I Was Never There" could also be about Bieber, with the line "You'd rather something toxic" possibly referring to Gomez going back to Bieber. The writer also suggests that "Hurt You" could be about Gomez and Bieber, though that seems like a bit more of a stretch. And while it doesn't seem to be about her relationship with Bieber, some fans believe "Privilege" could be about Gomez, too, with the line about "suffering" being a possible reference to her kidney transplant.
Gomez isn't the only one of The Weeknd's exes fans think he's referencing on My Dear Melancholy, though. Some fans believe "Wasted Times" is about Bella Hadid, with the line "Wasted times I spent with someone else/ She wasn't even half of you" potentially being about The Weeknd dating Gomez after dating Hadid. On the song he also referes to an "equestrian" and Hadid is known for having been a competitive rider previous to her modeling career.
Fans will probably never know for sure who all of The Weeknd's songs are really about, so expect to hear more speculation about possible references to Gomez and Bieber. Whether or not "Call Out My Name" is really about his ex — and whether or not he actually considered giving Gomez a kidney — it's clear that The Weeknd's new EP has struck a chord with fans. Sometimes, inspiration comes from heartbreak, and whatever inspired My Dear Melancholy, it seems to be working.