These Are The 8 Best Shoes Of Summer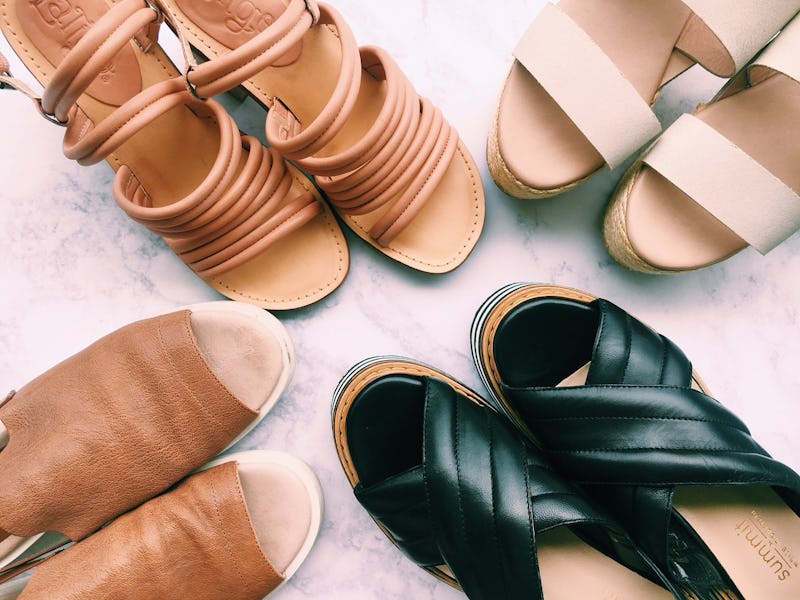 Kali Borovic
When it comes to shoes, it's all about style, comfort, and price. Some people will tell you to pick two of those and settle, but I'm a firm believer that you can have it all. That is why I found the most Instagram-worthy shoes and walked a mile in every single one. After a whole lot of sweating and a few blisters, I found you the eight best shoes of summer. You can thank my later.
There's no better test for shoes than wearing them. It's as simple as that. From slip-on heels to strappy platforms, you just never know how they'll perform until you get them in your closet. Unless you have me, of course. Believe it or not, every single one of these shoes is just a comfortable as they are trendy.
I scoured the internet to find the most Instagram-worthy shoes of summer, and then walked a mile in every single one. Whether you're looking for style, price, or comfort, I have you covered. Ready for the best part? These shoes can easily go straight from the dog days of summer into fall. You truly can walk a mile in my shoes, too, because every single one of these are in-stock right now.
Whether you're looking for something to wear to a pool party of are looking to get all dressed up for an event, you can't go wrong with any of these eight styles. Without further ado, here are the eight summer shoes styles that made the cut:
1. Simple And Sophisticated
Seanna Sun Black Leather, $80, Clarks
You can't beat a shoe that is simple, sophisticated, a incredibly comfortable. If you're looking for a sandal that goes with everything, these are the ones.
2. Dressy Platforms
Montepellier Double-Band Wedges, $109, Kaanas
If you were to tell me a month ago that I'd enjoy wearing heels, I would have laughed in your face. These are absolutely gorgeous and not a pain at all to walk in — trust me.
3. Slide-On Heels
Bernardo Bennet, $175, Amazon
It doesn't get more adorable than this. The shoes are subtle enough to go with tons of different looks and the little tassel bobs as you walk. Add in comfort, and you have a great summer sandal.
4. Laid-Back Sandals
Nina Originals, $83, Nina
You can tell just from the looks of these shoes that they're super comfortable. Everything from the extendable strap to peep-toe front makes these perfect for summer.
5. Funky Platforms
Leanna Black Leather Sandal by Summit White Mountain, $104, Amazon
Look like a Spice Girl and take on the world at the same time? Yes, please. The heel might be high, but you'll want to spend the rest of summer in these shoes.
6. Strappy Heels
Vacation by Latigo, $80, Latigo
If you're looking for a heels that you can dress up or down these are the ones for you. They stay on your feet without being a hassle and are the ultimate comfy vacay shoes.
7. Platform Flats
Frills Sandal, $88, Dr. Scholls Shoes
Yes, Dr. Scholl's has shoes, and yes, they're every bit as comfortable as you'd think. I was blown away by the fit, comfort, and style of these. You really can have it all!
8. Slip-In Sandals
Bernardo Theo, $100, Amazon
With an adjustable strap and almost form-fitting straps, these shoes are more comfortable than they might appear. They're perfect for the days when you want to take a break from heels but still look stylish.
These are shoes for all occasions, my friends. Happy walking!