I Washed My Hair With Oil For A Week & It's Been A Game-Changer For My At-Home Blowouts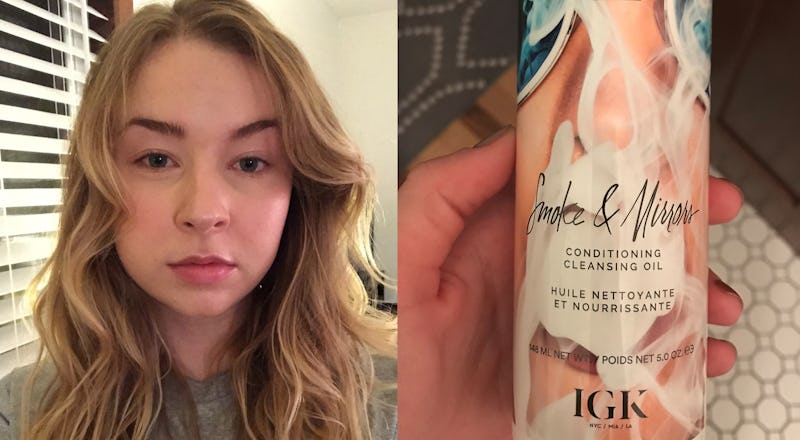 Courtesy of Melanie Richtman
Growing up, I was taught to avoid oil like the plague. Not only was consuming oil (and fats) allegedly bad for you, but if oil were to get anywhere near your acne-prone skin or greasy hair, it would be the end of the world. So when I told my mom I was washing my hair with oil for a week, you can imagine her confusion.
But as it turns out, oil isn't the enemy, or at least that has been the general consensus from skin care experts, bloggers, and makeup artists over the last few years. The theory was that the face oils actually help an oily complexion because your skin wouldn't be stripped of its natural oils and then overcompensate by producing more oil. I became increasingly intrigued by the idea that oil might actually be the solution for oily skin, rather than its nemesis.
Several years ago I started using argan oil to moisturize my skin at night, and then shortly after I picked up a cleansing face oil, and was pleasantly surprised. Not long after, I started taking Accutane, which meant my skin was dry AF. Cleansing oils and argan oil applied on top of a Cerave face cream was really the only thing keeping me from drying out completely. I was officially hooked on beauty oils.
The only thing I was missing in my beauty routine was an oil-based shampoo. That's where IGK's Cleansing Conditioning Oil comes in. The label boasts that it "sweeps away impurities while nourishing your scalp with the dream cocktail of coconut oil and powerful hydrators." It also smells great and comes out in a shaving cream-like foam, making it simple to use. I decided I'd give it a whirl for a week. Here's what happened.
The Experiment
IGK Smoke & Mirrors, $29, IGK Hair
The bottle recommends a working pea-sized amount of the product through your wet hair, and then rinse it out. This is honestly one of the best parts about using this conditioning cleansing oil — it only requires one step, which is perfect for people like me who are lazy and don't want to shampoo and condition.
I typically wash my hair at night and then go to bed with it wet, whether or not that is recommended by the pros. I find it works the best with my hair texture, which is wavy-curly on the bottom and more straight on the top.
During the week I used the hair cleansing oil consistently and found that my waves were curlier than normal, however, they ended up lookin a little stringy, which was kind of a bummer.
I don't really use any hair products, but I do use a heat protector spray before I touch up my hair with a curling wand in the morning, which I continued to do throughout the experiment. The above photo shows my hair after I added a few waves with my wand.
The following photo shows my hair at the end of the day. You can tell that it looks a little stringy.
The Results
Unfortunately, the downside to washing my hair with oil every day is that my hair started to fall flat as the day went on, and it seemed greasier than normal. I typically try to only wash my hair every other day, but when using the cleansing oil, I felt the need to wash my hair every night. And by the time I had washed my hair with the oil a few nights in a row, I could feel the oil building up. I couldn't wait to wash my hair with real shampoo.
However, one night I skipped washing my hair at night and instead washed it in the morning, which I very rarely do, because when I blow dry my hair instead of letting it air dry, I find it gets all fluffy and weird.
But blow drying my hair immediately after washing it with the oil? Amazing.
Blow drying my hair after washing it with the oil was life-changing. My hair dried much faster, felt much smoother (not frizzy at all), and was super soft and manageable. It was so good that I even washed my hair with the oil and blowdried it after my little experiment was over.
Another benefit to using the conditioning cleansing oil was that my hair was much softer and significantly less tangled overall. After a night at the bars, I was able to brush out my hair in minutes (which is an impressive feat if you've ever watched me try to brush out my hair following a night out).
The Verdict
At the end of the day (well, week, technically), I don't think I'll be switching over to solely oil for washing my hair anytime soon. Although it smelled great and made my hair super soft, it doesn't seem worth it to me to have greasy hair at the end of each day.
That said, I do think that it is worth incorporating into your beauty routine on a weekly basis for a little extra moisture. And I will definitely be using IGK's conditioning cleansing oil whenever I want to blow dry my hair at home.