The 8 Best Oil Cleansers For Acne Prone Skin, And Why You Should Be Using One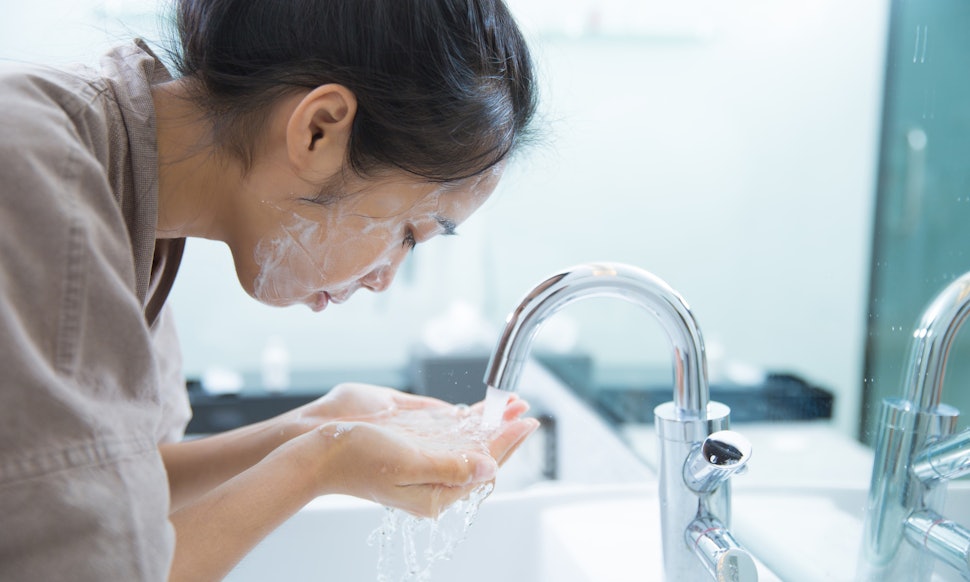 fotolia / torwaiphoto
Cleansing your face with oil might sound counterintuitive, but it's actually one of the most effective ways to cut through all the excess sebum, makeup, and buildup on your face, without stripping your skin. And, for people with acne, getting a thorough, gentle cleanse is absolutely essential to minimizing breakouts. But not all oil cleansers are created equal — the best oil cleansers for acne prone skin are free of common irritants and acne triggers, and wash away easily, without leaving any residue behind.
The science behind how cleansing with oil can help acne prone skin is simple: oil clings to oil. This is the reason that oil cleansers do a better job of removing makeup and oil that can clog your pores than other types of cleansers. Also, using an oil cleanser isn't the same as slathering your face in olive oil from your kitchen — oil cleansers contain emulsifiers that allow them to rinse off easily, taking all that sebum and makeup with them.
That being said, there are a couple of ingredients people with acne should always avoid when choosing an oil cleanser. The first major acne trigger that's commonly found in oil cleansers is mineral oil. Many inexpensive oil cleansers rely on mineral oil as their primary ingredient, but this controversial oil is known to clog pores, the exact thing you're washing your face to prevent. The second ingredient you should be wary of is added fragrance. Using skin care products with fragrance can irritate your skin, which can actually cause oily skin to produce more oil and lead to inflammation, which is pretty much an open invitation for acne-causing bacteria to waltz on in.
Like any product, it's important to make sure you're using your oil cleanser correctly. While most face washes are applied to damp skin, oil cleansers are applied to dry skin, with dry fingers. Make sure you dispense enough product that it can easily be spread and massaged all over your face without pulling on your skin. For best results, warm the oil in your palms and then massage it into your skin for about one minute. Next, wet your hands with warm water and massage your face for another 30 seconds — this should make the cleanser turn white and milky. Finally, rinse your skin with warm water. A great oil cleanser will rinse off easily and completely, leaving your skin feeling smooth and clean. For an even deeper cleanse, try the Korean double cleansing method, by following this step with a gentle foam cleanser.
Using the right oil cleanser for your skin will give your pores a deeper clean, and these eight oil cleansers and balms — which melt into oils when you apply them — are great for acne prone skin.