I Went To A Blac Chyna-Hosted Strip Club Party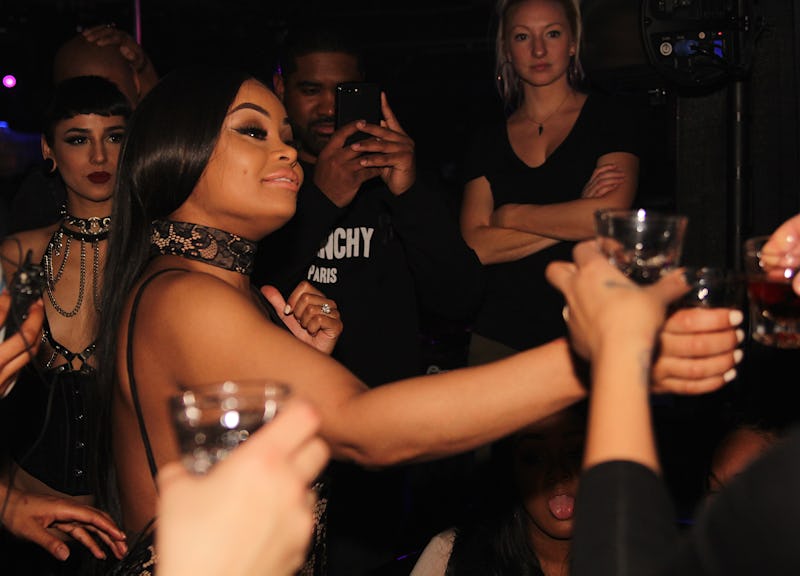 When I was forwarded an invitation to a party hosted by Blac Chyna at a strip club, I immediately faced a conundrum. On the one hand, part of my job is following what the stripper-turned-model-turned-almost-Kardashian is up to, so seeing her in real life seemed like the natural next step in our working relationship. But, on the other hand, I'd never been to a strip club, the event was on a Sunday at midnight, and, like, what do you even wear to a strip club? In the end, curiosity got the best of me and my co-worker/friend/fellow strip club virgin, Bustle's TV editor Sam Rullo, agreed to go with me (because I sure as hell wasn't doing this alone), so late on Sunday night, we ventured out into the depths of New York's Upper East Side.
There, at the entrance to the Queensboro Bridge, in a building that held both Sapphire Gentlemen's Club and Primal Cut Steakhouse, we hoped to spot Blac Chyna and Rob Kardashian and see if SINS at Sapphire was as intimidating as it sounded.
This is our story, the good, the bad, and the boobsy.
The Preparation
Going into Sunday night, I couldn't have felt less like going to a strip club. I ate some bolognese sauce earlier in the day that did not sit well at all, then I watched like three hours of football and got a headache and even more nauseous because the game was so stressful — a combination that obviously screams, "I should be around naked people and loud music right now." Alas, I had to put on an outfit that consisted of black jeans, over-the-knee boots, and what can be best described as a "sexier T-shirt." Sam, it would turn out, had a similar idea, and wore dark jeans, a black off-the-shoulder bodysuit, and booties.
After embarking on a 45-minute subway ride, I arrived at Sam's apartment so that we could prepare go to a club at 12 a.m. before working the next day. Fun!
There, we split a bottle of rosé, ate some crescent rolls (classic pre-strip club activities, I assume), and got all set for a night of watching people who work in restaurants and bars get lap dances, because, it turned out, SINS stood for Service Industry Nights and was a party for people who, specifically, didn't have to work the next day.
The Glamorous Arrival
Sapphire is pretty off the beaten path — as least as much as something can be in Manhattan. It faces the Queensboro bridge and there's not much else directly around it, which is great if you don't want to explain to someone why you're in line at a strip club on a Sunday night. Sapphire and a steakhouse called Primal Cut share a location, which makes entering the right location sort of confusing. Still, this combo felt so right — especially once we learned that the businesses are connected. Everyone waiting outside looked like your average club-goers (or in a few cases, like they were "influencers," according to Sam) and we stood in line briefly before being let in (or as Sam puts it, "#MediaPerks").
The (Very Neon) Scene Inside
You know how in movies (or possibly at other real strip joints. I wouldn't know.) the club is all people sitting down and watching strippers strut around on a catwalk? This wasn't really like that. It was more like a nightclub-slash-strip club. There were plenty of people just hanging around on a dance floor or enjoying some bottle service, but scattered throughout there were also people getting lap dances. (This led to Sam's utter shock upon discovering that lap dances are performed topless, even though you can legally walk around outside literally topless in New York. Come on, Sam!). There was also a stage in the front on the club that featured a DJ and a constant flow of performers.
The Strippers (Not Pictured)
As for these performers, they were incredible and I mean that with zero condescension. The dancers on the main stage were hanging from the rafters, performing feats of strength, and spinning upside down while dancing on beat. One dancer, who started her performance in a blazer, was literally jaw-dropping and essentially got a standing ovation. There was one performer, however, who we were not fans of. She did something involving a feather that we will never speak of again.
The strippers who mostly stayed on the floor giving lap dances — or just dancing with patrons — have a level of patience that I never knew existed. Sam says that part of the audition process at strip clubs must involve watching a guy with no rhythm try to dance and keeping a straight face (we would both fail this task).
The Moment In The VIP Section
You're probably wondering how Blac Chyna and Rob Kardashian fit into all of this and I was wondering the same thing between slightly stressed sips of vodka-grapefruit and trying to figure out where (or where not) to look. I knew Chyna was "hosting" the event and that Kardashian was going to attend with her, but I didn't know what hosting a strip club event actually consisted of. I've seen enough Keeping Up with the Kardashians episodes to know that when reality stars host events, they usually come out on stage and say something like, "Hey, guys. I'm Kim Kardashian and I hope you're having an amazing time at Tao!" But would Chyna do that? Was that still the protocol at a strip club? Her history told me that she was more of a wildcard than Kim.
Thankfully, we did see Chyna and Kardashian. They spent most of their time in a VIP section called the Champagne Lounge that Sam and I joined briefly, not sure if we were actually allowed to be there. (We weren't, and were semi-politely asked to leave, but not before a man told me I had a "Joker smile" and, without asking, held Sam's hand and said, "How you doin'?") But we got to stay long enough to get about four incredibly blurry pics of Chyna and Kardashian, and, to quote any celeb publication that has ever given an update on his state, saw that "Rob looked happy," which was genuinely nice to witness.
The "Hosting"
Back in a section that we were actually allowed to be in, Sam and I decided that if Chyna did not take the stage in 15 minutes, when the clock struck 2:30 a.m., we would leave because, like, what the hell, Chyna? People have stuff to do. In those 15 minutes, Chyna did go on stage — sort of. She stood off to the side, clapping for the performers. We could see her singing along to "No Hands" and it felt like the moment was finally here. Chyna would say, "Welcome to SINS. I hope y'all are having a good time tonight!" and maybe even give a shout-out to Rob, because that's what the people want.
But then she left the stage! And then we left the club without ever hearing Angela Renée White bless us with her voice. We didn't know if she would come out later, but this was the risk we had to take.
The Not Exactly "Metaphorical" Conclusion
On the way home, the following text message conversation occurred as we went our separate ways:
Unfortunately, there's no "New Deal ref." These were just the ramblings of drunk, tired people.
The real conclusion is that the next day Page Six reported that Kardashian and Chyna left Sapphire at 2:40 a.m., meaning that she likely didn't take the stage, because we left around the same time. Was this disappointing? Soooort of. It would've been cool to see her a bit more in action, but it's not like she's a singer who totally skipped out on a concert; we weren't really promised anything.
If anything, Chyna not actually coming out on stage showed exactly how ridiculous her life is. She can, presumably, be paid to host an event at a club and not actually do anything, which is pretty wild.
A lot of stories came out the next day about Chyna and Kardashian making their first public appearance together since welcoming their daughter, Dream. I think these articles tend to make the whole thing sound more glamorous or significant than it actually is — much like many things involving celebrities or events that seem out of reach (see also: fashion week). Really, she and Kardashian sat on a couch together, ate chicken wings, and talked to some friends. It's something that literally any of us could do, only we would have to pay for the wings (instead of getting paid for eating the wings) and wouldn't get stories written up about it the next day.
But that's the thing. People like Chyna and Kardashian and Kardashian's entire family, in a lot of ways, are just getting paid for living. It's a stressful job, no doubt. I wouldn't want a camera constantly in my face. But it's also, at times (like when you're hosting an event at a strip club under a bridge at 2 a.m. on a Sunday) a seemingly easy one. And, seeing as their lives are their jobs, like Sam and I, they, too, had to work the next day.
Editor's Note: This article has been updated from its original version.