I Went To The Museum Of Broken Relationships Alone On Valentine's Day & Learned A Big Lesson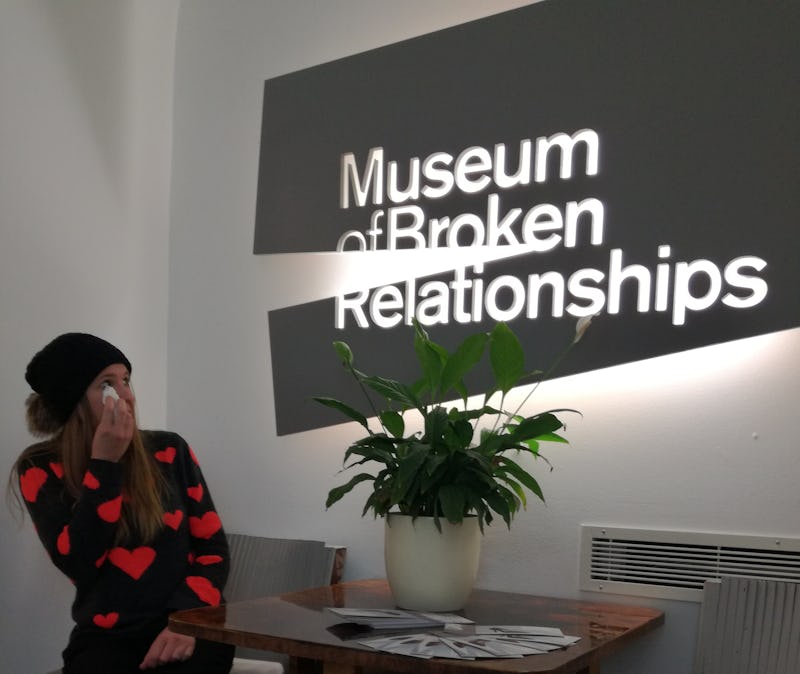 Natalia Lusinski
While some people spent Valentine's Day with a significant other, I spent it alone, thousands of miles away from friends and family. But before you cue the somber violin music, it was actually one of the best Valentine's Days I've ever had. As a digital nomad, I'm currently in Zagreb, Croatia, the country's capital, a charming city of almost a million people with old churches and cobblestone streets that look like they belong in fairy tales. It's also the home of the original Museum of Broken Relationships, which is exactly what it sounds like — a place full of relics from people's relationships gone breakup, along with a short explanation — and which also became the destination for my Valentine's Day date with myself.
At first, I didn't want to be alone on Valentine's Day. In my head, I had visions of a guy I'd met surprising and visiting me, or at least a Skype dinner date with him. (Instead, I got a GIF— enough said.) So when I let go of that vision, I thought of finding a last-minute Tinder or Bumble date. After all, since Valentine's Day is technically just another day, why not go out with someone else who's also alone on the day? No big deal. But it did seem to be a big deal to the app guys — most of the ones who'd been messaging me avoided the app altogether come February 14. I also looked for Meetup.com and InterNations.org events — anti-Valentine's Day or Singles Party, anyone? — but no such luck. Then I remembered that the Museum of Broken Relationships was in Zagreb and knew it was the perfect place for me to go on Valentine's Day.
You may be familiar with the Museum of Broken Relationships, as they have one in Los Angeles, too, and have had pop-up ones in various locations, like New York City. The original museum, in Zagreb, was created by Drazen Grubisic and Olinka Vistica. When they broke up, they had to decide who would get to keep a toy bunny they'd shared.
"This was kind of a joke that we had," Grubisic told NPR. "If someone was going away [on a trip] and the other one was staying, you would take the bunny and take photos of [the] bunny in all the places where usually you would take photos of your girlfriend or your boyfriend." They decided to turn tragedy into art and to use the bunny in an art exhibit, asking friends for breakup memorabilia, too. They set up a temporary display in 2006, which led to more all over the world, and Zagreb's non-temporary Museum of Broken Relationships opened in 2010. Right when you walk into the museum now, you see Grubisic and Vistica's bunny on display before you even officially enter the exhibit area.
On Valentine's Day night, the museum was nearly empty when I'd arrived, although I was anything but alone. As I went from breakup item to breakup item, I'd get so immersed in each one that I felt as though the two people were right there with me in person. It's like going through someone's diary, but a 3D- version — you feel intrusive reading it, yet you can't stop.
Among the 100 items displayed, they ran the gamut from romantic objects, such as a Champagne cork from a wedding that never happened due to the woman's fiancé cheating, to dresses and items of her mother's that a woman donated after her mother died of cancer and it was too painful to keep them.
Since the museum had started out of a romantic relationship gone awry, I'd falsely assumed that all the broken relationships in the museum would be about romantic love, not familial love, too.
But Then I Saw This LOVE Sign
…And Its Explanation
As someone who last saw her father as a toddler due to my parent's divorce — and he died before I got to see him again — this was the item that got me most. And, ironically, the last time I'd seen him was on Valentine's Day. Eerie.
In that same room, there were items from adult women with estranged mothers and adult children who'd had absentee fathers. This aspect of the museum made the experience all the more poignant and relatable, because even if you haven't had a heartwrenching breakup from a romantic relationship, you probably have had a broken relationship of another kind — broken family ties, abandonment, grief, you name it.
Though it may seem like a sad concept walking through a semi-dark, romantically lit museum full of breakup momentos on Valentine's Day, it was not in the least. If anything, it was therapeutic and reminded me that I wasn't alone in my own breakup pain, whether that pain was recent or years old, whether it was about an ex-boyfriend or a family member.
"There's something very comforting in knowing that, that even though you may be alone right now, or wandering through a breakup museum alone on Valentine's Day, it's fleeting, just like love sometimes."
I arrived at the museum about an hour or so before it closed, and a few couples were there, too. I asked the front desk workers if it had been a busy day, being Valentine's Day and all, and they said it was one of the busiest days they'd ever had — and it's not even tourist season in Zagreb now. So perhaps there's something to the concept of seeing and reading about other people's relationship pain, particularly on a love-centric day like Valentine's Day. Maybe it made the couples who visited more appreciative of their current relationships.
In addition to the few couples I saw, there were also a few other women there, also alone. Perhaps they, too, were mourning, yet appreciating, love and loss like I was, being grateful for having had the love at all. However, at the same time, perhaps they, too, were happy embracing being single, yet also hopeful about their romantic future.
Visiting the Museum of Broken Relationships was like watching and walking through a romantic comedy — you laugh, you cry — only, the couple does not end up together in the end. It's also like being in a group therapy session: "Wait, I'm not the only one who's had my heart broken!" There's something very comforting in knowing that, that even though you may be alone right now, or wandering through a breakup museum alone on Valentine's Day, it's fleeting, just like love sometimes.
At the end of my visit, I bought one of the museum's clever souvenirs, a "bad memories eraser."
If only it were that easy to erase bad relationship memories, right? Then again, they make up who you and I are, each relationship teaching us lessons about love and life. Each past relationship makes up your relationship composition, so you can go into the next one better armed. Plus, if erasing bad relationship memories was possible, then the Museum of Broken Relationships would not exist, and it's definitely a benefit to many people. All in all, I learned that the best valentine to have is yourself, no matter what day of the year it is, February 14, May 14, or November 14.